In this article, we are going to give Summer Waves Elite Metal Frame Above Ground Pool Set review which is one of the most desired pools in the market. What do you think? Is the Summer Waves Elite pool 16ft right for you? Let's dig in.
Want more fun and relax the time of hot summer days with your very own swimming pool, but not have any in-ground pool in your backyard or front yard?
There is a better option for you to relax and refresh your mind with the whole family luxuriously in an above-ground pool instead of a costly in-ground pool. There are many above-ground pools are available right now in the market place but the summer waves elite pool 16'x48 is one that can make your summertime full of fun and enjoyable with friends and family.
Do you want a large, spacious, durable, and feature-rich above-ground pool? The summer waves elite pool 16ft comes with all your expectation and demand. The Summer waves 16 feet × 48 inches above-ground elite metal pool set is the best because it's more spacious, large enough to enjoy with the whole family at a time, durable and strong, and feature-rich.
Of course, swimming is a great relaxing thing on hot summer days. Who doesn't want to swim and play in their swimming pool? Maybe everyone has a desire to swim in their swimming pool. Not many people like to go to the beach because of many people or noise. That's why having your very own pool, is a great thing ever.
If you want a swimming pool for quick refreshment, then this pool set would be a better option for you.
Specification of summer waves elite pool 16ft
Brand: Summer Waves Elite
Size: 16 feet in length and 48 inches or 4 feet in depth.
Assemble dimension (L × W × H): 192 × 192 × 48 Inches
Shape: Round
Item Weight: 221 pounds which is almost 100.2 Kg.
Water capacity: 5,246 gallons
Color: White
Accessories: SFS350 skimmer Plus, 110-120V filter pump, 1 ladder, 1 ground cloth, 1 pool cover, and deluxe maintenance kits (telescoping pole, durable and deep mesh skimmer net, vacuum brush and sucks, vacuum adapter)
Attractive and durable blue and white mosaic print on interior wall.
Pool type: Metal frame body.
What Summer Waves Elite Metal Frame Above Ground Pool Best for?
Uniquely, summer waves 16ft elite frame pool comes to give you restless and continuous fun and relaxation on hot summer days. Summer waves pool comes with durable and sturdy material. Also, it is made with a strong, rust, and corrosion-resistant metal frame which will last longer and give better performance till the end.
This pool comes with a full pool set and durable accessories. Though it has lots of uniqueness and attributes to prove that why this is the best pool but in this article, I am going to show you some of its uniqueness.
Let's get started;
This pool is designed with unique metal frames that are stronger and durable than traditional metal frame pools.
Summer Waves pool included all the necessary accessories that a pool needs. With this pool, complete accessory and maintenance kits are included to make the pool maintenance kits easier and enjoyable.
The Summer Waves Elite Metal Frame Above Ground Pool Set is designed beautifully and its outlook is more gorgeous than others. Using neutral colors (white and blue) and mosaic tiles makes the pool beautiful and good-looking.
Viable and sturdy metal frame stands up to heavy use and the elements. It is a heavy-duty performed pool that carries many people at one time.
With this pool, there is included one w/filter pump. This filter pump filtrate and pump the water excessively well and leave the pool water clean. The pumping system of this pool is unique, this filter pump machine pumps the water from low level to high level.
The liner (sidewalls) are stylish and constructed with durable, rust, corrosion, significant damage, and puncture-resistant 3-ply material for years of backyard fun.
On the hot summer days, you can cool down this pool water easily.
Easy and simple to install as well assemble. Doesn't require any extra tools or money even any friends or labor. You can save both your time and money. And have lots of fun with your family members instantly.
Summer Waves pool water will be ready for fun and enjoy in as little as 45 minutes after installation.
Included lots of durable and effective accessories for instance; SFS350 Skimmer Plus filter pump system, pool cover, ground cloth, sure step ladder, and deluxe maintenance kits (vacuum brush, vacuum adapter, telescoping pole, skimmer net)
Most importantly, the Summer Waves Elite Metal Frame Above Ground Pool Set will last up to 5 years and if you use it carefully it will last more longer.
Main features of Summer Waves Elite Metal Frame Above Ground Pool Set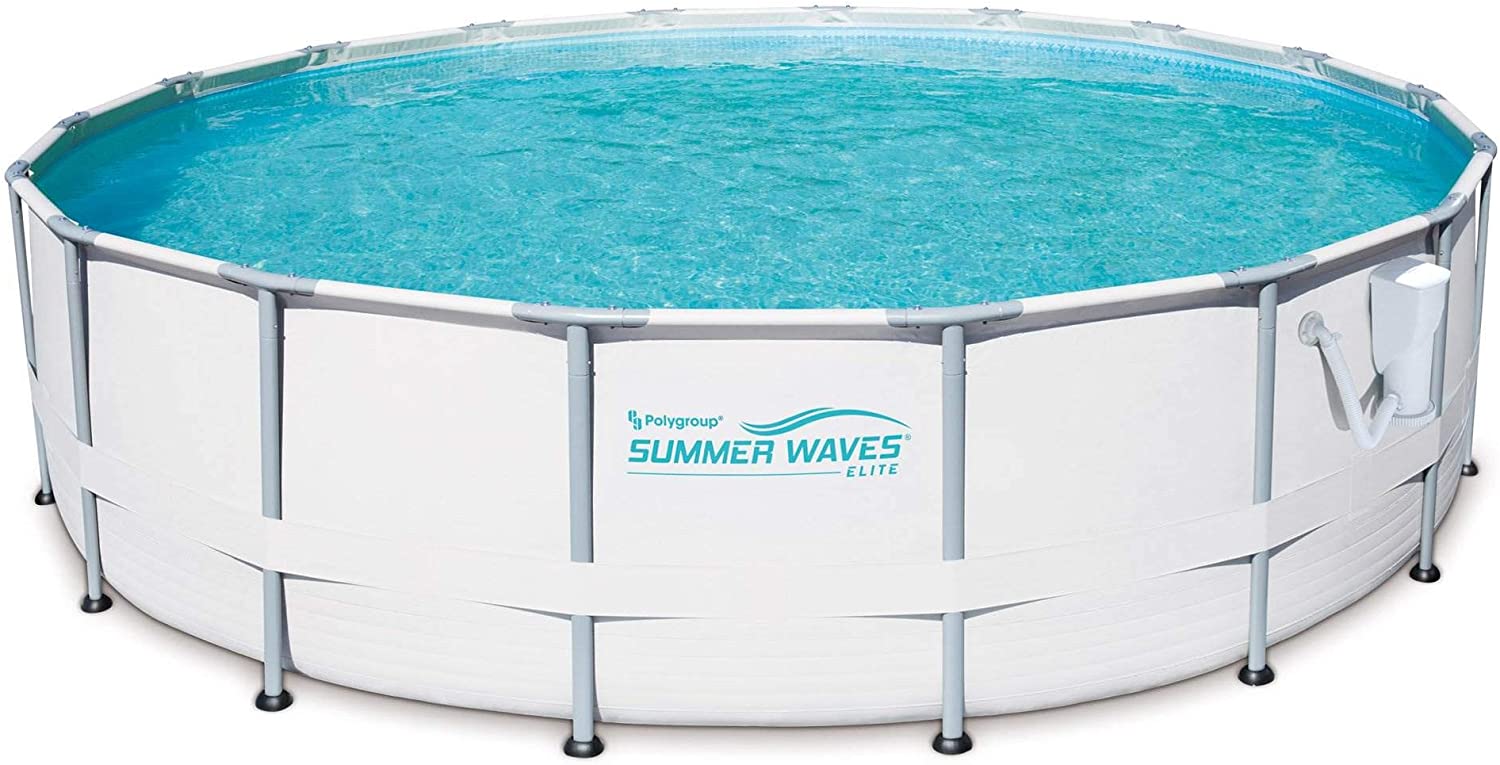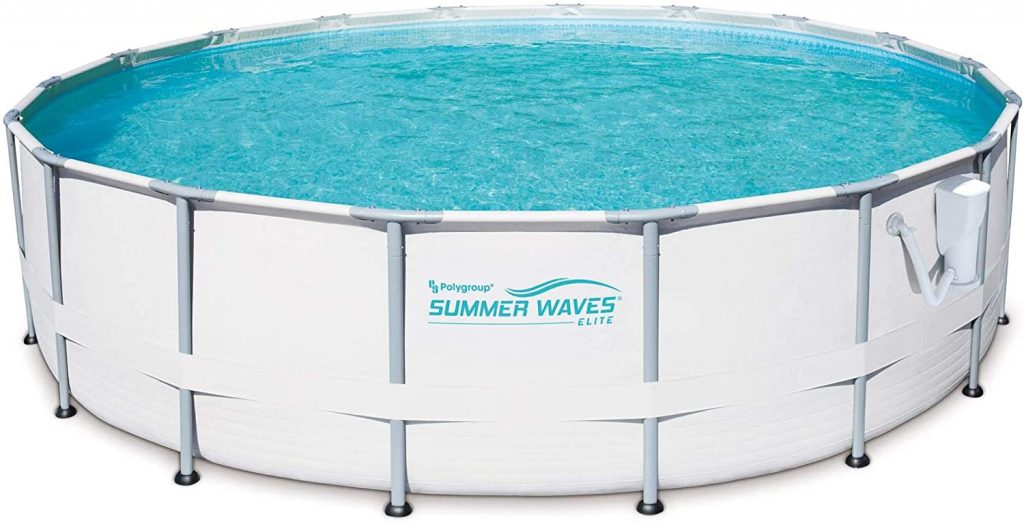 Family-sized pool
The Summer Waves Elite pool 16ft comes for giving lots of fun to you and your entire family. This is spacious and large enough to carry more people at a time. You can enjoy yourself with your family members and friends in this pool luxuriously. 16-feet diameter metal frame with included 1,500-gallons filter system, which is enough for continuous fun.
Superior frame design
All pool frames are applied steel frames with corrosion and a rust-resistant coating system but this pool is designed or made with a sturdy and durable metal frame. The summer waves 16ft elite frame pool metal frame protects the pool walls or liner from rust and corrosion all the time. Also, the metal frame is supported by a 3-ply polyester bend for more stability.
Filter pump with large D size cartridge
The Summer Waves Elite pool 16×48 gallons filter prevents the growth of bacteria in your pool and pumps the water properly. The cartridge is large or spacious enough to carry more debris, dirt, and dust at a time. You don't need to change the cartridge again and again. The filter cartridge doesn't require any additional maintenance or installation. Though it doesn't need any extra maintenance it provides healthier, hygienic, cleaner pool water.
Easy installation and maintenance
The summer waves 16ft elite frame pool is easy to install and set up this pool. You don't need any extra tools or any friends or even any labor for setting this pool in your backyard. You just need to choose a plane surface to set it up. The maintenance is also easy, the maintenance tools and machine will automatically clean and maintain your pool.
Pros
Used metal frame in the sidewalls, which is much sturdier than others.
Spacious and large, which is good for a large family to enjoy altogether.
Much deeper, which makes this pool better for swimming and water games.
Easy to install, set up, and takedown. Also very convenient for movable water park business.
Lightweight, you can easily replace it whenever you need it.
3-ply PVC pool liner can be replaced while the metal frame is still strong.
Corrosion and rust-resistant metal frame use in the sidewalls.
Included filter pump with D size cartridge basket.
Water capacity: It can contain 5,246 gallons of water.
Cons
It takes much longer space in your backyard.
More works to pack away, and it takes up more space for storage. Also, it is not easy to transport.
The pool is very hard, so it may not be user-friendly.
What included with Summer Waves Elite pool 16ft?
The summer waves® 16ft elite frame pool with filter pump, cover, and ladder included with these accessories. That means you do not have to buy anything separately which is quite painful to many people.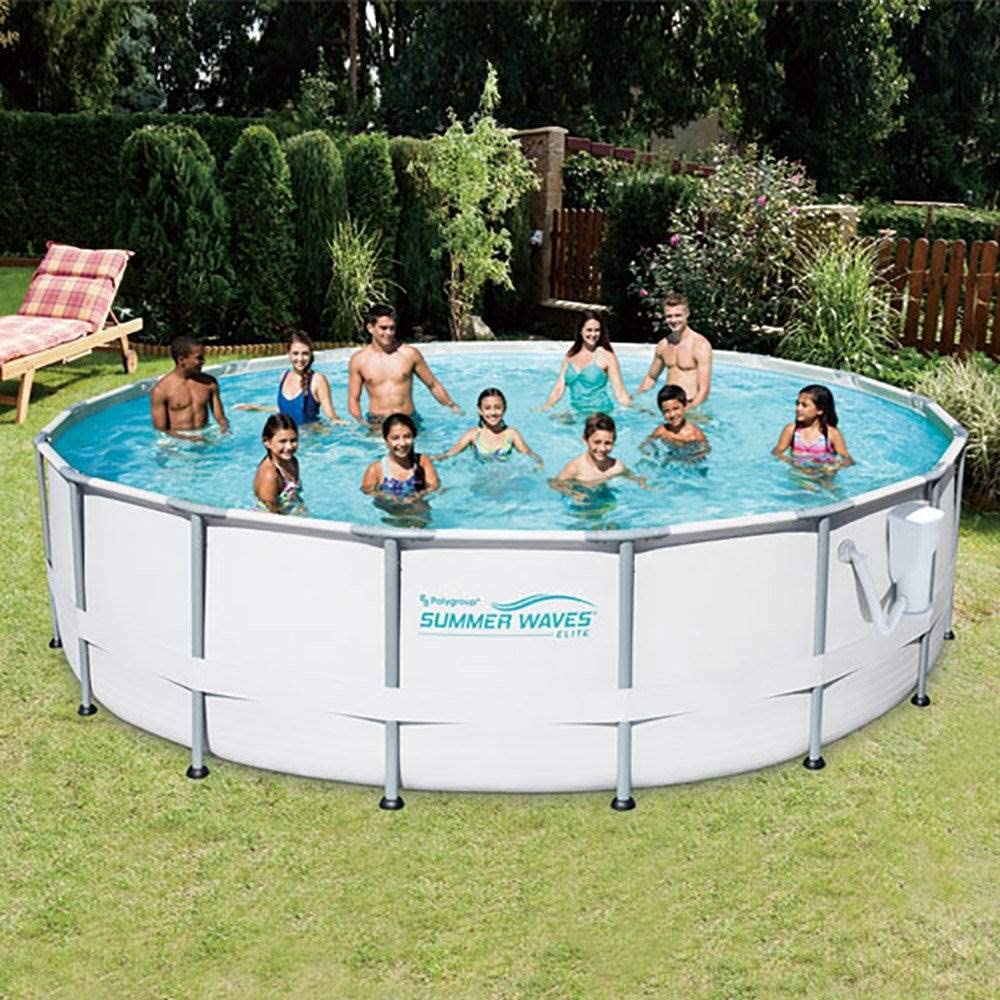 Having essential accessories for any pool is a great thing. If summer waves® 16ft elite frame pool with filter pump, cover, and ladder are not included with the pool, you don't maintain the pool easily.
Then it would be more tough work. There are lots of accessories are included in this pool for ease of maintenance. With these accessories, you can easily access and exit from the pool and can enjoy luxuriously after a long time. Now I am going to explain this pool accessory. Let's get to the point;
SFS350 Skimmer Plus filter pump
Needless to say, a filter pump plays a vital role in any kind of pool, whether it is an in-ground or above-ground pool. 110-120V filter pump with GFCI adds everything you will need to install and set up.
The summer waves 16ft elite frame pool filter pump uses 1.25-inch connections, and also includes one large d size filter connection. The Summer Waves Elite Metal Frame Above Ground Pool Set filter pump pulls the pool water from the skimmer on the pool wall and the main drain on or near the lower part of the pool.
The water flows through the pump to the filter and leaves your pool water fresh and crystal clear. Also, it removes debris, rubbish, dirt and dust, bugs, and bacteria.
Ladder
Another key option of this pool is a ladder. You can't be able to enter and exit without having a ladder. A ladder makes your entry and exit of your pool easy and safe. The ladder is made with strong and durable lightweight steel. Sturdy, durable, and strong steel frame that doesn't float in the water. Also, it is easy to carry from one place to another.
Ground cloth
Ground cloth helps to protect and keep the dirt out of your pool. It ensures pool safety from various kinds of debris, algae, bugs, dirt and dust, and any other damageable thing. A ground cloth protects the pool from any damage and keeps the pool stunningly well till the end.
Pool Cover
Summer Waves pool cover reduces UV rays, which is harmful to health. Also, it keeps the water warm during the time of winter and cools in the time of summer. If you need to fun in the spring or winter season, the pool cover keeps the water warm in winter. On the contrary, in summer, it keeps the pool water cool enough to refresh your mind.
Deluxe maintenance kits
Kits include a telescoping pole, vacuum cleaner, skimmer net. With these kits, you can keep clean your pool from any kinds of debris very easily.
See also