Are you looking for Bestway Power Steel Above Ground Pool review from trusted experts who has many years of experience? Let's explore this article, at the end, you'll get to know that it is suitable for you or not.
Hey, do you want to add more beauty to your backyard by constructing an in-ground pool, but don't have enough space to build one?
No worries, BestWay have the solution for you. Instead of an in-ground pool, you can install an above-ground pool like Bestway power steel above ground pool which is not much costly and also takes short space in your yard.
It is an oval-shaped pool and size is 15 feet in length as well as 48 inches in depth. The dimension of this pool is 168.11 98.43 39.37 inch and weight is 121.7 pounds, which comes in grey color.
It is made with
Rust and corrosion resistant strong steel frame,
Seal and lock system,
3-ply polyester and heavy-duty PVC (Polyvinyl chloride) sidewalls,
Durable and sturdy Tri-tech material,
Long-lasting and viable power stainless steel.
Above-ground pools make a great option for those who want to experience all the advantages of a swimming pool but are not ready to spend money or not have large space in their yard to construct on an in-ground pool.
If you have already decided to build an above-ground pool instead of an in-ground pool then you have made the best decision. A great option for you to construct an above-ground pool is the Bestway power steel swimming pool.
The Bestway swimming pool offers the best quality and quantity of any other pool. when it comes to portable and inflatable pools, Bestway is one of the most trusted and renowned pool brands in the world because of its sensational pool products.
Bestway always delivers and produces superior quality pools that are made for long-lasting. The company offers a wide range of types, sizes, colors, and perfect shapes of backyard pools.
Why the Bestway Power Steel Above Ground Pool best than others?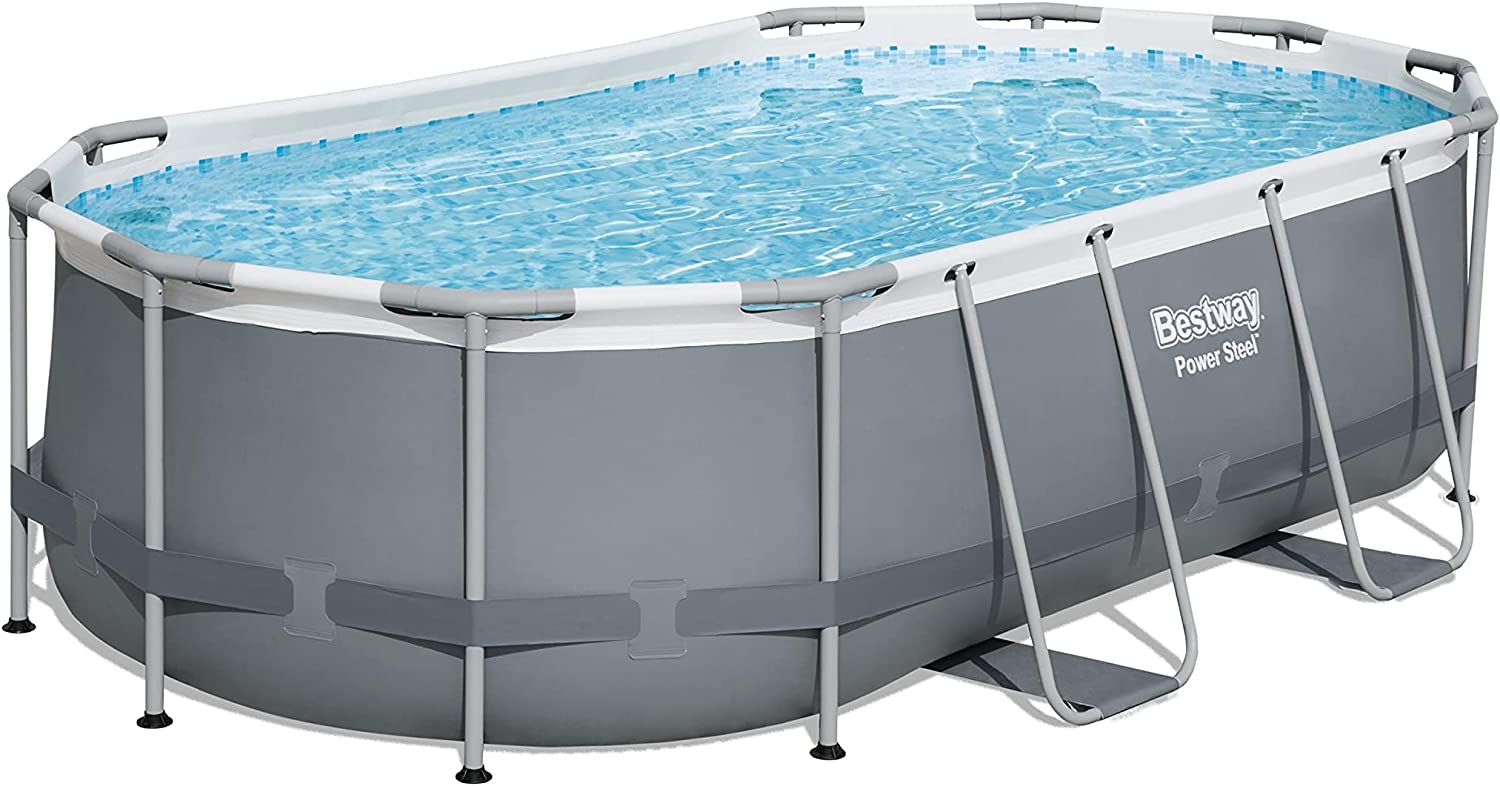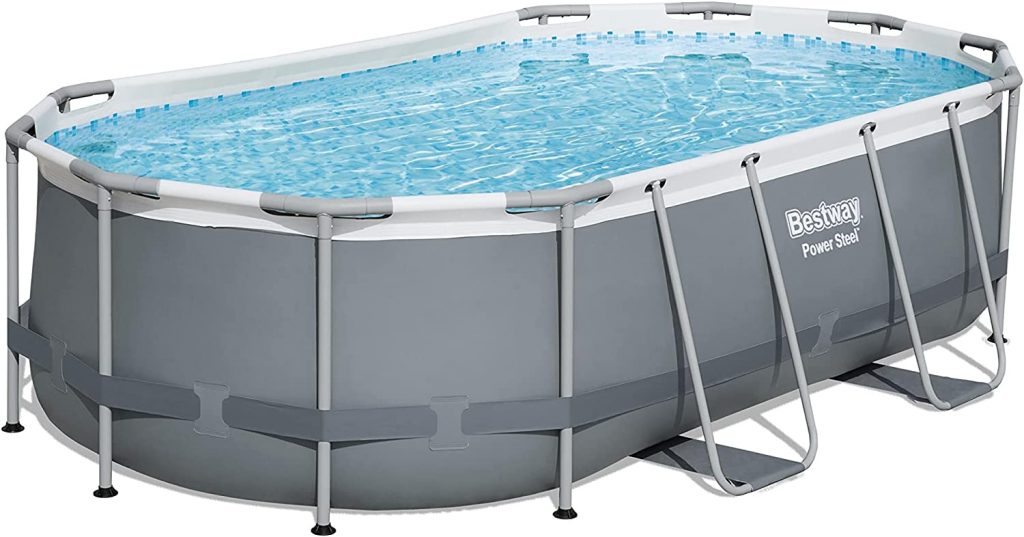 First of all, it was built by a trusty and reliable brand name Bestway. This oval-shaped above-ground pool features reinforced rope that wraps the pool liner bottom section to keep the legs in a rigid position. Keeping the pools trundle in the exact place is important, if not, it is a risk for active kids and teens when they play and swim in the pool. There are a lot of things are available in this pool to prove its uniqueness. Though it has many, now we mentioned some of its uniqueness;
This pool was made with durable and sturdy as well as strong steel walls, which is great for keeping your family members and friends safe and active when they swim and play in the pool.
It includes a filter pump which helps to remove pool debris, bugs, algae, and any other dirt and dist.
A strong and durable steel ladder is also included to get into and out of the pool water easily and safely.
It is easy to assemble and installation is super easy. You don't need to hire any of your friends or labor to set this in your yard. You can enjoy this above-ground pool within 1 hour after installation. Get ready for fun and enjoy yourself in your pool within less than 1 hour.
It is big enough to fun with you and your whole family at one time.
Also, no extra tools required when set up.
You can enjoy much time and relief from the heat in the comfort of your very own yard.
Rugged and durable power steel frame with a puncture and rust-resistant liner is designed to last season after season.
Includes the Chemconnect is the most important consideration. Chemconnect helps to keep the pool water crystal clean and chemically balanced.
Key features of Bestway Power Steel Above Ground Pool
Power Steel
This pool set comes with durable, sturdy, and rust-resistant power steel, which is good enough to protect the pool from outside damage and corrosion. It is designed exceptionally well with an extremely rigid, oval-shaped frame for increased strength and viability. The frame is further supported by 3-ply polyester support and rust-resistant coating for extra stability.
Easy to install and set up
The install and setup process of this pool is easy. Just select a plane surface, inflate the top ring, fill the pool with water and you will be splashing around in no time. Get quick refresh and fun within 1 hour with this pool set, it is easier to set up than other pools. you don't need to hire for setting up this pool.
Chemconnect
The chemconnect chemical dispenser is a convenient and reliable replacement for the traditional chemical floater. Chemconnect helps to keep the pool water crystal clean and chemically balanced. It also increased the negative ions of the water. This chemconnect balances harmful chemicals from the pool.
Benefits of having Bestway above ground pool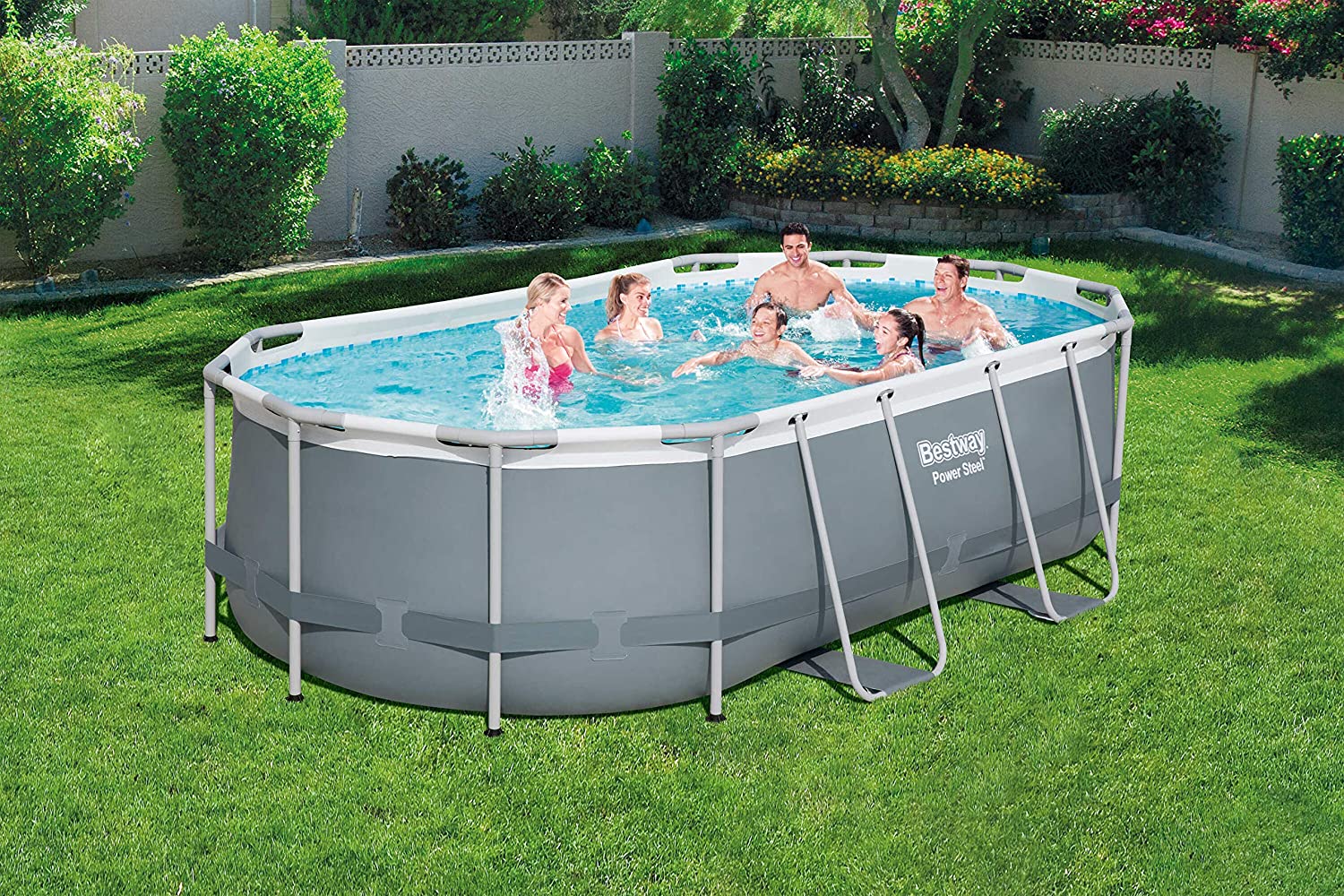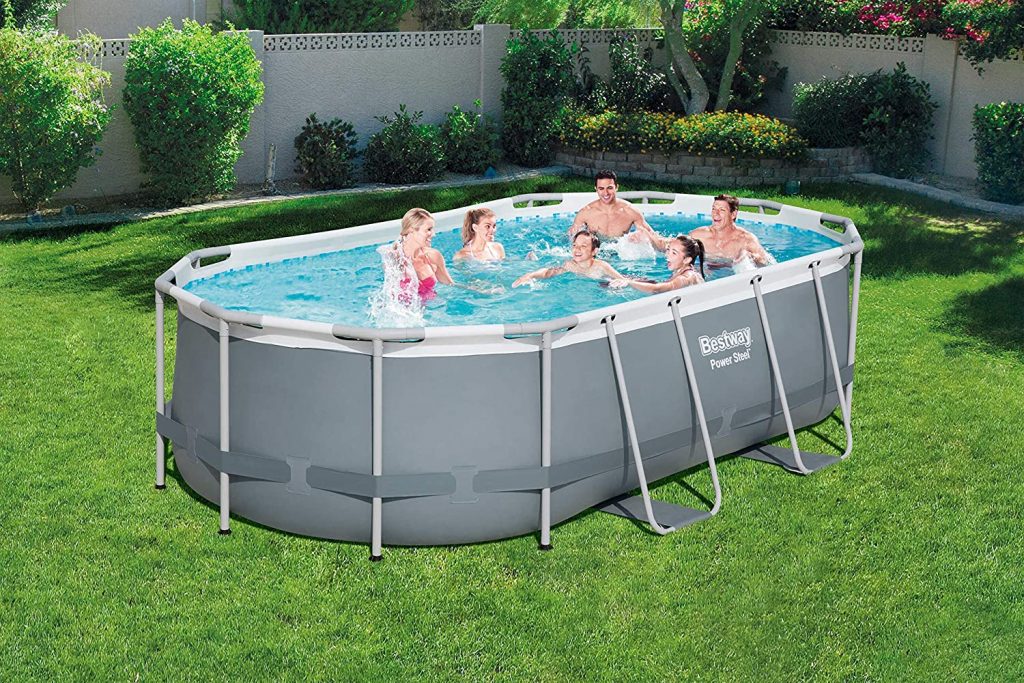 Bestway above ground pool is best for all classes of people. With a Bestway pool, you can completely chill out and relax year after year. There are many benefits of having a Bestway above-ground swimming pool. Though the benefits of having an above-ground pool lots but I am going to mention some of its great advantages.
Affordability
This above-ground pool is a great option to get quick refresh and quick fun on hot summer days instead of an in-ground swimming pool. If you have a strong desire to construct a swimming pool in your yard but the only hindrance is space or money, then you should opt for this above-ground pool. It is not very expensive and can construct small space.
Simply and Speedy installation
Do you want a pool ASAP to get relaxation? This above-ground pool can be installed surprisingly fast. You can take a dip sooner than before and have lots of fun on hot summer days more quickly with this pool. Overall, if you're looking to add a pool in your backyard or front yard in the shortest time possible, this pool is perhaps the way to go.
DIY Options Available
Lots of great accessories and maintenance kits are included with this pool. It comes with everything you need to install your pool on your own time and position. If you don't clean the pool by yourself, then the experienced installer at crystal pool will do it for you.
More Safety than an in-ground pool
An in-ground pool made with deep, that's why kids may often drown when swimming or playing. But an above ground pool comes in different sizes and shape, you can choose as your need. This above ground is not so deep, so the kids and teen ages people can easily drive, swim, and play in the pool.
Easy Maintenance
Due to size and construction, it is easy to maintain and assemble. It may require fewer chemicals and less costly preservation. Ultimately, you can save your time and money by constructing an above-ground pool.
Pros
Inexpensive but durable.
Perfect size and you can manage your space to construct other home depots.
Fast and super easy to assemble.
No extra tools will require for installation.
Easy to maintain and replace.
Will be last more than 3 to 4 years.
Easy draining system.
Rust and corrosion-resistant steel frame.
Tri-tech liner, and
Preferable for both kids and adults.
Cons
Construct in-plane yard and Must be perfectly level.
Can be punctured easily and sub-par pump.
The cartridge filter is not available with this pool.
Pool cover dissolves under UV light.
What included with BestWay pool?
The Bestway power steel pool set comes with lots of unique features and attributes as well as durable accessories. Don't worry about summer fun and enjoy if you have this pool set. There are so many valuable and durable accessories are available with this pool. let's take a look first its accessories those are included;
Step Ladder
The step ladder is an important accessory for any above-ground pool. If a step ladder doesn't include an above-ground pool, then you aren't able to enter and get out from the pool The first step for summer fun and enjoyment in your above-ground pool is, you need to enter the pool first. So ladder plays a vital role in enjoying summer fun.
Ground cloth and Pool cover
Ground cloth ensures pool safety from various kinds of debris, algae, bugs, dirt and dust, and any other damageable thing. A ground cloth protects the pool after a long time. It also keeps the pool water clean from silica, grass, and dust.
Pool cover reduces UV light, which is harmful to health. Also, it keeps the water warm or cool. If you need to fun in the spring or winter season, the pool cover keeps the water hit in the season of water. On the other hand, in summer it keeps the pool water cool enough to refresh your mind.
Filter Pump
The filter pump helps to keep the pool debris-free and leaving your pool tidy. It runs on 1 to 1.5 horsepower, which is enough for an above ground to pump and filtrate the water highly and effectively. Included the filter of this pool set is great, you can easily clean your pool and pump pool water. Also, there have many other maintenance durable kits are available.
See also: