Bestway saluspa vancouver airjet plus review – With a capacity of 3-5 people, the Bestway SaluSpa Vancouver AirJet Plus (61″ x 24″) Inflatable Hot Tub is an economical, go-anywhere option. This portable, inflatable hot tub may be put up both indoors and out. This Vancouver does not require any tools or professional installation.
The 104° F water temperature and 140 massage jets in this spa make it ideal for soaking tired muscles, relaxing after a long day at work, or even as a wonderful and romantic treat for you and your partner to enjoy together.
You don't have to get out of the tub to use the digital control panel to increase the heat or change the jet settings because it's all done from the inside. Smartphone apps are available to manage the spa using a Wi-Fi module that is integrated.
An AirJet Plus system and one SpaJet Plus pump are included with the Vancouver. Also included are one spa cover, one spa/pool filter cartridge, and one Chem Connect dispenser. Let's explore more the Saluspa airjet inflatable spa review.
Best Features of SaluSpa Vancouver AirJet Plus (61 x 24 inches) Inflatable Hot Tub and Portable Spa
140 Bubble Jets
Many bubbles are coming out of every part of this spa. Comfort and relaxation are the primary goals of this product's design. The system has two levels of intensity. After a long day at work, this Bestway SaluSpa Vancouver AirJet Plus inflatable hot tub is the perfect place to unwind.
Power saving option 
With the smart hub app, you can choose the ideal temperature for your home. Power saving timer, water filter, and air-jet and massage system control are all activated. On the other hand, when the temperature drops, the automated heating components protect the internal components.
Control Panel
From inside the spa, the pump has pump holders and a digital control panel that can be accessed quickly and easily.
The water can be heated to 104 degrees Fahrenheit and the temperature of the spa can be maintained. As long as your tub is equipped with an in-built digital display, you won't have to leave it to adjust water temperature or water flow.
Durable and Easy Set-up
The walls of the inflatable spa are composed of Drop-stitch technology material, which provides a sturdy and long-lasting hard spa.
Easy maintenance
You don't need any more tools to assemble this portable spa. Lifting handles make moving the spa a breeze. The deflated shape of this spa makes it easy to store and travel.
What makes this Bestway SaluSpa Vancouver AirJet Plus 61″ x 24 different from others?
In the Saluspa airjet inflatable spa review let's find the answer to what makes it more desirable. The Bestway SaluSpa Vancouver Inflatable Spa has a few elements that make it stand out from the crowd.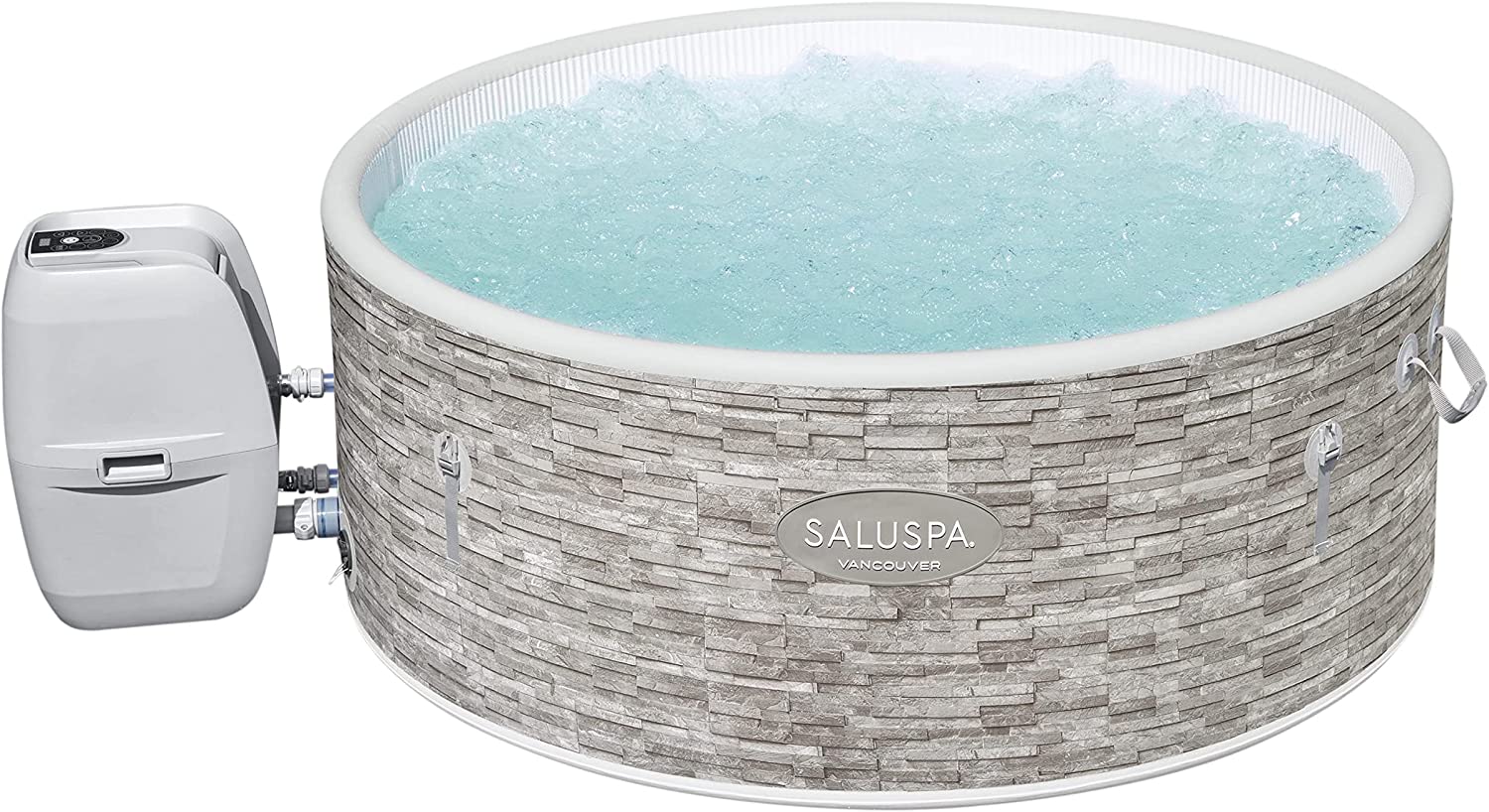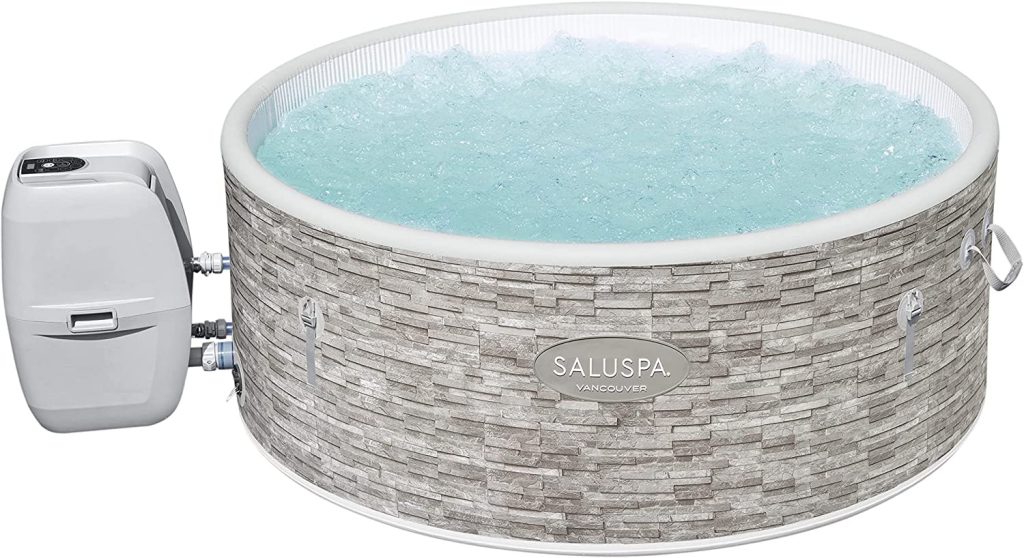 In the first place, it's not a circular form, but a square with curved corners instead the idea that a flat wall is more comfortable than a round one is held by some.
The blow-up jacuzzi's other notable feature is that you may run both the heater and air-jet pump simultaneously. In terms of thermal performance, this is a huge boost. As a result, the water will remain hotter for a longer period when the air-jet bubbles and heater are on.
The SaluSpa Hawaii is one of the few blow-up hot tubs with this feature, which makes it worth a closer study.
With a strong heater, you can keep the water in your hot tub at a temperature of 104 degrees. However, the capacity to run both a powerful heater and bubbles simultaneously comes with a price.
This model is likely to consume more electricity and so be more expensive to run. The Vancouver Air jet Spa is a first-rate hot tub in terms of performance.
The strong bubbles created by the 140 air jets softly massage the skin. Having a square design also provides more legroom in the corners, making it easier to relax.
Like other inflatable versions, the Vancouver Air Jet's build quality and materials are comparable. Tri-tech 3 ply laminated vinyl exterior for strength and stiffness and air-filled walls for proper insulation are just some of the features of this home.
A spa-like experience awaits you in this hot tub. You can relax in the warm water, submerge yourself, and allow the healing properties of the water to work their magic on you. The controls panel is simple to use, requiring only a few taps to perform the appropriate action.
Is Bestway saluspa inflatable hot tub worth buying?
Easy to use, the Bestway Saluspa is an excellent choice for anyone looking for a way to unwind. No need to leave the tub to modify 140 jets or the temperature, which goes up to 104 degrees Fahrenheit, because the controls are right there. It will look great with any outdoor design because of the wood paneling on the sides.
The tub's strong inflatable walls allow it to be both lightweight and robust. Bestway's Smart Hub App may also be used to manage your spa pump. Portable hot tubs don't typically come with a mobile app for controlling the water temperature.
Spa and hand pump, Chem Connect dispenser (with two filters), and repair patches are included in the set's accessory kit. In addition to being simple to transport and store, a portable Jacuzzi is also simple to assemble.
There is no difference in the time it takes to set one up and pack it away. There are no specific instruments or equipment needed for the normal one-hour procedure. Plus, there is no need for anything more than a level, leveled area with access to water and electricity.
Pros
Offers a good drainage system.
The control panel is easy to operate.
Inflatable cover locks securely and effectively.
The walls are much sturdier and support interwoven threads.
Cons
The size is small.
It takes time to heat properly.
Final Words
The Bestway SaluSpa Vancouver AirJet Plus (61″ x 24″) Inflatable Hot Tub is an excellent inflatable spa. What I like about this spa is that it's incredibly quick to set up and quite durable, and the imitation wicker covers the fact that it's an inflatable tube. It's an excellent choice if you don't want to invest in a permanent hot tub.
As the temperature drops, the bubbles appear to speed up the process. You'll need a specific 2.4 GHz network name to connect your smart home gadgets, which is standard practice.
As a whole, it's an excellent investment if you're looking for a luxurious bath even in frigid winter weather.
I hope you have found the bestway saluspa vancouver airjet plus review useful and it answered all of your queries.
See also: