MSpa Baikal Inflatable Hot Tub review –  With this MSpa Baikal Inflatable Hot Tub Hydromassage Jet Outdoor Spa, you may finally have a spa of your own. You'll also be able to choose from three different speeds and 118 sparkling air jets. That means you will be able to relax in this inflated, circular hot tub with many bubbles. A smooth ripple design on the inside keeps it comfortable and works well for those who wish to relax and receive hydrotherapy.
The direction and speed of each of the spa's separate jets can be adjusted to suit your preferences. Because of this, everyone will be able to experience this spa to the most extent.
Top features of Mspa Elite Baikal 118 outdoor inflatable air-jet SPA Jet
Exciting Massage System
Four independently adjustable hydro-massage water jets and 118 strong bubble air jets are used to create the massage experience. A regular hot tub is the same here, but you may customize the intensity of your massage by adjusting the intensity of the water.
With vigorous air and water massages, you can enjoy a soothing home physiotherapy session that relieves tension and aches as well as improves blood flow. It is possible to target certain areas of the body with hydromassage jets.
Sturdy Construction
Reinforced PVC is used in the construction of the MSpa Elite Baikal Jet and Bubble Spa. Four individuals can fit comfortably inside the 71-inch-wide x 28-inch-tall vessel, which carries an impressive 186 gallons.
The tub comes with a zipped cover and lock, a ground cover, an inflated bladder that can be placed on top of the water to decrease heat loss, and other accessories. With an integrated ozone generator, this model's water is smooth and good for your skin. Unlike many other hot tubs on the market.
Relaxing Hydro Jet
More powerful hydro jets and larger bubble jets are used. This heater for the spa is great. It took me nine hours to raise the temperature of 76-degree water to 103-degree water! This is three times faster than the average spa. It has an inflated bladder and a zippered cover to keep heat. A third setting allows you to use the air/bubble jets in conjunction with the hydro jets.
Perfect Control Panel
After ensuring the water is at the temperature you prefer, you can remove the cover and get in. MSPA Elite Jet Outdoor Spa's sides are strong enough to sustain anyone's weight when entering and exiting the spa due to its reinforced PVC structure and internal I-Beam construction.
To activate the massage system while submerged, all you have to do is reach out to the spa's control panel and press a few buttons. In addition to the air and hydro massage nozzles, there is a separate control for each.
What makes MSpa E-BA04 Inflatable Hot Tub different from others?
Only a few portable hot tubs include HYDRO-MASSAGE jets and an abundance of bubble jets. High-end inflatable spa features include a strong heater, a super-quiet pump, a choice of three jet pressure levels, a timer, and of course four amazing hydro-jets that can be adjusted. An integrated water softener would have been nice, but it is not a deal-breaker. This is a stunning hot top.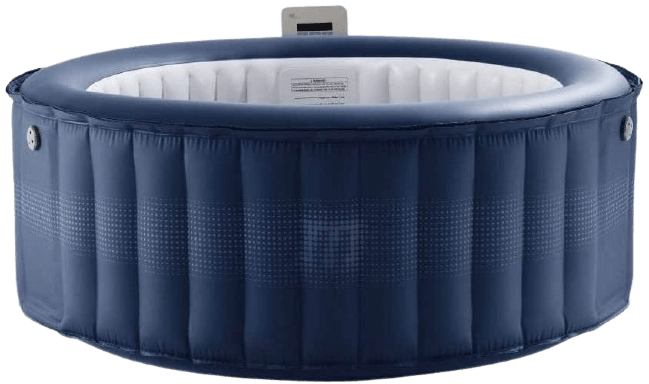 Unlike other inflatable hot tubs, this one has four hydro-massage jets that provide hydrotherapy and increased relaxation to muscles and joints.
The MSpa E-BA04 Inflatable Hot Tub also features 118 air jets, and the pump automatically regulates the bubble massage strength to ensure that you get the most out of the experience.
A strengthened Rhino-Tech liner in the Elite Baikal Jet Spa from MSpa ensures that the spa will last longer. Even when you're in the hot tub, you may use the LCD touch screen control to adjust the temperature and water flow.
Garden hose adapter, inflation hose, two filter cartridges, an inflatable bladder, digital lock, and a heat bubble mat are also included in the kit.
A manometer is included in this spa set to assist you to ensure that the hot tub has sufficient pressure for your needs. It also comes with a DVD instruction manual to ensure that you learn how to use this spa set properly.
Is it worth buying this Mspa Elite Baikal 118 outdoor inflatable air-jet SPA Jet?
The MSpa Baikal Inflatable Hot Tub Hydromassage Jet Outdoor Spa features both bubbles and hydro-massage in a gorgeous spherical midnight blue tub. Water flow and jet direction may be changed for each of the four hydro-massage units. There are also 118 bubbling air jets and a variable three-speed pump that can modify the intensity from gentle to energizing of the massage bubbles.
The mocha-colored exterior and champagne-gold interior give this portable spa a beautiful appearance. At 71 inches wide and 28 inches deep, it's big enough to fit four adults, although it's preferable to think of it as a two-person chair. Even in subzero temperatures, it's durable enough to be used all year round with just a few precautions.
An outdoor hot tub of this caliber, the MSPA Elite Baikal 118, has been intended to provide high-quality services to its customers. Unlike most hot tubs, this one has a unique design and a wide range of options. Perhaps the most notable feature of this hot tab is the hydro massage therapy that provides consumers with the ultimate therapy in their backyard.
I recommend this hot tub to anybody who is looking for a high-quality medium-sized hot tub with hydro-massage and is willing to pay for it. If you're willing to spend a little more on a high-quality hot tub, this MSpa Elite Baikal Outdoor Jet Spa is a great option.
Pros 
Massage offers more relaxation to joints and muscles.
It features a reinforced Rhino-Tech liner with I-beam construction.
Can heat up quickly.
Offers comfortable massaging bubbles and jets.
Cons
Set up is quite difficult.
Expensive.
Final Words
This MSpa Baikal Inflatable Hot Tub Hydromassage Jet Outdoor Spa is a huge game-changer. It's already been proven that MSpa's Luxury Exotic Jet Spa is the future of the inflatable hot tub business, with its 8 hydro-massage jets.
A smaller and more cost-effective version of that concept has been created by MSPA with the Elite Jet Outdoor Spa. As a first spa or an upgrade from a lower-end model, this is an excellent choice. It's both attractive and functional. I hope you have found the MSpa Baikal Inflatable Hot Tub review useful and it matches your needs.
See also: