Purple Leaf 10′ x 10 pergola review  -The aluminum pergola with retractable roof is an upgraded version of the traditional hardtop gazebo with an adjustable louvered roof that can spin open to an angle of 90 degrees and can spin shut to 0 degrees. It's built of aluminum with a galvanized steel roof that's been treated to withstand rust and fade, and it's lasted for years. It's the greatest option for an outdoor gazebo. Let's dive into the Purple Leaf pergola reviews to get all the information about it.
Combines traditional pergola and traditional gazebo, this louvered hardtop gazebo can adjust the louver angle you like while the sun is hanging upon the sky. A panoramic view of sunset glow and night sky could also be seen.
In addition, you don't have to worry about drizzles or light snow. Simply close, the louver shut as the weather begins to change then you can still enjoy your leisure life because the gazebo offers the ability for full shade protection when the louver is tilt shut.
As your guests relax in your classy, shaded retreat, this gazebo is sure to leave an impression.
Best Features of PURPLE LEAF Outdoor Louvered Pergola 10′ × 13′ Patio Hardtop Gazebo
Great Shape and Size
A modern pergola with a louvered roof combines a pergola with an open roof and a pavilion with a closed roof to provide 130 square feet of shade. When the louver is tilted down, the gazebo provides total shade, preventing intense sunlight as well as damaging UV rays from penetrating the gazebo's fabric.
Extended Lever
For a wide range of shading options, you can adjust two rows of louvers independently. The louver angle may be easily adjusted thanks to the enlarged adjustment lever.
Water-resistant Tilted Structure
The louvered gazebo has a tilting framework that allows water to flow out of the building. The louvered pergola is water-resistant in light rain or drizzle.
Aluminum Frame and Privacy Netting
Galvanized steel roof and aluminum alloy frame resist corrosion and are easy to clean. Rainwater runs off the frame and poles because of the water gutter design and the unique tilting construction.
The gazebo comes with retractable privacy curtains and netting, which keeps bugs out and provides privacy. For gardens, backyards, swimming pools, hot tubs, and beaches there is no better umbrella than this exquisite louvered one.
Perfect Cover
There is a complete set of curtains included with the gazebo, which not only adds additional personal space but also blocks out the sun.
This gazebo is a great addition to any garden or yard, whether you're hosting picnics and parties or just looking for a new appearance. Whether the curtain is permeable, partially covered, or completely encased in the fabric is entirely up to you.
What makes Purple Leaf outdoor louvered pergola 10′ × 13′ different from others?
In the Purple Leaf pergola reviews now I am going to mention what makes the unit result-driven and exceptional from others. A well-designed improvement to the Purple Leaf outdoor louvered pergola 10′ × 13′, suitable for both business and residential use.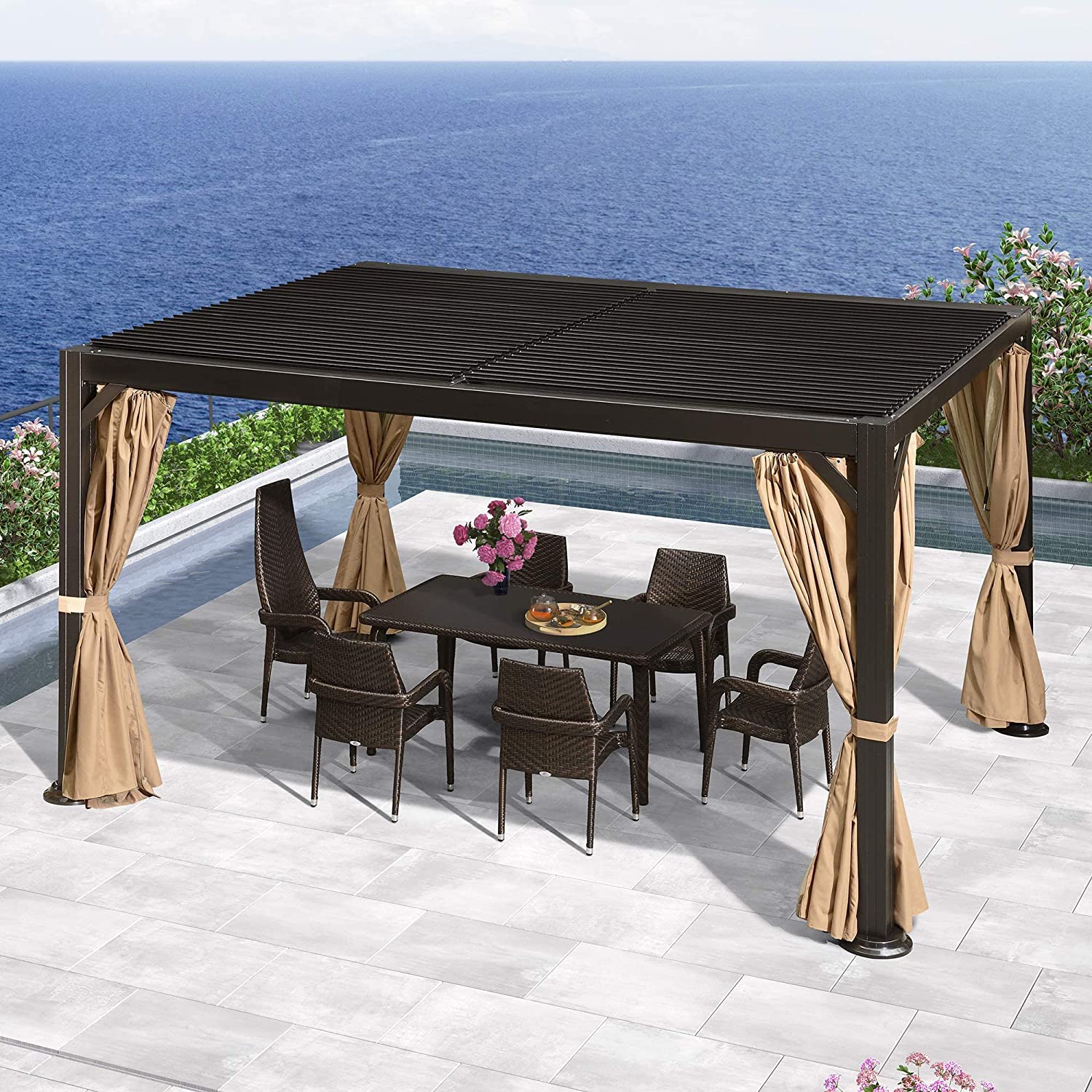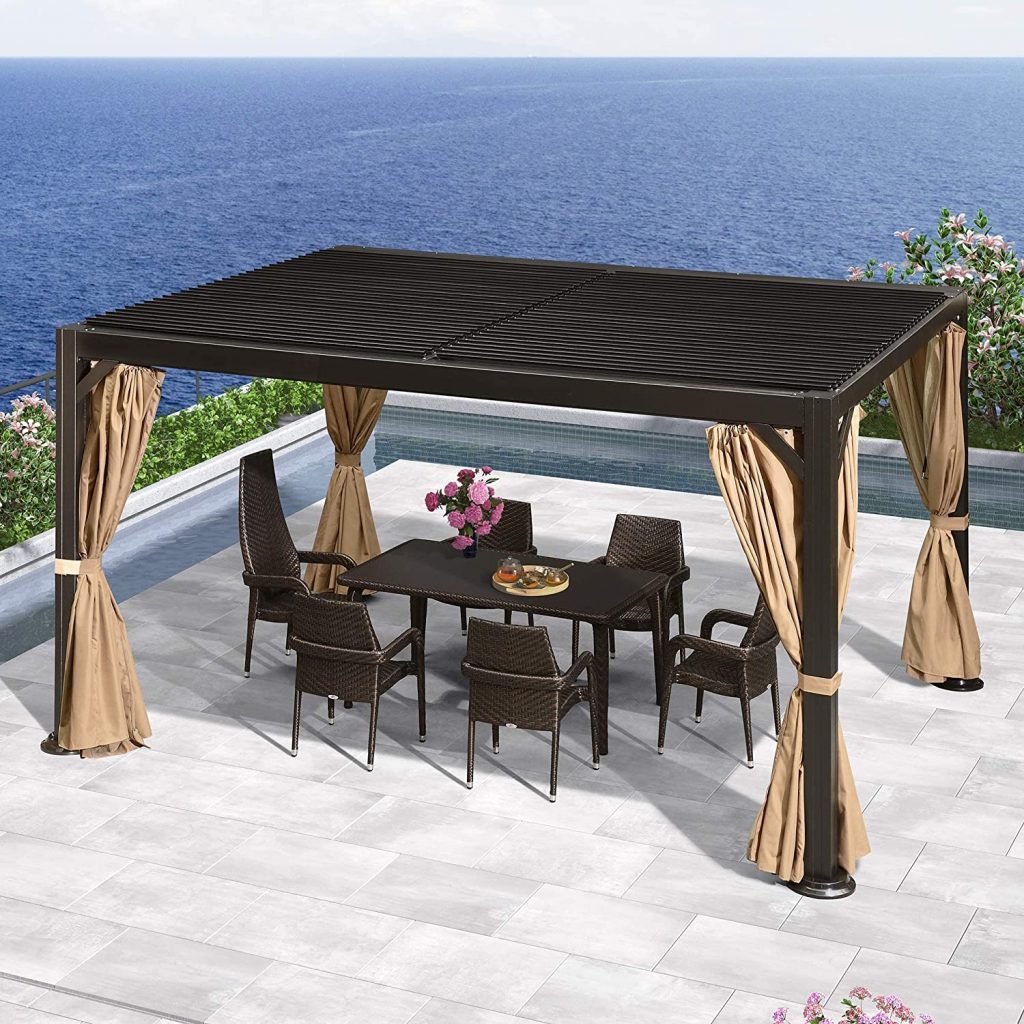 When the louver is tilted shut, this hardtop gazebo provides complete shade while blocking out harsh sunlight and dangerous UV rays. It may be used to provide customized shade in several orientations. The new yarn-dyed cloth used in the canopy's construction is more robust, UV-resistant, and water-repellent, with enhanced wear and fade resistance.
Aluminum frames painted with grey wood grain paint are an ideal blend of traditional wood and contemporary metal. All of the houses are perfectly suited to the contemporary and high-quality design. The patio, backyard, poolside, deck, and even the lawn are all good places to put it to use.
Changing the canopy position and retracting it at any time is possible with this device. It's exactly what you need to protect yourself from the sun or light rain.
Cleanable and rust-resistant galvanized steel roof made of aluminum alloy frame.
The PURPLE LEAF Outdoor Louvered Pergola 10′ × 13′ Patio Hardtop Gazebo comes with retractable privacy curtains and netting, which helps keep bugs out and provides privacy. All the equipment and instructions needed to assemble are included in the package.
Is Purple Leaf 10′ x 12 outdoor retractable pergola worth it?
This Purple Leaf 10′ x 12 outdoor retractable pergola has my heart. Putting it together was a lot easier than I expected, and it turned out amazing. Yes, it's worth the money.
In addition to a slight dent on the front of the gazebo, two of the end caps meant to keep the curtain from slamming off the rail were missing. Fortunately, the problem was easily rectified by cutting a small piece of wood and hot gluing it in place.
Two people could easily erect this pergola, which is both lovely and practical. Pieces and bolts were perfectly aligned with no major difficulties. Light but robust columns and beams were held in place by a deck anchor, making the building even more stable. I think it's a solid piece of work once it's put together. Gorgeous and easy to use the louvered roof.
It rained the day after the installation, and the gutter-like system has made it possible to hear the water dripping from the columns. The company's customer service has been fantastic, staying in touch to make sure the product and delivery went smoothly.
It was a pleasure working with the staff at Purple Leaf; they were always there to answer any questions I had. Check to see if you've got the right curtains/screens in the right places when you hang them.
The aluminum is light yet strong enough to ensure that it is firmly attached to the surface. I don't think the wind will be a problem because the structure doesn't move much.
Pros
Provides full shade.
It allows for customized shade in different directions.
They are long-lasting.
Easy to assemble.
It is both UV and water-resistant.
Cons
Additional materials are needed for assembly.
Final Words
Designed for today's modern outdoor spaces, this Purple Leaf 10′ x 12 outdoor retractable pergola provides shade over an existing deck or patio. It stands alone.
Assembling it will be quicker and easier thanks to the included simplified assembly instructions. With its natural wood finish and elegant structure, this patio pergola will look great in just about any backyard or outdoor space. I hope you have found the Purple Leaf 10′ x 10 pergola review useful and it answered all of your queries.
See also: