Essential Hot Tubs 50 Jets 2021 Polara review – It is a bubble massage model that offers you an experience like no other. You can expect a strong current and bubbling jets that will massage your back and neck as you lie there in the tub. It has an attractive design as well, which will surely make it stand out in your backyard.
Are you seeking a beautiful hot tub where you may rest in a peaceful setting or celebrate with dear ones? The Essential Hot Tubs 50 Jets 2021 Polara is one of the appropriate on the market. This review will provide you with all of the details that need before making a purchase decision about which hot tub is best for you in your home.
Essential Hot Tubs Polara offers adequate stainless-steel jets and space for six people. Simply pushing a button on the remote control will initiate the massaging option. You can change your posture in the bathtub for various kinds of therapies. Bluetooth mixing speakers, massaging jets, and adjustable steps provide accessibility throughout the hot tub.
You may also use your smartphone or any Bluetooth device to listen to music when in the tub for enhanced pleasure. It combines elegance and efficiency in an exceedingly functional interior architecture. The Essential Hot Tubs 50-Jets 2021 Polara is one of the best hot tubs due to its sturdy construction and intriguing spa features.
That choice may appeal to those who like organizing hot tub parties. Its built-in music system, which enhances the soaking pleasure, is perhaps the most tempting feature of the hot tub.
Is the Essential Hot Tubs 50 Jets 2021 Polara worth Buying?
The 50 Jets 2021 Polara from Essential Hot Tubs contains 34 jets and 16 bubble jets. It can seat up to six individuals and contains a lounger and captain's chairs. The hot tub also has a high-quality sound installation with a subwoofer and amplifiers, and it is Bluetooth enabled. The gadget comes with a digital backlit screen and is connected by a 240V/50A plug.
It has features such as an LED waterfall, LED controls, and cabinet illumination, allowing you to change the atmosphere with the push of a button on the digital backlit display control unit when listening to the music through the Bluetooth compatible music system.
In addition, while not in use, the hot tub may be covered with the included tapered insulating covering. There are three high-performance pumps incorporated as well, allowing you to choose your degree of enjoyment.
Top Features of Essential Hot Tubs 50 Jets 2021 Polara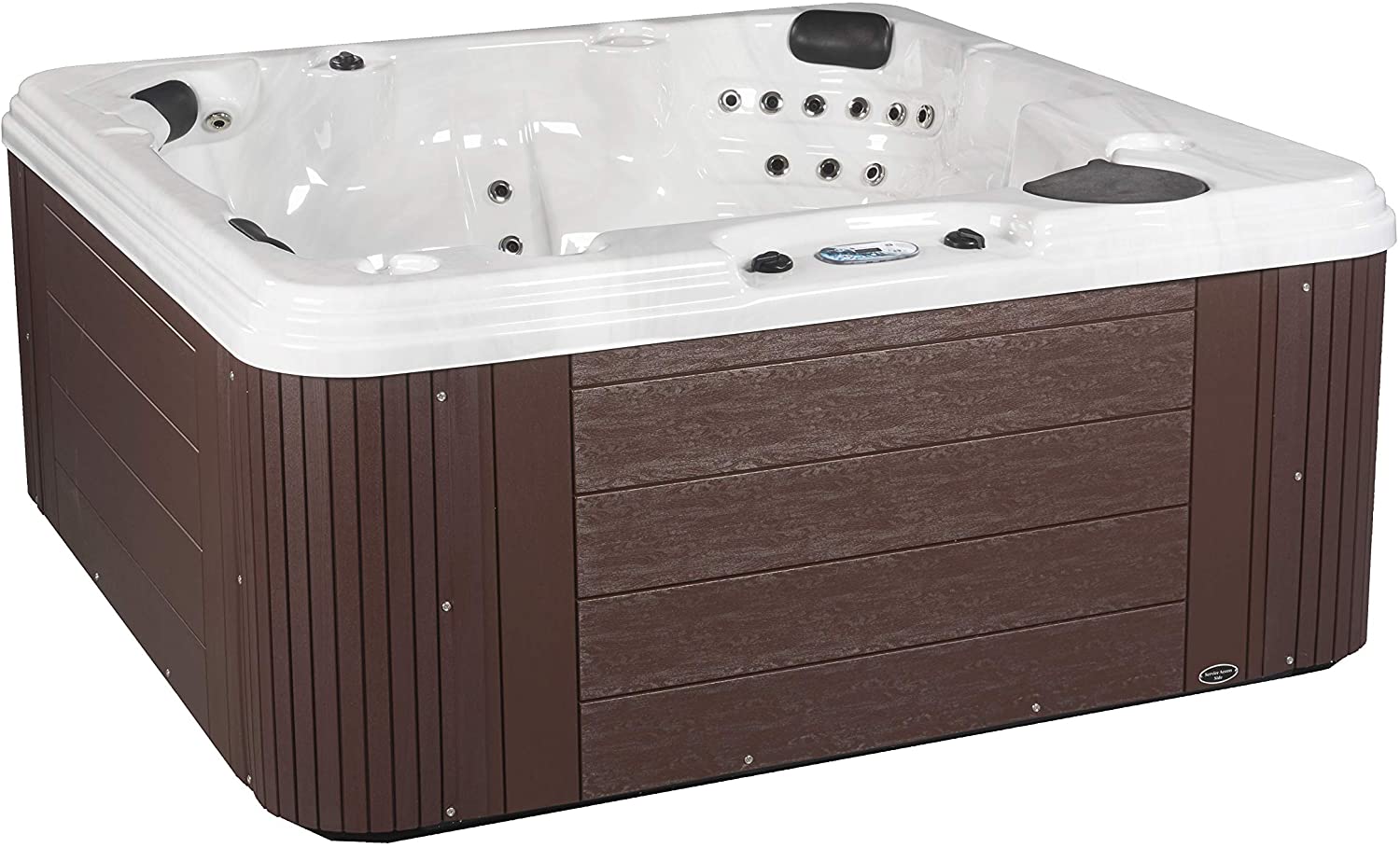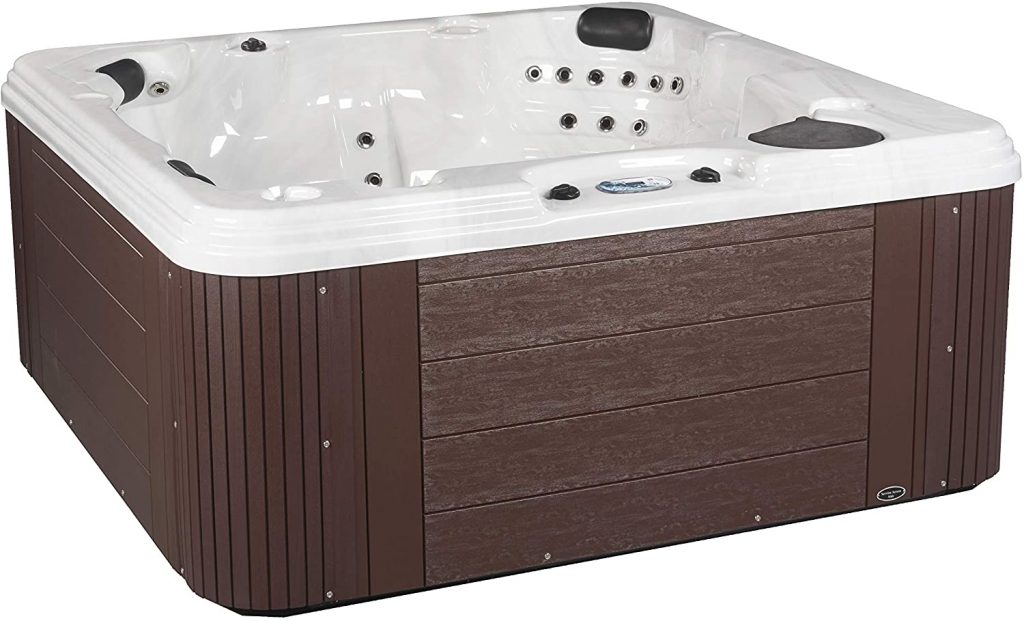 With hot tubs, finding the right one for you can be a challenge. This is especially true when there are so many options out there. However, if you're willing to do some research, it's entirely possible to find one that's sure to satisfy your needs. We're going to help you with that. In this Essential Hot Tubs 50 Jets 2021 Polara review, we'll take a look at the pros, cons, benefits, and top features, so that you can get a better idea of whether or not it's right for you.
Jets
The hot tub contains 50 jets, 34 of which are customizable stainless-steel jets that release muscular tension and encourage relaxation. The remaining 16 weapons are steel and are known as jets. The jets can be activated and deactivated as necessary.
Despite the enormous amount of jets, the intensity is not low, and the jets are powerful, which helps to relieve hurting muscles.
Excellent Ergonomic
It offers ergonomic accommodation for five to six people, as well as two Captain's Chairs and a Lounger. Relax into a therapy seat and enjoy an intensive leg therapeutic massage in the Lounger or an energizing therapeutic massage in the Captain's Chairs while listening to the soothing melody of the waterfall. The tub has two types of chairs, both of which contain jets and a headrest for enhanced comfort.
Durable Materials
As part of the package, it comes with an insulated cover constructed of high-quality components. The thick insulated cover protects the tub from birds and other environmental occurrences during inclement weather.
The Polara by Essential Hot Tubs is completed by a custom-designed cabinet with a heavily loaded insulating cover and steps for simple walk-in convenience—as standard. You will be able to slide into comfortability at any time of year.
Heater
The device has a 4KW Balboa heater. Polara is an energy-efficient pump with three distinct pump modes to help you find your ideal degree of relaxation.
Massage for Relaxation
The hot tub contains a Captain's Chair with rotating jets, or you may relax in the Lounger and enjoy a massage experience. The Captain's Chairs all have cushioned headrests with retractable neck and shoulder jets. So, with the click of a button, you may select between passive therapy and an energizing therapeutic massage.
Warming to the Maximum
The 4kW Balboa all-season stainless-steel heater in this energy-efficient 240V spa ensures optimal heating even on the coldest weather days.
Fantastic Audio Quality
The model has two high-quality amplifiers enclosed in an acrylic enclosure, as well as a servicing wood cabinet for the subwoofer. If the audio quality is decent, you should purchase the hot tub. To make this situation much more unforgettable, it has an LED-lit waterfall.
LED lighting Enhancements such as an LED waterfall, LED perimeter lighting, wraparound headrests, Bluetooth connection speakers for easy accessibility to the hot tub, and massaging jets enable unwinding simpler than ever.
You may unwind in a Captain's Chair with revolving jets or a Lounger while receiving a full-body treatment.
Bluetooth Connectivity
While relaxing in the hot tub, you may link your smartphone to play music from your device over the speakers. The lighting, waterfall, and speaker provide an ideal environment for relaxation and renewal.
Pros
Passive treatment allows you to unwind.
It quickly warms up.
The concept is environmentally friendly.
It has underwater LED lights and a waterfall.
Cons
The hot tub is challenging to discharge.
The guidelines are ambiguous.
There is no accessibility to the electrical panel.
The control panel is NOT easily accessible.
Installation must be performed by a licensed electrician.
Summary
The Essential 50 Jets 2021 Polara features everything you could desire in a hot tub right now. The jets may be switched from passive flow to vigorous massage with the press of a single button.
This hot tub may be utilized for a multitude of reasons, such as unwinding after a hard day at work or for hydrotherapy. Hot baths are essential. Polara hot tub includes two Captain's Chairs that give plenty of space for leisure while still sending a strong message.
The 50 Jets 2021 Polara Hot Tub is a perfect place for leisure due to its quality, spaciousness, longevity, and performance. So, hurry up and spend some quality time with your loved ones. I hope you have found the Essential Hot Tubs 50 Jets 2021 Polara review useful and it lived up to your expectations.
See also: