Essential hot tubs 30 jets Adelaide hot tub review – Find out why the Essential hot tubs 30 jets Adelaide plug and play hot tub is the ultimate backyard delight from the comfort of your own home.
The Essential Hot Tubs 30-Jets 2021 Adelaide Hot Tub provides comfortable seating for up to six people in this Adelaide model boasts 30 stainless steel, fully adjustable jets. The Adelaide is powered by a two-speed, 2 Peak HP pump that melts away stress and leaves your muscles feeling calmed and energized.
The Adelaide's two Captain's Chairs allow you to tailor your experience from a relaxing soak to a full hydrotherapy massage, depending on where you sit.
This hot tub offers ergonomic seating for up to 5-6 people with a lounger and two Captain's Chairs. It can hold water up to 300 gallons. It features a 20V/15A outlet connection with a GFCI cord.
The heavy-duty insulated cover and custom-designed cabinet are the final touches on the Adelaide by Essential Hot Tubs. The stainless steel Balboa heater is housed inside. All year long, you'll be able to settle into a state of relaxation and ease.
Top features of Essential hot tubs 30 jets Adelaide plug and play hot tub
If you are looking for a hassle-free hot tub then the Essential hot tubs 30 jets Adelaide plug and play hot tub is ideal for you. You do not have to go through any complexity to assemble the tub. It's a plug and play unit. Let's take a look at the top features and characteristics of the Adelaide hot tubs 30 jets.
Stainless Steel Jet
To ensure a personalized experience, the tub is equipped with 30 stainless steel jets. Even though 30 jets are present, the pressure is not low and the jets are forceful. All the jets are also corrosion-resistant, enhancing their longevity.
Perfect Seating Facility
This 5-person hot tub is ideal for parties and sets the tone for a great get-together. It's integrated with 2 Captain's style chairs with mounted pillow headrests and a full-body lounger. The pillow enhances the overall experience by adding comfort to the neck.
Small features such as a drink tray add a touch of luxury which makes the tub resemble an expensive hot tub. It also features 2 LED water columns and a built-in ice bucket with a lid for entertaining the guests during a hydrotherapy session.
Built-in Plug System
Another one of the greatest features that you will find in Essential Hot Tubs 30 Jets is plug and play a built-in sound system. This feature increases the amazement of this product. With the help of this feature, you can enjoy music along with the hot tub spa that will highly increase the experience and make you able to enjoy it incredibly.
Insulated Cover
The insulated tapered lid with locking clips on the Essential Hot Tubs 30 Jets increases the product's security and dependability. The inner workings of the 30 essential hot tubs jets will be safe from dust or debris in this way.
Control Option
In Adelaide, a Balboa controller with a 1KW/4KW heater and M7 Technology is in use. It is possible to improve heating performance by moving from a 120 to a 240-volt circuit.
With a few button taps, you can change anything from the temperature to the lighting to the jet's speed of the plane.
To maintain a constant temperature, you should set the thermostat control to standard. In most cases, the default configuration is to use standard.
Is Essential hot tubs 30 jets Adelaide hot tub worth it?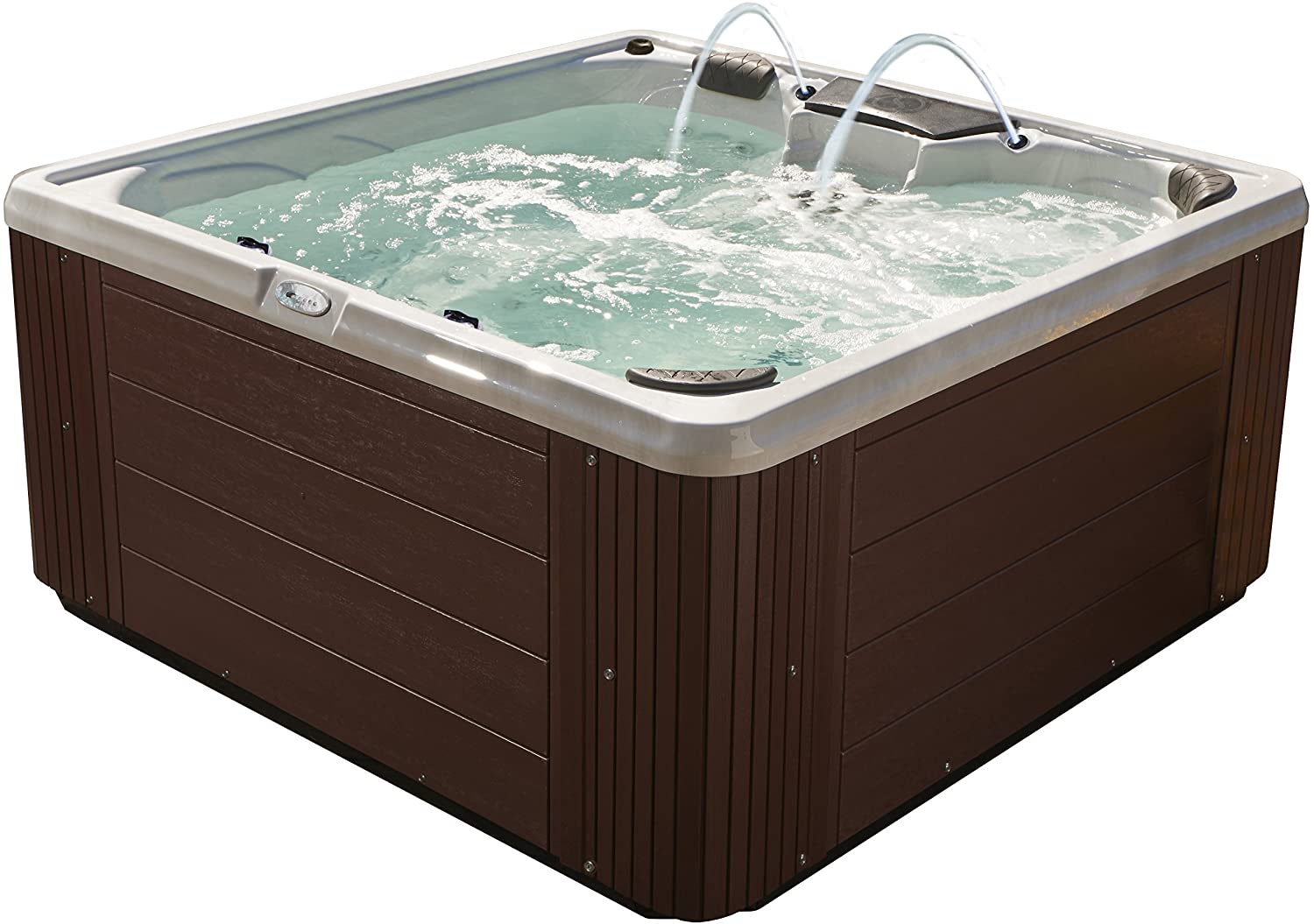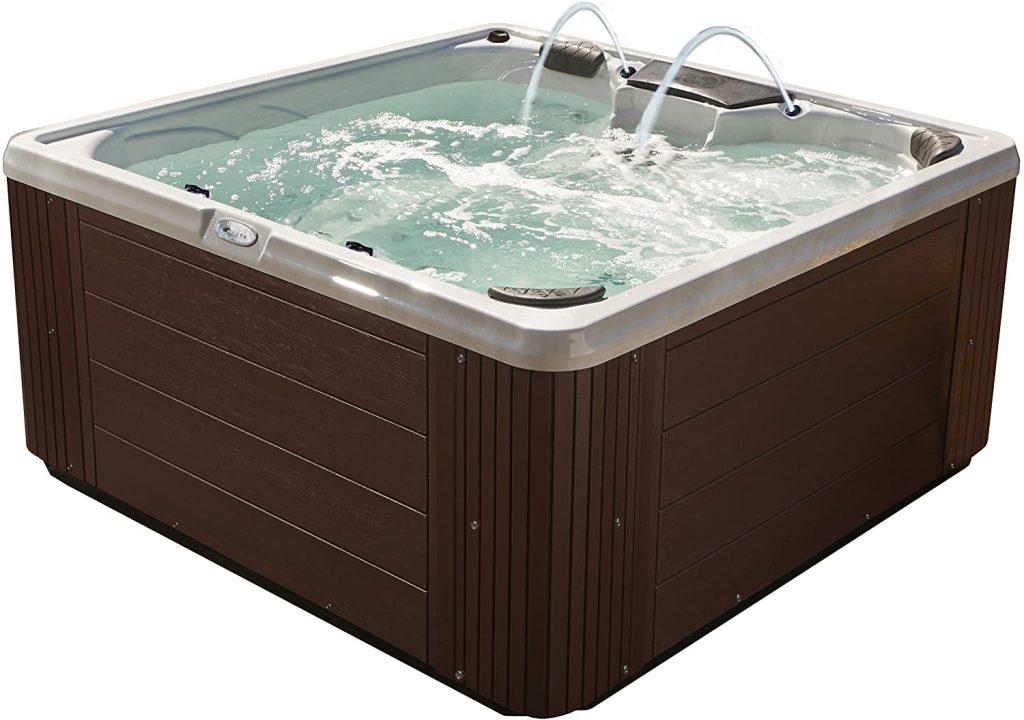 Every aspect of the Essential hot tubs 30 jets Adelaide hot tub exudes a sense of grandeur and sophistication. Each of the 30 stainless-steel jets in this plug-and-play hot tub is adjustable to spray in the direction you like.
It can accommodate up to six people, making it ideal for families with multiple children or groups of friends looking to enjoy a relaxing spa day together.
A heavy-duty cover protects the tub when it's not in use and adjustable LED flow control. Jets like this one are also adjustable and long-lasting. To put it another way, you're getting just the perfect amount of pressure on the places that are under the most stress.
The GFCI cord that comes with this item is one of its best features. A GFCI cord, as we've established, allows for an easy connection of the device. As a result, there is no need for additional wiring or electrical connections. Go to the nearest outside power outlet and settle in.
With the stainless steel Balboa heater, you can rest assured that your tub will be heated to the degree you desire.
Ergonomic features distinguish this model from others. With its full-body lounger, this adds an extra level of comfort and relaxation. Also included is a heavy-duty, insulated, and tapered cover with locking clips to ensure that your device is safe when it is not being used.
Using a hot tub outside provides an opportunity to get some fresh air and connect with the natural world. You may get the most out of your hot tub time if you're in there while it's really cold outside.
What makes this Essential 30-Jets 2021 Adelaide Hot Tub different from others?
This Essential Hot Tubs 30 Jets 2021 Adelaide Hot Tub has only a fraction of the water capacity of other large hot tubs. Capacity constraints can reduce the overall system size and open up new possibilities for the user.
In Adelaide, you can select from a soothing soak to a full hydrotherapy massage depending on the seat you take. Captain's chairs can be found in both the lounge and center of the vessel.
The Adelaide is equipped with three headrests, two LED-lit water columns, and an ice bucket with a cover and tray built-in into the unit.
Plug into a standard 120V/15A household outlet to get ready to entertain. With an optional bespoke cabinet, an all-season stainless steel Balboa heater is protected from the elements with an insulating cover. These characteristics are included in the Adelaide hot tub by Essential Hot Tubs as a standard feature.
The Essential Hot Tubs 30-Jet Adelaide Hot Tub is composed of stainless steel and has 30 water jets for a wonderful bath. You can easily choose between massage jets and therapeutic jets. The ergonomic seats can fit up to six individuals comfortably.
Pros
It offers massaging and relaxing facility.
You can control the features easily.
Features safety through the insulated tapered cover.
Offers plug and play set up.
The design is durable and long-lasting.
Cons
It consumes time to raise the temperature of the water.
There is no chemical dispenser.
Final Words
It's hard to find anything negative to say about Essential Hot Tubs 30-Jets 2021 Adelaide Hot Tub. Six people can fit comfortably in this room. To enhance thermal efficiency, the heater is composed of stainless steel and entirely insulated.
This looks and feels fantastic, performs brilliantly, and doesn't let you down in any way. Yes, this is an excellent product, and we have no problem recommending Adelaide to anyone in the market for a hot tub.
I hope you have found the Essential hot tubs 30 jets Adelaide hot tub review and it answered all of your queries you need to know.
See also: