Let's take a closer look at the Bestway SaluSpa Hawaii HydroJet Pro Inflatable Hot Tub review by SwimmingPool A2z. A hot tub is a perfect addition to a home's relaxation space. It can even turn a regular backyard into a resort-like atmosphere. While the installation of a conventional hot tub may be cost-prohibitive, a Bestway hydro jet inflatable hot tub comes with several benefits.
Aside from its durable PVC material, the Bestway SaluSpa Hawaii HydroJet Pro Inflatable Hot Tub is one of the largest tubs of its kind. An extendable floor allows it to comfortably fit up to four adults.
A fully adjustable temperature gauge also lets you customize your ideal temperature setting. The model also comes with a new EVA Leisure system that's designed to offer a combination of comfort and durability.
The Bestway SaluSpa Hawaii HydroJet Pro Inflatable Hot Tub is a well-constructed, sturdy hot tub that will provide you with lots of therapy after a long day at work. The Bestway SaluSpa Hawaii HydroJet Pro Inflatable Hot Tub is one of the many tubs available in the market but still, it has its pros and cons.
Plus, the Bestway SaluSpa Hawaii HydroJet Pro Inflatable Hot Tub is a top-rated portable hot tub. When searching to buy a portable hot tub for your backyard, it's understandable that you'd like to learn more about it.
To make the most of your money, it makes sense and pays off to research a hot tub before making a purchase. Your goal is to make an informed purchasing decision.
This hot tub has gotten good reviews, so you know what to expect. You may hear about it from someone you know.
There are many factors to consider, but none of them is as important as knowing about the product and what it can offer customers like you.
Top Features of Bestway hydro force inflatable hot tub
If you hate getting out of a hot shower and jumping into a freezing cold tub, then perhaps it's time to purchase an inflatable hot tub. An inflatable hot tub is a great way to get your body used to the temperature and your mind into a relaxing mood. In the Bestway SaluSpa Hawaii HydroJet Pro Inflatable Hot Tub review now let's take a look at its top features.
Massaging
Most inflatable hot tubs merely have bubble jets, which is sufficient for the majority of users. Aqua jets and bubble jets are both included in the price of the SaluSpa Hawaii HydroJet Pro Inflatable Hot Tub.
Around the tub's perimeter, bubble jets create a decorative border. They create bubbles that provide a mild massage to the entire body. When they're activated, they release tiny bubbles that gently exfoliate the skin.
Heating
In the control unit, a 2- to 3-degree Fahrenheit per hour heating system heats the water. My honest opinion is that this process doesn't appear to be "quick."
To reach 104 degrees Fahrenheit, the water must be heated to a minimum of 40 degrees Fahrenheit.
Filtration
A filtration system has been built on one of the interior walls. To keep the water free of contaminants like hair or lotion chemicals, it's the job of the filter to keep this from happening.
Filter cartridges can be purchased online and are readily replaced. The best method has included two starter cartridges so that you may use your inflatable hot tub as soon as you have it.
Large Capacity
It has a big capacity of up to 6 people, which makes it ideal for large groups. In reality, as we've explained in our post on the tub's comfortable capacity, just 4 people can sit in it comfortably.
Surprisingly, the inflatable spa's square shape distinguishes it from others of a similar round shape. Seating in the corners, where the hydro jets are also conveniently positioned, gives you extra room to stretch your legs.
What makes Bestway SaluSpa Hawaii HydroJet Pro Inflatable Hot Tub different from other hot tubs?
There is nothing basic about the SaluSpa Hawaii HydroJet Pro Inflatable Hot Tub. With a capacity of up to 6 people, it has a sleek and modern appearance on the outside.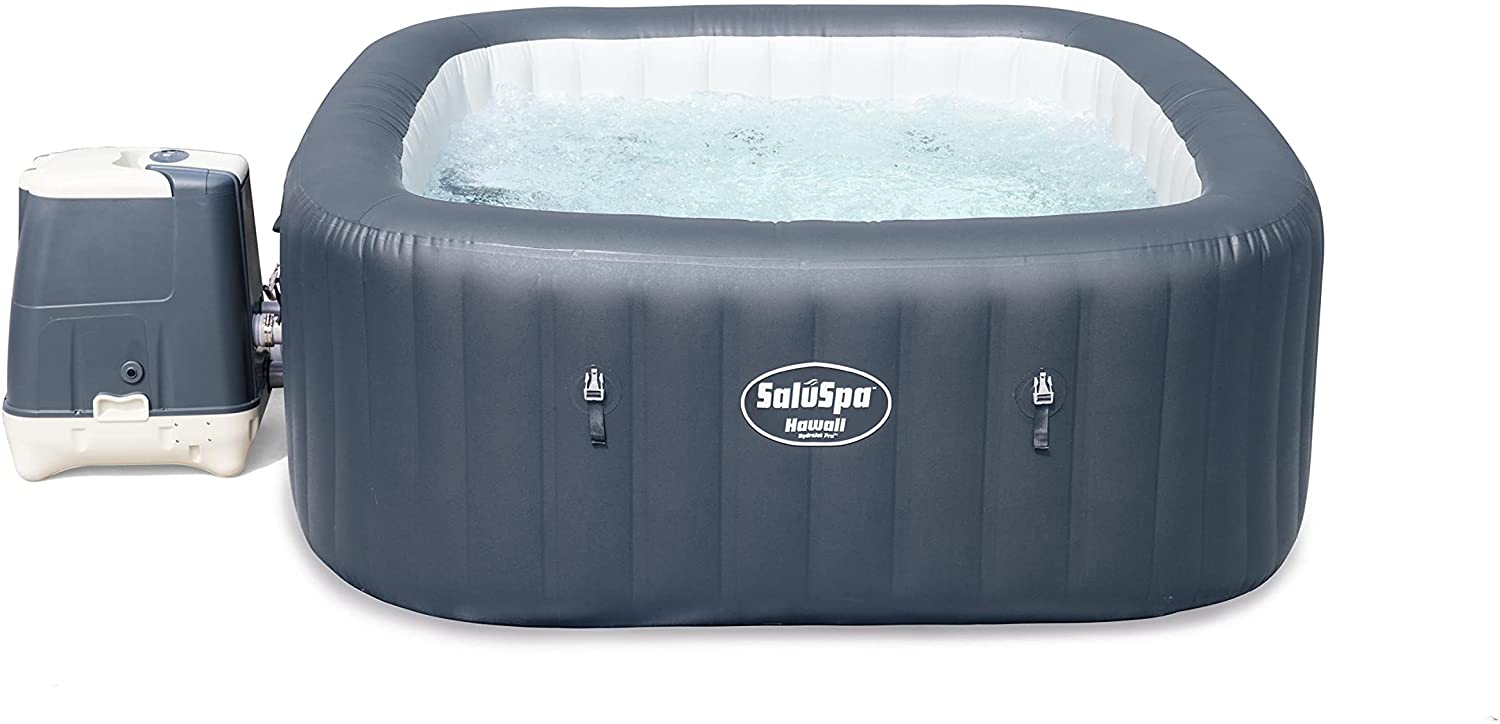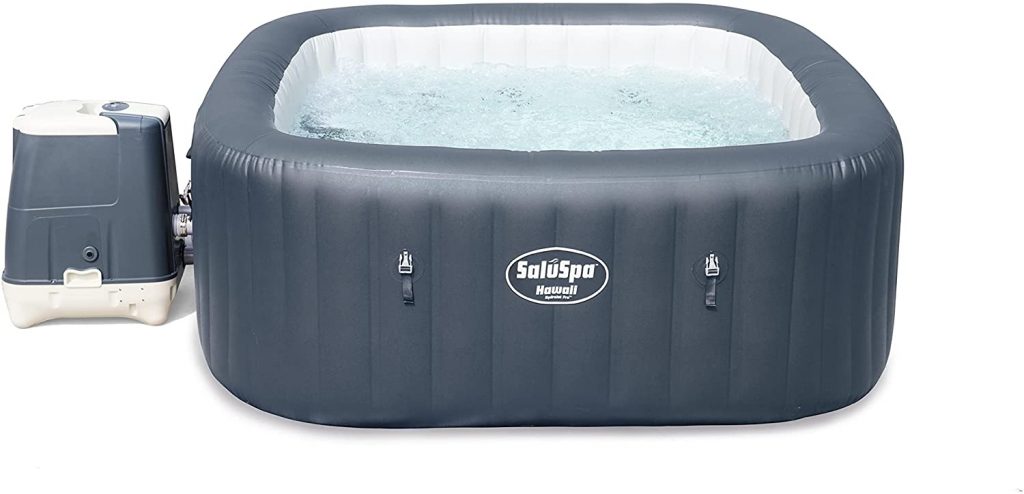 Appearances are crucial, no doubt about it. Simple and traditional, this design will blend seamlessly into your garden's existing aesthetic.
This is critical information: the product is inflatable. In comparison to other inflatable hot tubs on the market, this one is a lot more durable and sturdier.
Anyone should be able to use it without any issues due to the simplicity of the setup. There's even a DVD included that explains how to set up and maintain the hot tub going ahead.
Because of its size, this hot tub can accommodate up to six people. Even so, it's not a gigantic tree that will completely take over your backyard.
The shape of the SaluSpa Hawaii HydroJet is the first thing you'll notice about it; it's a square hot tub. The inflated dimensions are 71′′ x 28′′, and it can accommodate 4-6 people when fully inflated. You also don't have to be concerned about the installation because you can fill the hot tub with the pump in roughly 5 minutes.
It's easy to install the pump unit to the hot tub so it's ready to use when the water is added. Water may be heated to a maximum of 104°F using the heater, and a cover with an inflatable insert can be attached to the hot tub to keep the heat in and keep debris out.
Is the Bestway hydro force inflatable hot tub worth buying?
The Hydro Jet Pro is a high-end, inflatable hot tub with powerful jets. This is the only model on the market that comes close to a real Jacuzzi.
Even a simple body massage with bubble jets isn't sufficient every time. The more forceful the massage jet, the better it will work on those persistent and recurrent back issues while you soak.
For this model, the hydro-jet system is available.
Additionally, it does a fantastic job of preserving the water's quality. The dual water treatment technology in this spa makes maintenance a breeze. Allergy sufferers won't have any problems using this hot tub thanks to the use of saltwater therapy.
You don't need a professional to put up this inflatable hot tub, unlike other types of tubs that must be set up permanently. Setting up an airbed or inflatable sofa is a piece of cake if you have any prior experience with it.
The Bestway hydro force inflatable hot tub can withstand temperatures down to 40 degrees Fahrenheit in the inflatable hot tub. Long-term exposure to a lower temperature might cause damage.
Still, want to use it in the winter? Place it inside a shed or garage for protection. Take into account ventilation, humidity, and where to dump the water.
Pros
It features 8 adjustable hydro jets.
It can accommodate up to 6 persons
Comes with built-in saltwater and hard water treatment system.
Offers digital control panel with an automatic heating system.
Cons
There is no warranty.
Hydro jet and bubble jet can't be used simultaneously.
Final Words
The greatest inflatable hot tub with jets is the SaluSpa Hawaii HydroJet Pro Inflatable Hot Tub. Instead of paying for an actual Jacuzzi, you may enjoy the benefits of having your quality spa at home for a much lower price.
Everybody will be able to benefit from this item. Everyone who knows you will want to make the most of this opportunity to visit with you. It's also perfect for socializing with friends because it can accommodate up to six people.
I hope you have found the Bestway SaluSpa Hawaii HydroJet Pro Inflatable Hot Tub review useful and came up with a conclusion.
See also: