It is easier to control your pool functions remotely or automatically through a pool spa control system like Pentair 520540 Easytouch 8 pool/spa control system. Easy touch pool and spa control systems remove repeated trips to the equipment pad. Also, it memorizing operating sequences, opens, closing valves, and resetting time clocks and thermostats.
The Pentair 520540 EasyTouch Control System very handy as well as a useful system for any swimming pool owner who faces lots of struggle to control their pool's equipment and accessories. It controls all the things that are related to the pool easily and automatically.
It is so much easy to use. You can control it by using the mobile app. You can also use it to connect Echo or a similar smart device. Also, this system is available at an affordable price.
How do you use the Pentair 520540 EasyTouch Control System?
It is easy to use. To start operation, you may follow this instruction that is given below.
Press the menu button.
Now tap the down button and scroll to the setting.
Press the right button to select.
Then press the above button and scroll to "Wireless Address" (mobile devices, computers, or smart speaker devices).
Press the right button to select.
Repeat all steps 1 to 5 times with the handheld wireless controller.
Finally, you can see "address found" on display.
Top Features of the Pentair 520540 Easytouch 8 pool/spa control system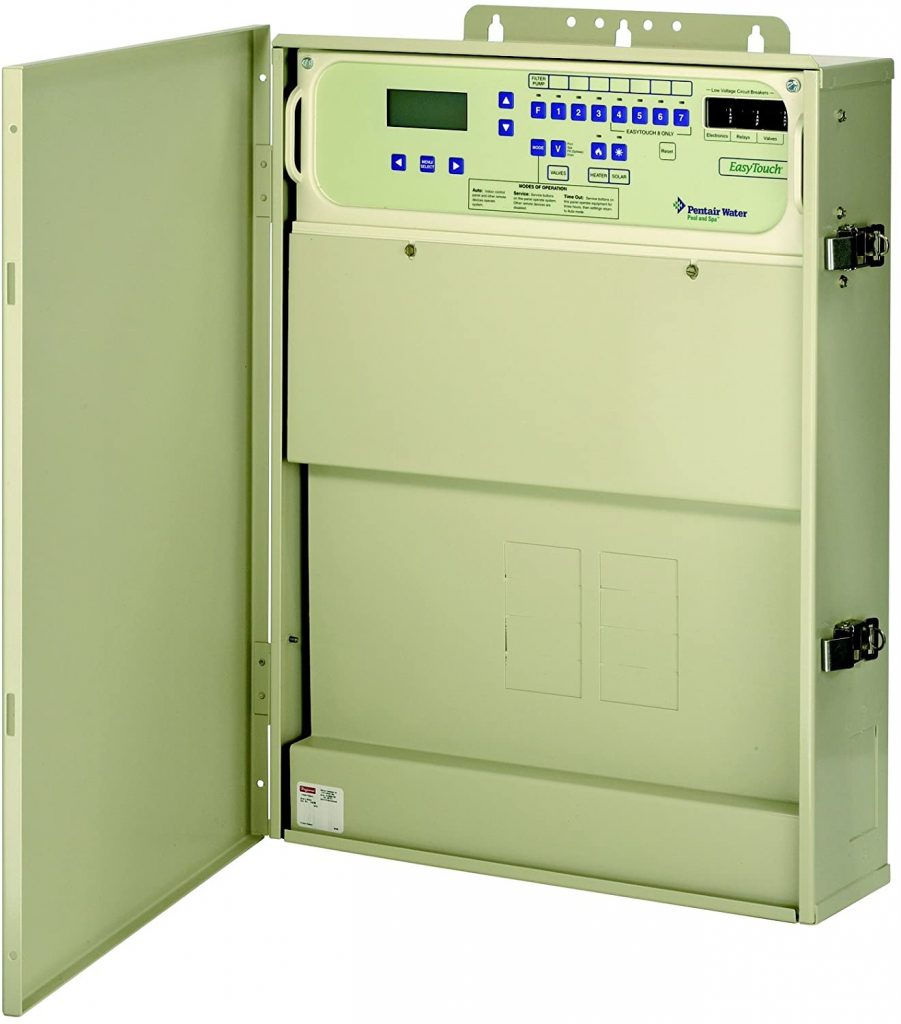 This system comes with some effective and fabulous features and benefits. It is a handy as well as a helpful unit to ease your control. You can control your pool with this system easily and save you extra time and effort.
Here are some fantabulous features and benefits of this pool and spa control system
The system is available in 4-function and 8-function systems.
This control system avoids expensive wiring and installation costs to make an Easytouch system.
It supports variable speed or variable flow control systems, pool lighting, landscape lighting, waterfalls, fountains, heaters, and many more.
Convenient and superior control system.
Easy to use and maintain. It is paired with a ScreenLogic2 interface kit that helps to control this unit with a smartphone, computer, and smart speaker devices. You can control and start it using a mobile app or Echo.
Designed with 125-ampere breaker base with space for 101-inches breakers.
The manufacturer added optional controllers with this system.
It is built-in diagnostics for troubleshooting and repair intentions.
The weight of this unit is 4 ounces and the product dimensions are 100 x 50 x 18 inches.
Approved by UL and CUL.
It will last 8 to 15 years easily with proper use.
Pros
Available in 4 or 8 accessory functions.
Easy to install and maintenance cost is very low.
Last up to 10 years.
Cons
Where do you use the EasyTouch 8 Pool/Spa Control System?
It is specially designed to control system and circulates the swimming pool water. With this pool and spa control system, you can control all your swimming pool equipment with easy, one-button access from the self-contained load center. It uses a control panel to control specific pool functions remotely through actuators and relays.
How do the Pentair 520540 EasyTouch Control System stand out in the competition?
When it comes to pool and spa control systems, it is a great option to control your pool's equipment easily. It comes with lots of beneficial features and is designed to help you control your pool smoothly. There are lots of pool and spa control systems are available from different brands. But Pentair is a leading brand that makes durable and long-lasting pool control systems for many years.
It has lots of uniqueness that makes this system stands out. For instance;
Specialty
It comes with four-function or eight-function systems that allows to control it easily. Built-in diagnostics and designed with a 125-Ampere circuit breaker that helps to safe from uncertain and sudden damages. Also, you can control it by using your mobile device or remote control. Include an optional screenLogic2 interface kit to this system, and you can control everything from pool and spa temperatures to jets, lighting, water features, and many more.
Durability
Pentair is a renowned brand known for a quality product. They make reliable as well as durable products after a long time. The Pentair pool/spa control system is built-in diagnostic and it will last up to 10 years easily. It will deliver the highest performance until the end.
User-friendly
The Easytouch pool/spa control system easy to use and control. The Easytouch systems are an available spa, pool, or a pool/spa combination with shared accessories. You have an option to choose 4-functions mode or 8-functions mode.
The Easytouch pool control system makes it a comfort to schedule and operate pool and spa cycles. You can control and regulate this system from a mobile device. It is a more convenient and useful unit for controlling your pool staying inside of your home.
How the Pentair 520540 control system evolved? – Pentair VS Hayward
Undoubtedly, Pentair products are user-friendly and more durable than others. Their pool/spa control system done the work effortlessly and superbly. Pentair 520540 Easytouch 8 pool/spa control system works stunningly well. It helps to control the pool equipment and also helps to control system the water accurately. With this comparison, you will be able to know the differences.
Pentair pool/spa control system comes with easy programming and LCD screen with instructions whereas Hayward doesn't include any LCD screen.
Pentair includes an optional screenlogic2 interface kit but Hayward has nothing.
It is designed with the ultra-lightweight that makes it carry easily.
Pentair is a well-known brand that ensures product durability.
Is the EasyTouch Control System suitable for your needs?
Needless to say, this unit comes to help you control your pool equipment and another panel easily without facing any problem. It is an effective and worthy system to ease your hard work. It has much better efficiency to do work effortlessly and designed with a Screenlogic2 interface kit.
Has user service mode for testing and troubleshooting from the load center that helps to repair it by yourself if damages.
The weight of this system is 4 ounces which means it is easy to carry.
See also: