Do you want to keep your pool atmosphere healthy? To control and handle the gas flow, you can use Hayward FDXLGSV0001 FD Natural Gas Valve Replacement. It is best to control natural gas flow. But it can control the flow of gases like liquified petroleum, oxygen, and sour too.
This natural gas valve is designed to keep the flow of gas perfectly. With its best features and technologies, it works like a breeze. It is also used to heat your pool water. Undoubtedly, it is crucial equipment for handling gas flow through the pool heat pump.
Top features and benefits of Hayward FDXLGSV0001 FD Natural Gas Valve Replacement
Hayward is a brand known for its quality products. The Hayward Hayward FDXLGSV0001 FD Natural Gas Valve Replacement is suitable for a low NOx pool heater. It is best for controlling the flowing of natural gas through the pool heat pump. It comes with some great features that allow the gas valve to work naturally.
Here are the exceptional features and benefits.
It is a natural gas valve replacement that fits the Hayward Universal H-Series low NOx pool heater.
This gas valve is made of rustproof, chemical resistant, and corrosion-resistant metal.
It is suitable and perfect for the Hayward models including h150fdn, h150fdp, h200fdn, h200fdp, h250fdn, h250fdp.
It also fits for the models including h300fdn, h300fdp, h350fdn, h350fdp, h400fdn, h400fdp.
Easy to install and a durable gas valve.
It runs with an electromagnet that doesn't require any electricity.
It has a button to operate smoothly. When you need to operate it, you just turn on the button.
The weight of this gas valve is 2.03 pounds.
It fits the low NOx pool heater to keep the environment fresh and hygienic.
Where do you use this gas valve?
It is suitable for the Hayward H – Series pool heater. It can be used to keep the gas flow smooth through the pool heat pump.
How do you replace this natural gas valve?
You can replace the gas valve by yourself following some simple DIY guide. Use Teflon tape or any type of rector seal. Then, take any type of thread sealant screw. Keep the gas valve in the right place where it fits. Then, tighten the screws.
How does the Hayward natural gas valve replacement stand out in the competition?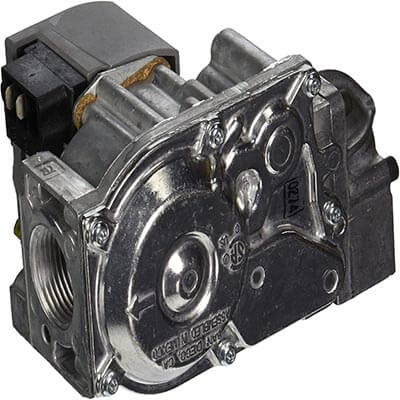 This gas valve replacement fits any Hayward H-series. It is also a Low NOx pool heater gas valve that is adjustable only to the H- series models. Here are some of the superb characteristics that make it best.
Specialty
It is an FD natural gas valve and flows the gas through the heater smoothly. It is made of rust-resistant material. Fits all Universal Hayward H- series models. It has no leakage that makes less chance to interrupt the flow of the gas. As it is a natural gas valve, it produces natural gas. So, it is an environmentally-friendly gas valve.
Durability
It is made of chemical-resistant, anti-corrosive, rustproof metal. That means it is long-lasting and durable enough to last many years spontaneously. With proper care and maintenance, it can last more than 4 to 5 years. You need to change the valve after 4-5 years to keep the pool heat pump well.
User – Friendly
It is a user-friendly gas valve replacement. You can set it up by yourself with the following simple DIY guide. But it's important to make sure you're fitting a new gas valve. If you face some problem during fitting, call an expert and take some guidance. It has an on/off system to operate this effortlessly.
How does the Hayward gas valve replacement improve? -Hayward VS Pentair
The Hayward FD natural gas valve is a great option to regulate the gas through the pool heat pump. It is made of copper and other corrosion-resistant materials. It fits all the Hayward Universal H -series models but Pentair is not as same as Hayward. Also, Hayward gas valve replacement is much easier than Pentair. Pentair requires some proper guidelines to set this in the pool heat pump.
Is the Hayward gas valve suitable for your needs?
To keep the pool heat pump workable, replacing the gas valve is a must. After 4 to 5 years, you need to change the gas valve. By doing this, you can extend the pool heater's lifespan. So, a gas valve is a piece of necessary equipment for you.
Pros
Natural Gas Valve.
Easy to install.
High-quality and long-lasting gas valve.
Cons
It doesn't come with the output manifold.
See also: