Are you seeking the best pool automation controller review? Well, in this article, I will review the 10 best pool automation systems you can buy without further thinking about anything. So let's get started with the best pool control panel review.
Smart technology governs the way we live, work, and play nowadays. When it comes to smart technology, we've all been introduced to it over the years, but it doesn't end there.
With this capability, we can use smart technologies to make our pool experiences even better.
Inground swimming pool automation has advanced significantly in the past decade, and several various manufacturers and types are available. Choosing the correct pool system can be a bit tough with this approach.
Most aspects of your pool will now be automated with the new pool control panel that has been given the highest rating.
Let's have a look to know more about some of the best pool control panel.
1. Pentair IntelliTouch Pool and Spa Automatic Control Systems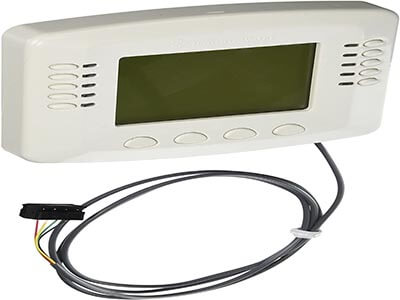 Pentair pool automation is one of the leading names in the pool automation industry. In the Pentair pool automation reviews, I am going to demonstrate the Pentair 520396 intellitouch indoor control panel which is one of the reliable and result-driven automated pool control system.
Pentair intellitouch pool control system offers excellent control systems, including water features and amazing lighting effects, in everything from little to the grand pool and spa designs. Automation in the backyard can range from simple capabilities that let you adjust various functions to complex functions that let you control up to forty different functions.
With the Pentair intellitouch pool control system, you may utilize various wired and wireless control devices including buttons, knobs, and sliders for increased freedom and flexibility. This can also be accessed via iPad, iPhone, and iPod touch via screen Logic.
Every application pool, spa, pool, and spa combo has an IntelliTouch system. Inground swimming pool automation is practical as long as you can control five to forty functions.
Features and Benefits
Incredible User Interfaces: It lets IntelliTouch pool and spa users control the features on their devices via wireless color touch screen tablets, PDA's, and mobile devices. Remote monitoring and control over the Internet and email alerts are standard capabilities of Screen Logic systems. If you want to control pool and spa amenities from your home or on the road, you can use a wired connection on your PC or laptop.
Salt Chlorine Generator: With IntelliTouch Indoor Control Panel or wireless control panel, this allows you to control and monitor salt chlorine generators, such as those found on the IntelliTouch Indoor Control Panel. While the chlorine generator at the equipment pad does not need adjustment, you should use fresh drinking water rather than salty tap water when swimming in the pool.
Modern Intelliflo Feature: Intelliflo is a new type of swimming pool pump that is setting new standards for itself. IntelliFlo adjusts the power factor to the ideal level. IntelliFlo measures water flow and electrical current to make sure the filtration system is always working at top performance. In addition, that translates to more than 90% energy savings that were previously impossible.
Pros
It can control many programs at a time.
Better automation and synchronization.
Offer multiple wired and wireless connections.
Enables the owner to change the program easily.
Cons
It is pricey.
Simulation is time-consuming.
2. Pentair 520549 Indoor Control Panel for Circuit Systems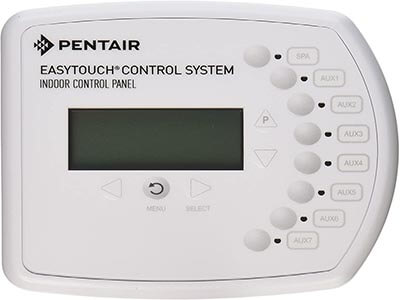 Now I will demonstrate another Pentair easy touch control board in this Pentair pool automation reviews. It is very effective to automate the entire swimming pool system.
Our new Pentair 520549 EasyTouch Indoor Controls include a convenient control panel in your home that integrates with your automated pool and spa system. It has eight auxiliary circuits, and thanks to the friendly EasyTouch interface, you can handle your pool, spa, and lighting systems from a single control panel while setting up your system, adjusting your temperature, and programming your features. You can monitor your equipment efficiently and fast with a clear LCD.
Easy Touch Panel Compatible with four Systems: This inground swimming pool automation is easy to operate your pool and spa from inside your home with the EasyTouch Indoor Control Panel. With a single touch, the EasyTouch Indoor Control Panel gives you full-time management of your pool and spa features at home.
This EasyTouch indoor control panel is best paired with EasyTouch 4.
Easy Control Feature: With Pentair 520549 Indoor Control Panel for Circuit Systems, your pool and spa equipment, as well as various extra equipment can be controlled automatically. The control panel on the pool equipment pad outside the pool also lets you operate all of the EasyTouch activities.
You can manually override any automatic settings using the outside control panel buttons.
Control 8 Functions: You can operate up to eight functions, such as valves, lights, heaters, and solar heaters, with the EasyTouch ICP.
Pros
Easy to use the control panel.
Easy to install and operate.
You don't need to memorize the operating system.
Ensure automatic verification of the display.
Cons
Not compatible with all types of pools and spas.
3. Intermatic T40004RT3 Pool & Spa Control System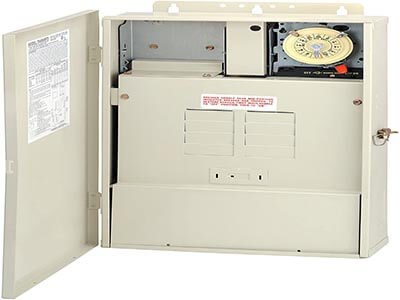 Intermatic wireless pool controls are the best pool automation controller you can buy. The Intermatic t40004rt3 pool & spa control system is an all-in-one electrical control center for a pool or spa that can be found in these Panels with Transformer. This project is near completion because inside the enclosure are the time switch, the transformer, and other components required for its completion. Additional Intermatic mechanisms and/or components can be installed on the T40004RT3 Series panels.
The Focus Control Feature: Saving money and irritation are two great advantages of concentrated controls. These are adaptable and have a modular architecture to allow them to work together seamlessly in a wide variety of situations.
Maintaining constant performance year after year while saving installation expenses are the primary benefits of the Intermatic pool and spa controls.
Use for Multiple Purposes: The Intermatic t40004rt3 pool & spa control system has usage in pool filtration pumps, pool blowers, low-voltage pool and spa lighting, and outdoor lighting, as well as fountains. This 300-Watt transformer is a multipurpose electrical control center that is user-friendly and relatively inexpensive to implement.
Suitable for Two Speed Pump: The two-speed pumps are designed for the three R metal power and load center that uses the 2R pumps.
Pros
Installing the timer and panels is very easy.
The price is reasonable.
The timer is great for easy on or off operation.
The panels are flexible and durable.
Cons
Sometimes it may not work properly.
It is not strong enough to trip a mechanical switch.
4. Pentair 522465 EasyTouch Indoor Control Panel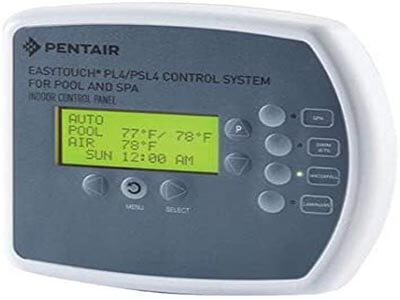 The Pentair 522465 EasyTouch Indoor Control Panel allows you to use advanced features like colored lighting and fully manages your pool or spa. No outdoor enclosure is complete without a well-integrated control panel. This Pentair easy touch indoor control panel makes it possible to set up your entire system. Additionally, a control panel and a wireless remote are also available for remote operation.
All control operations can be performed through a simple, single-button button that is attached to either the load center or an extra controller. Set the controls once and you don't have to remember an operating sequence, close and open valves, or reset time clocks and thermostats again.
Features and Benefits
Automatic Verification: All-in-one programming flexibility grants access to the all-day pool and spa equipment, allowing the equipment to be operated at optimal efficiency and making it possible to handle fluctuating pool and spa usage patterns.
The built-in diagnostics include a diagnostic screen that shows faults for troubleshooting and repair purposes, as well as the display microprocessor, switches, and indicators.
Optional Controller for Convenience: The Pentair easy touch control board offers a wide range of breaker sizes, optional controllers, and 125 Amp Breaker Base optional components. For four or eight circuit systems, the indoor control panel controls the ventilation.
EasyTouch pool automation system uses software and hardware to automate and synchronize equipment scheduling to conserve energy and achieve optimal equipment performance. This mitigates difficulties and waste due to human memory and time clocks.
Easy Touch Feature: A cheap Automatic Operate System like the EasyTouch PL4 or PSL4 Indoor Panel allows you to control the pool from within your house with the benefit of eliminating complicated setups. With EasyTouch PL4 or EasyTouch PSL4 Automatic Control System, pair the Indoor Panel with the system to manage your space.
Pros
Compatible with indoor control panel.
Control your pool or spa functions inside your home.
It is water-resistant.
Cons
It is pricey.
Need greater time for proper execution.
5. Zodiac R0497900 Wireless Control Panel Replacement Kit for Pool and Spa Automatic Control System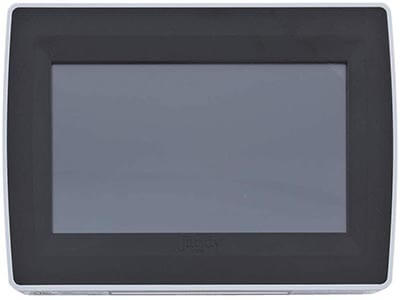 Zodiac R0497900 Wireless Control Panel solutions allow pool owners to choose various combinations of convenience and control to create a more customized setup. And it is one of the best pool automation controller you can choose.
The system contains a wireless or wired control panel, a water temperature sensor, and up to four power center bezels, as well as all three relays essential for system operations. Pool automation systems like the Zodiac brand's renowned quality and durability are ideal choices if you're trying to save time and hassle.
With this Zodiac R0497900 pool automation system, you can seamlessly integrate your home automation system to realize substantial additional energy savings.
Features and Benefits
Equip With Salt Chlorination Cells: Both the Zodiac R0497900 Wireless Control power centers and separate salt chlorination cells are available for the Zodiac R0497900 Wireless Control power centers. It can additionally regulate up to eight circuits.
The lighting dimming feature is available with one of three system options: control up to six valve actuators or power relays or offer just three light dimming options.
Available in Wireless, Desktop, and Wired Mode: Wired, desktop, and wireless Zodiac R0497900 control panels are offered. A PDA that can be used, as a wireless remote for almost any kind of equipment, from spas and pools to pools and spas, has recently been available.
One-touch Controller Feature: With its customized feature programming options, the OneTouch controller allows you to manage the features of your pool and/or spa.
This program automates the activities of everyday pool maintenance, such as filtration, sanitation, and cleaning, and creates simple, single-press macros.
Pros
Automation is great for pool maintenance.
There is a timer for controlling the on or off feature.
Easy Touch reduces the production of Chlorine.
Variable control modes for easy operation.
Cons
Warranty is limited.
The price is quite high.
6. Pentair 353127 Drive Control Panel Replacement for SuperFlo VS Pool Pump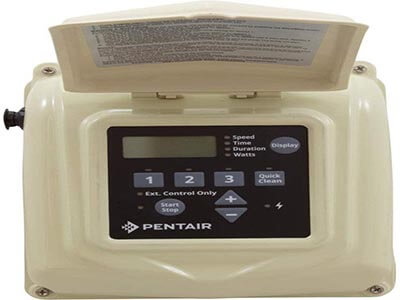 It is important to use high-quality replacement components when equipment maintenance is required in a swimming pool or spa. This Pentair SuperFlo drives control panel keeps your pool pump functioning at its top speed.
This kit comes with the hardware required to connect the flip-down lid. To control the activities of your pool and spa pump, you must first obtain a dial from the drive panel. This SuperFlo VS pool control panel matches the pool control panel. Pentair genuinely delivers parts that allow you to enjoy your pool.
Features and Benefits
Comes with Effective Kit: This package comprises all of the drive-related parts including the drive itself. This replacement drive assembly enables you to increase the speed, time, duration, and power usage of your pool pump.
Energy and Cost-Effective: The SuperFlo VS Variable Speed Pumps apply variable-speed technology to ordinary pools, which results in significant energy cost savings at an affordable price.
The pumps contain a graphical display that shows how much water they're moving, as well as a built-in timer that aids with installation and usage.
Control Speed, Time and Duration: This regulates the flow, timing, duration, and energy consumption of your pool pump. This meshes well with the SuperFlo VS Variable Speed pump.
Pros
You can easily operate it with variable speed technology.
Easy to install.
Greater operating speed.
Real-time timer with memory retention.
Cons
The user manual is not clear.
Cleaning the filter is quite difficult.
7. Zodiac 7348 Aqualink All Button Control Panel for Pool and Spa Combo System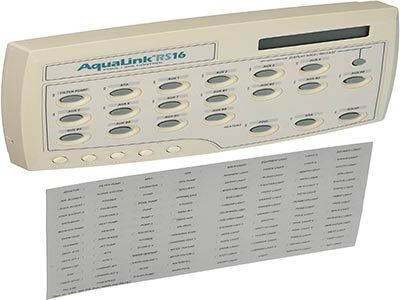 Do you need the best pool automation controller? The Zodiac 7348 pool and spa controller is a comprehensive home controller and an equipment electrical sub-panel for many types of pool equipment. This equipment is compatible with variable speed pumps from various manufacturers.
In this instance, the system is also compatible with the Internet- and smartphone-based PDA controllers or wireless PDAs via additional modules.
You get entire control over your pool and spa's automation system with the Aqualink. With your home automation system, Aqualink may fully integrate. You don't have to leave your house to use Aqualink's intuitive, streamlined system.
Features and Benefits
Compatible with Multiple Control Panels: Each system may accommodate up to four indoor control panels, using the AquaLink M8. Wiring can be in series, beginning with the first control panel. A single red, 4-pin terminal bar is used to link many interior control panels and/or power centers in a variety of ways, including series or parallel wiring.
Different Speed Modes: It is possible to control up to four variable speed pumps with the AquaLink. Pump setups allow the user to pick and adjust each pump individually.
Combine Various Operating Modes: This swimming pool automatic control system offers three unique working modes, each with various presets. Cleaning, spillover, heating, and temperature controls are all selectable in presets. The default label for pool/spa combination systems is POOL HEAT. The pump runs at this speed when the pool heater is enabled.
Change the Frequency: This can happen if your AquaLink system is automatically activating/deactivating objects without a specific purpose. If this is the case, your AquaLink Handheld Remote system could be nearby using the same or similar frequency channel. If you don't want the device to operate, you can change the channel on your AquaLink system.
Pros
Ensure the fastest operation.
Perfectly control the pool water temperature.
Multiple interfaces to control the overall system.
The Red and Green LED light feature makes swimming interesting.
Cons
It may not suitable for long time usage.
8. Intermatic T30404R Pool/Spa Control Panel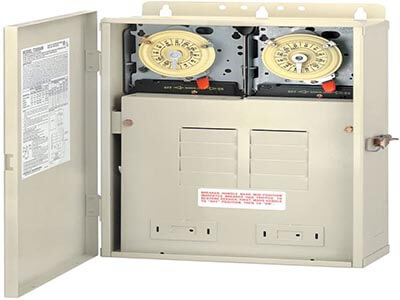 Are you seeking the Intermatic t30404r parts? Check out this Intermatic T30404R Pool/Spa Control Panel.
The Intermatic pool/spa control panel helps customers save money on installation and supplies all of the electrical requirements for any pool or spa setup. All-in-one electrical control center with no separate junction boxes or service panels.
Features and Benefits
Multiple Applications: The Intermatic pool automation works for filtering water, boosting water, heating water, lighting, and providing security, and they can be used to help water gardens, sprinkler systems, and fountains, and even valves and pipes.
Control Panel with 4 different Functions: An all-weather enclosure surrounds the Control Panels, which are encased in a total of four circuit breaker bases, equipment grounding rods, and mechanical time switches.
Interchangeable Breaker: Replacement circuit breakers from various manufacturers can be installed in the circuit breaker base. It also comes with additional switches or GFCI receptacles built-in on the interior and the side.
Pros
Comes with 2-time clocks.
It is weather-resistant.
Offers high quality.
Excellent connection to the timer.
Easy to install.
Cons
Instructions are poor.
Sometimes the timer stops working.
9. Zodiac R0468501 Upgrade Replacement Kit for Zodiac AquaLink Pool and Spa Control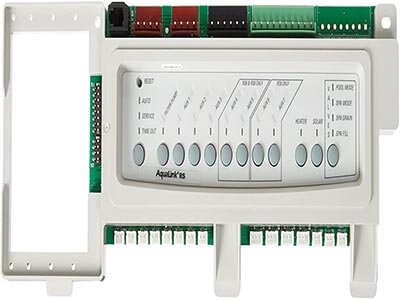 This Zodiac RS8 swimming pool automatic control system is an attractive-looking, nimble device for pool and spa control. This can be done quite easily. There's no need to rewire your residence. Replacement of the current power center, cable wiring, and valve actuators is not required.
With AquaLink RS digital technology, you can make use of the advanced programming functionality and unlimited flexibility of technology. A wired or wireless controller, a power center bezel with a printed circuit board, a water temperature sensor, a wall plate adapter kit is also included in some conversion kits.
Features and Benefits
Potential Operation of the Light: Jandy's AquaLink RS swimming pool computer control is the best method to get the lighting and color change functions linked together.
Equip with Variable Speed Pump: You can control four different types of variable speed pumps with the AquaLink RS. To facilitate the cable to be run between the pump and the power center, the design features provision for the cable.
Great Heating Control: By connecting the solar panel to the heat pump/chiller control panel, the solar button will turn on the heat pump/chiller, and pool and/or spa heater buttons activate the gas heater.
Control Different Indoor Panels: A system is only capable of supporting a maximum of four indoor control panels with the AquaLink RS. If the control panels are wired "in series," they start at the first control panel and then proceed sequentially from there. Otherwise, they start at the RS power center and proceed in parallel.
Pros
It works perfectly.
Easily fit with any cable.
Easy one-touch control for quick operation.
The price is reasonable.
Cons
It can be dangerous for operating with huge voltage.
10. Zodiac R0551800 Controller for Zodiac Jandy AquaLink RS One Touch Control System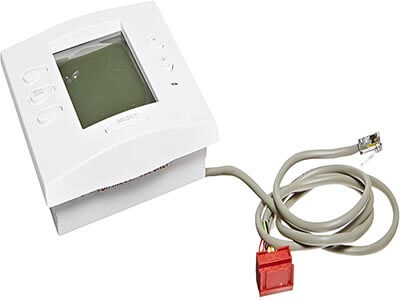 The Zodiac one-touch controller system is one of the best pool control panel. This swimming pool computer control serves as a regular maintenance service part for your pool. This system is created to match the Zodiac Jandy Aqualink RS One Touch control system and includes a 10-foot cable and connection. You can activate your heater and have your water at the correct temperature when you reach home by using your system's phone number as your remote control.
The fact is, this is a thorough routine pool care procedure. The method allows you to focus on your pool and spa without worrying about maintaining them. That handles all the work for you, thanks to the AquaLink RS.
Features and Benefits
Multiple Control System: The Jandy AquaLink RS Control System offers you the power to command your entire backyard oasis at the touch of a button. When you're inside the spa, it can regulate the temperature, control the water features, measure chlorine generation, and allow you to know that the cleaning is on, even if you're staying in the tub.
For all application scenarios, and AquaLink RS lets you manage up to thirty-two different pieces of equipment or features.
Remote Automation Control: This swimming pool automatic control system offered by remote automation allows you to handle all pool and spa equipment, backyard lighting, and even other locations, all from anywhere. Your telephone and PC may both be used to operate your pool, spa, and other backyard amenities from anywhere.
Built-in Features for Easy Operation: This swimming pool computer control comes with built-in safety features, including automatic freeze protection, a heater cool-down feature, and a system lockout feature, which helps ensure critical equipment remains operational. You should always use good control filtration cycles and have an AquaPure salt chlorine generator connected to your system to guarantee a fresh and clear water supply.
The AquaLink RS eliminates any equipment issues due to its self-monitoring freeze prevention, heater cool-down, and pool cleaner safety delay features.
Pros
Solar heating saves energy costs.
You would get a long-period warranty.
You can monitor functions on your mobile.
Landscape lighting is provided along with this control system.
Cons
Final Words
Our study shows that the Aqualink RS systems are among the quality pool automation available. It's a user-friendly experience for customers from the comfort of their homes thanks to the Aqualink RS. Control all of your pool and spa lighting and water features with the touch of a button with the Aqualink RS system.
You can get this if you're ready to take the next step in your pool experience and enter the realm of smart technology. This guide is dedicated to helping you find the best pool control panel available.
See also: