Do you own a large in-ground or above-ground swimming pool and looking for a superior performing robotic pool cleaner for outstanding cleaning efficiency? Yeah, you got it. Here, I am going to provide a PreSmile robotic pool cleaner review, which is suitable for in-ground and above-ground pools up to 400m square feet.
Do you want to enjoy more fun in your pool and less hard work to clean the pool? No worries, the PreSmile robotic pool cleaner will cover all the cleaning tasks. Having a robotic pool cleaner is very important for every pool owner. Because cleaning the large in-ground pool, again and again, is a very exhausting duty for some individuals.
But a robotic pool cleaner runs automatically without any rest and cleans the whole pool effortlessly. This robotic pool cleaner comes with a cleaner and remote control function that helps you to control this system anywhere, anytime and automatically. It is perfect for 400m square feet swimming pool and covers the whole pool area with its 20m long cable.
Time to clean both pool floor, waterline, stairs and walls with PreSmile robotic pool cleaner hassle-free and comfortably. If you have this automatic cleaning unit then you do not need to worry to clean a bigger pool.
Top features of PreSmile Robotic Pool Cleaner
Undoubtedly, it is made with such stunning and exceptional features for giving restless and effortless clean for a long time. It can clean a large-sized pool within a couple of hour.
Anyway, if you need to clean your pool instantly or suddenly call for a party but your pool is dirty, no worries just drop this self-driven pool cleaner into the water. After 1 to 2 hours, you can enjoy the party with your family and friends. It leaves your pool stunningly clean as well as pool water.
Here are some special features of this unit;
Driving function
It comes with an automatic driving system that can avoid obstacles and run smoothly without any disturbance. Properly scan the dirty area and clean the dirty surface instantly.
Comes with an advanced intelligent scanning system that identifies obstacles automatically and avoids the obstacles intelligently with perfect driving. Also, it prevents abrasions and collisions while running. It is powerful, smart, and looks great that works.
Cleaning abilities
It can clean efficiently all pool surfaces like pool floor, walls, stairs, and waterline. It can remove all kinds of debris, small acorns, long palm leaves, rough and tough micro to Nanoparticles, bugs, algae, sponge, and many other harmful objects from the pool with maximum efficiency.
This unit has an effective suction chamber that leaves a clean path while scanning the pool. The machine handles its duty properly and leaves your pool exceptionally clean.
Smart control
Run this unit remotely from anywhere anytime. It comes with various cleaning schedules like 0.5 hours, 1 hour, and 2 hours. It depends on the pool size. If your pool is small then switch to 1/hour, if your pool shape is medium then switch 2 hours and if the pool length is up to 400m square then switch the 3-hours button. After that, it will clean automatically as well as efficiently. Also, it has an automatic distinguishable system that helps to distinguish the unit when the current is overload.
Easy to use and maintenance
Don't need any extra staff or equipment to set it up for cleaning. It will do its duty naturally. You just need to take this out, plug it in, drop it into the swimming pool, press the start button, walk away, and off it goes on the highest cleaning cycle for your pool.
After that, it will clean all pool areas like pool floor, walls, and waterline and provide exceptional clean to enjoy in the summertime. It requires less equipment that's why maintenance of this unit is easier than before.
Excellent filtering and cleaner
Comes with an excellent filtering system and cleaner to help this unit increase cleaning performance. The cleaner helps to clean dirt and dust even from the water. It can filtrate and circulates the water effectively and leaves the pool water sparkling clean.
Lightweight and energy saving
Designed very lightly to carry and use. It can cover 400m square feet pool area easily and efficiently. Comes with a 28 Volt DC motor that saves more power and provides the highest effort to clean the pool. It is designed to protect from damageable Environmental objects, excellent and effective pool coverage, Smart control & Wide application provides fast and efficient clean. The major and ultimate advantage is it can clean approximately 400m2 area in just 2 hours.
Is the PreSmile self-driven robotic pool cleaner suitable for you?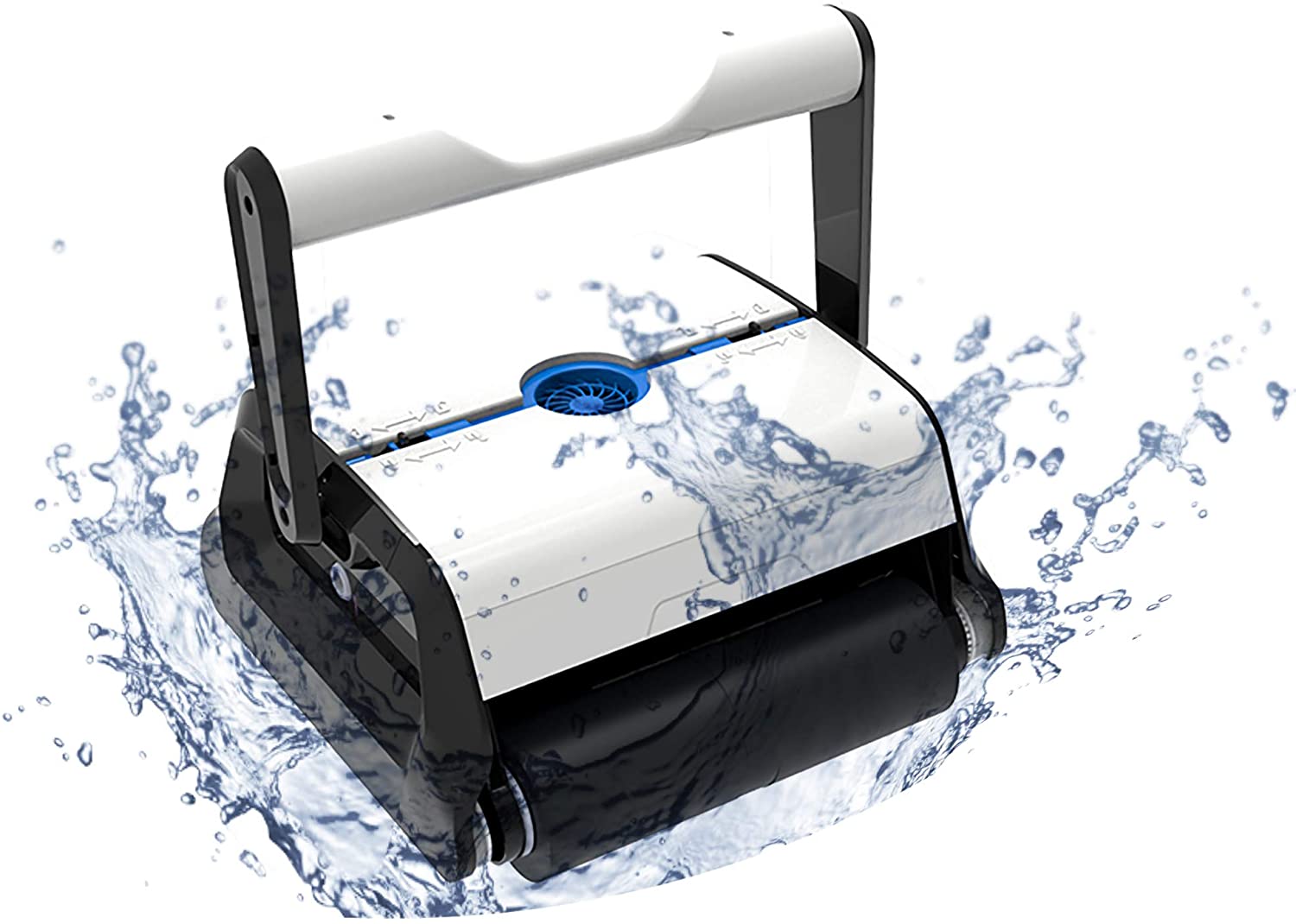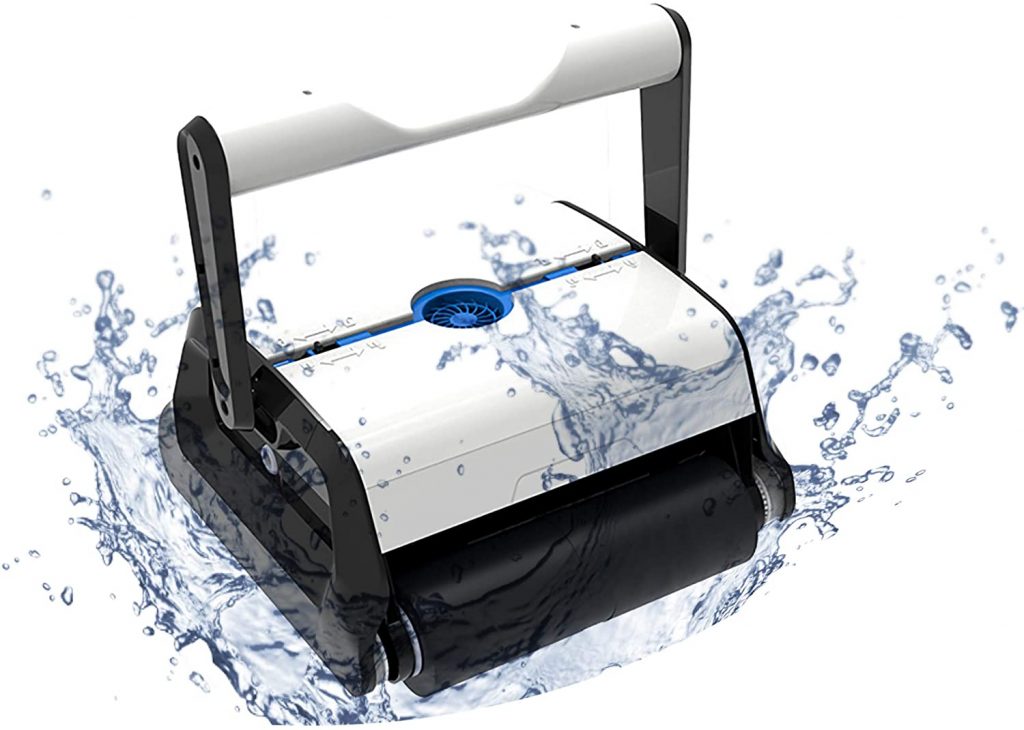 Needless to say, it is a very useful as well as the helpful machine that you have ever owned. Because cleaning large pool repeatedly is very hard work. But if you have this unit you can easily clean your pool instantly without any effort.
It is suitable for you because it is more efficient than a human. It runs with the help of electricity or controlled by its advanced technology. The unit is capable to clean the whole pool easily and effortlessly. It can clean small to large debris spontaneously. It removes small acorns, long palm leaves, rough and tough debris, algae, sponge, harmful chemicals, and many other harmful objects from the pool. This unit can clean a 400m2 area within an hour.
The weight of this unit is around 14 kg that means it is portable and easy to carry.
It is designed with a 28 Volt powerful motor that helps to reduce energy and keep the machine workable.
Pros
It is safer to use.
Advanced scanning program helps to scan single debris and clean the pool properly.
High-quality and more durable.
Environmental protected.
3-year quality assurance
Lifetime customer service
Cons
Some people think it is a quite heavy unit
Where and how PreSmile self-activating pool cleaner is used?
It is specially designed to clean the swimming pool to consider the hard work of cleaning, they have made unit for your ease and comfort. It is not a smooth and easy task to clean a large pool overnight or quickly. But PreSmile Robotic Pool Cleaner handle superbly and get the cleaning job done easily.
Its one button operation is easy to use and control. You don't need to take extra preparation to set this out when you need to clean. You only need to take this machine out from home, plug it in, drop the machine into the water, and run it for superb cleaning.
How does the PreSmile Robotic Pool Cleaner stand out in the competition?
Nowadays, there are lots of pool cleaners available in the market. They come from a different brand and with different features. PreSmile pool robotic pool cleaner is one of the top branded pool cleaners which is also made with some fantabulous features. For its unique and outstanding attributes, it takes place in the competition. It gives you more time to enjoy and less time in cleaning.
Now the question is, what makes it best in the competition? Well, let's take a look;
Specialty
When it comes to a swimming pool cleaner it comes with some amazing features and benefits. It is designed with an advanced self-scanning program that helps to scan the dirty place and respond quickly to the debris.
This self-driven robotic pool cleaner has a driving system that helps to drive over the obstacles and keep running the machine workable. It works until the pool clean. The unit comes with a lightweight that makes it portable. It can reduce overload and has various cleaning schedules like 1/2/3hours.
Durability
It is durable and strong enough to provide long-time cleaning benefits without disturbance. It is made of high-quality plastic and ceramic materials that are enough to last longer. If you use it properly it will last more than 7 years. It will deliver proper work after a long time.
User-friendly
Yes, it is very much user-friendly and you can use it simply. It doesn't require any extra staff or equipment. You can save both your time and money as well as effort. It will clean your large pool effortlessly and leave your pool stunningly clean. Just a simple plug n play unit.
Key benefits
A robotic pool cleaner like PreSmile pool cleaner is a beneficial material for every swimming pool owner. It has lots of benefits like,
First of all, you will get rid of cleaning a large pool and it cleans the pool more quickly than you or an experts.
You can save your time, money, effort, and more importantly, keep your pool clean all the time whenever you need.
It can remove each debris and micro to Nanoparticle accurately which is almost impossible for a human.
You can enjoy a fresh pool within a few hours.
How does the PreSmile robotic pool cleaner improve? PreSmile vs Keenso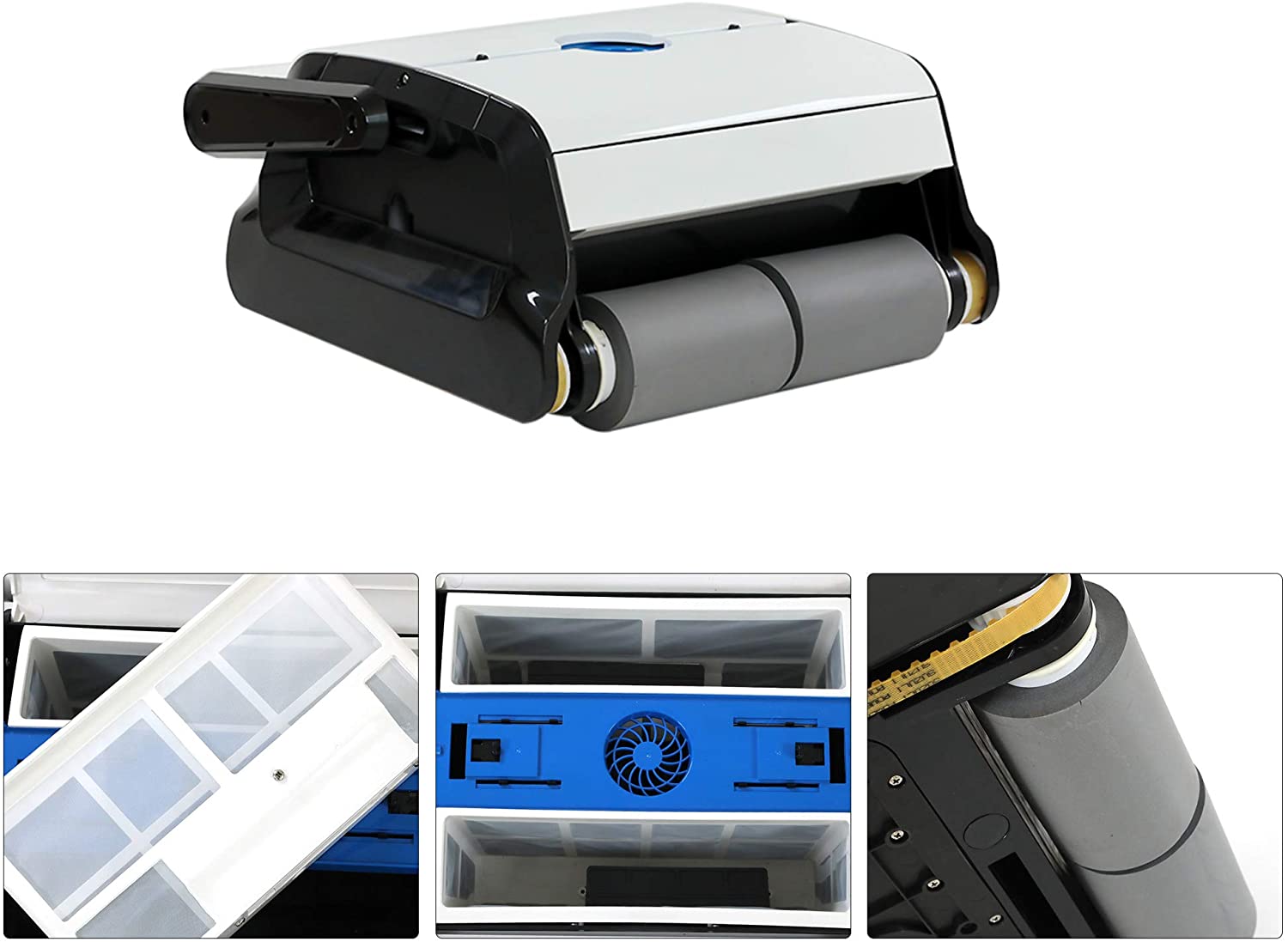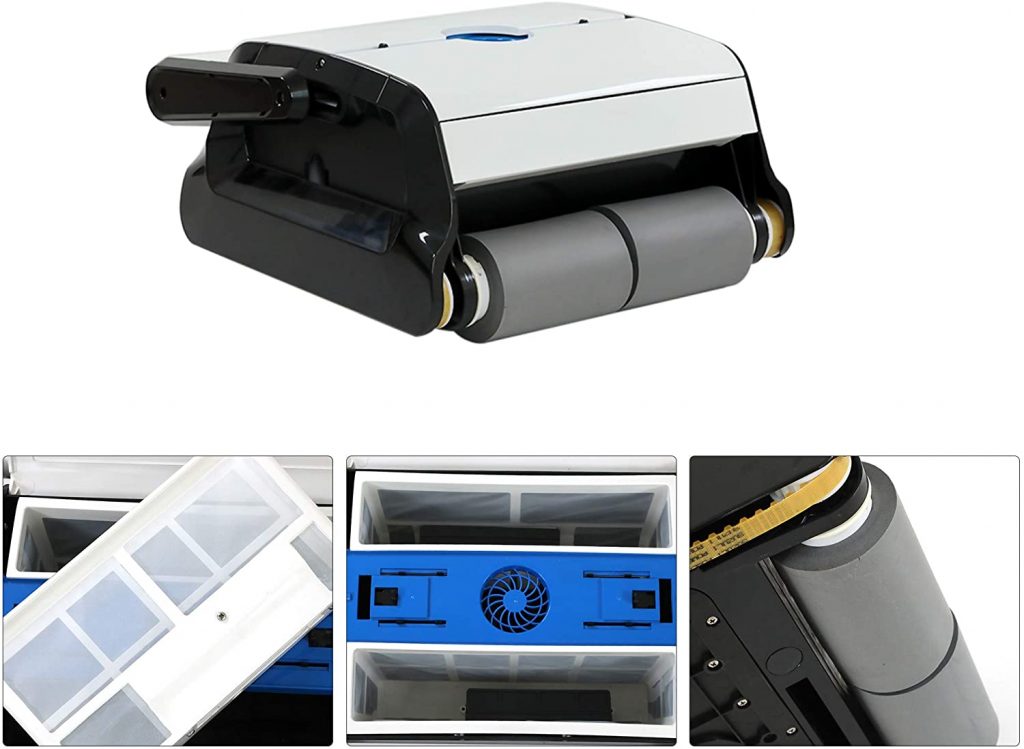 In this current industry, there are many pool cleaners available. So you may get confused about which one you should buy. This comparison between PreSmile pool cleaner and Keenso swimming pool cleaner helps you to choose an updated and the best pool cleaner.
PreSmile is built with a driving function to avoid obstacles and keep the machine running through difficulty but Keenso doesn't have these features.
It has various cleaning schedules like 1/2/3hours. It depends on your pool size. On the other hand, Keenso has 3 cleaning mode option but don't have any cleaning schedule.
PreSmile has an advanced intelligent scanning program but Keenso doesn't have any scanning program.
It is more durable and environmentally protected than the Keenso swimming pool cleaner.
See also: