Are you waiting for the KUPPET Automatic Robotic Pool Cleaner review? Do you need an outstanding cleaning solution for your backyard paradise? Do you face lots of problems when it the time to clean your pool every time? Now, are you thinking of buying a pool cleaner that cleans your pool automatically and hassle-free?
Then you have the best solution to remove your worry and tension in one touch. If you are thinking of buying one handy and reliable pool cleaner to clean your pool, then probably you have taken an impeccable decision.
Well, now the question is which pool cleaner should you buy and which gives you restless service about cleaning. At the present time, there are many pool cleaners available in the market. But not every pool cleaner is not safe for you, and maybe all are not good at all.
If you are searching for a high-quality and reliable pool cleaner, then the Kuppet automatic pool cleaner will be a spanking choice for you.
See also: An Honest Dolphin C6 Plus robotic pool cleaner review you Should look at!
Why Kuppet pool cleaner?
Kuppet robotic pool cleaner can clean both small and large pools very smartly. This unit has some extraordinary function those helps to clean your pool quickly and neatly. What uniqueness it has? Let's talk about;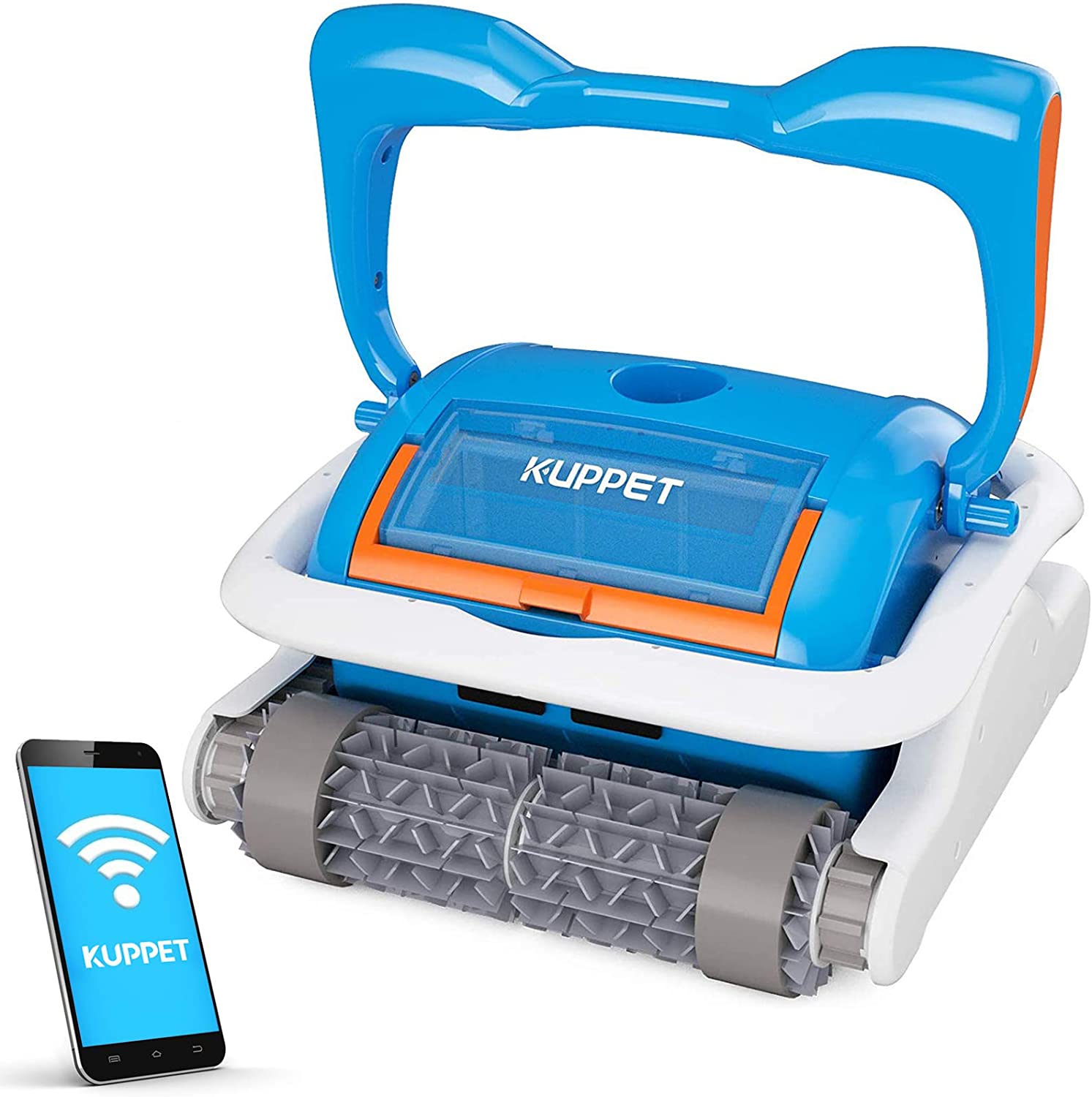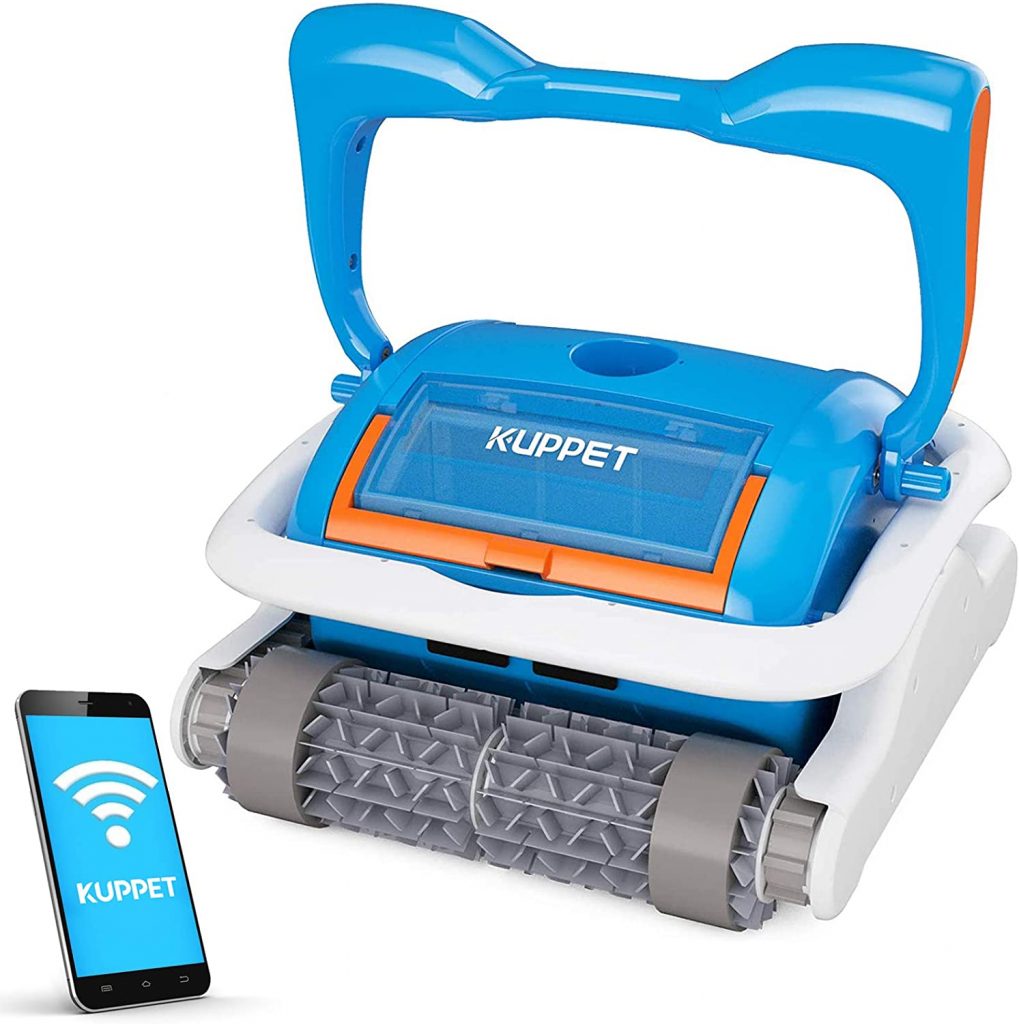 It has a large filter basket to carry more garbage at one time. You don't need to remove this unit from the pool to collect garbage repeatedly. This will capture all micro particles with its super navigation and upgradable sensor.
This has App control system to control it anytime, anywhere. You don't need to sit down in your poolside when cleaning and wait for a long time as well. You just need to open your Bluetooth from your smartphone and connect to Kuppet. Then you are all done setting it for cleaning your pool.
Well, as every cleaner now can climb up both walls and waterline, it also has this capability. This can clean both in-ground floor and  
The most important and reliable thing is that it has such outstanding cleaning technology. It has solid roller brushes. With the help of these roller brushes, it cleans wonderfully and scrubs the pool floor surface, wall, and waterline as well.
It has a remote control system. You can use this control up to 20 meters. If your pool length is 18 m to 20 m, then Kuppet will best for you.
This unit moves faster than other similar pools. This will run 12.5 m per minute. It has a large tangle-free cable which is almost 18 m long. You can easily put it on your pool and can relax your poolside. It can finish all the hard work and clean you automatically and brightly as well.
The KUPPET Automatic Robotic Pool Cleaner cleans deeply, and this maximum water depth approximately 2 meters. It can work under 0 degree to 40degree Celsius temperature.
It has an IPX8 function that protects this cleaner from water, and the power supply unit was built with IPX5. These characteristics are enough to buy this one for cleaning your pool.
Top features of KUPPET
This unit is one of the great automatic robotic pool cleaners in the market because of its high quality and performance that you are keenly looking for. This is one of the latest and innovative creations of Kuppet, which is one of the noticeable pool cleaner brands at the present time.
Interestingly, the Kuppet robotic pool cleaner comes with a series of powerful and eminent features which are very much easy to use. The best features of this cleaning unit when it comes to automated pool cleaner, then there is no way to overlook the features. It is one of the extraordinary considerations.
If cleaning is the most tedious task, then you have the best solution to remove your cleaning duty. The Kuppet removes all your tension about clean your large pool within 1 or 2 hours. This is the best accessory for cleaning any kind of pool surface. It is extremely good for both in-ground and above ground as well as waterline. Let's have a look at the top features of this pool cleaner.
Spend more time on your pool and less time for cleaning:
Kuppet automatic robotic pool cleaner provides effortlessly very simple operation which is very easy to clean and simply work for you to clean your pool. You just need to plug it in, place it carefully in your pool and go about your day. As it has many great features, you can enjoy more fun in your pool and your guest also.
Extraordinary Features of this handy Kuppet pool cleaner
Best features of the Kuppet robotic pool cleaner, when it comes to market as an automated robotic pool cleaner, then there is no way to overlook the features. Even though the unit comes with lots of remarkable features, but I am going to show you some outstanding features. Keep your eyes open and feel the difference.
Floor and Wall Deep Cleaning
It's hard to believe that this unit brings with the ability of both in-ground and wall cleaning function. It can clean 4 walls and waterline after cleaning the floor. It gives you restless service until completing its cleaning task.
You don't need to worry about cleaning your pool when you give cleaning duty on it. It will clean all your pool surfaces, including walls and waterline. It can climb up the walls wonderfully and hassle-free. The anti-rollover technology will protect this unit from falling when it is climbing and clean the walls.
Large Cartridge Filter Basket
This handy cleaner was a built-in large and easy access maximum loading filter basket. By this top-loading basket, it easily traps and locks any kind of garbage, small to large leaves, insects, dirt and dust, lichen, and micro-filter particle. After completing the cleaning, you can enjoy fresh with your pool.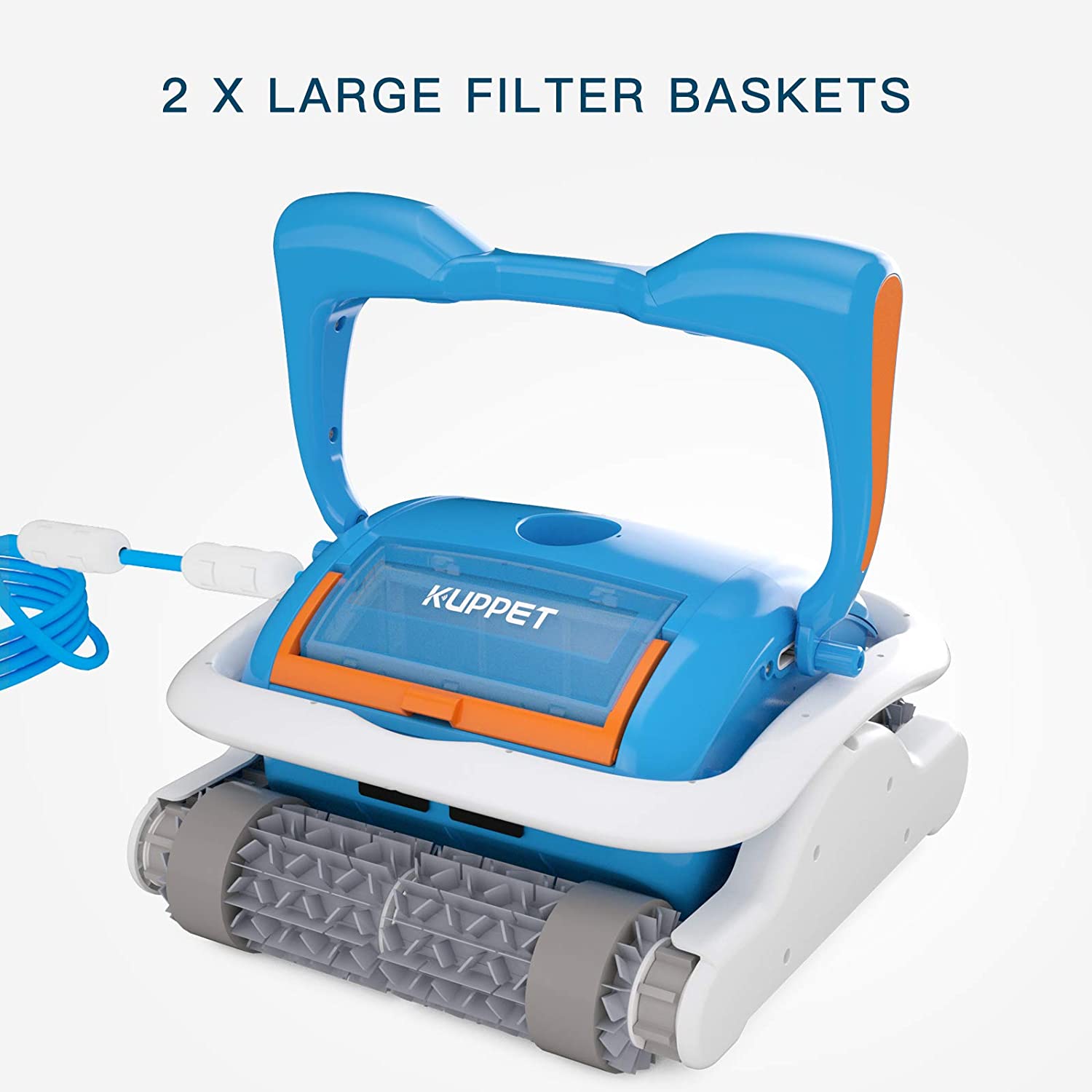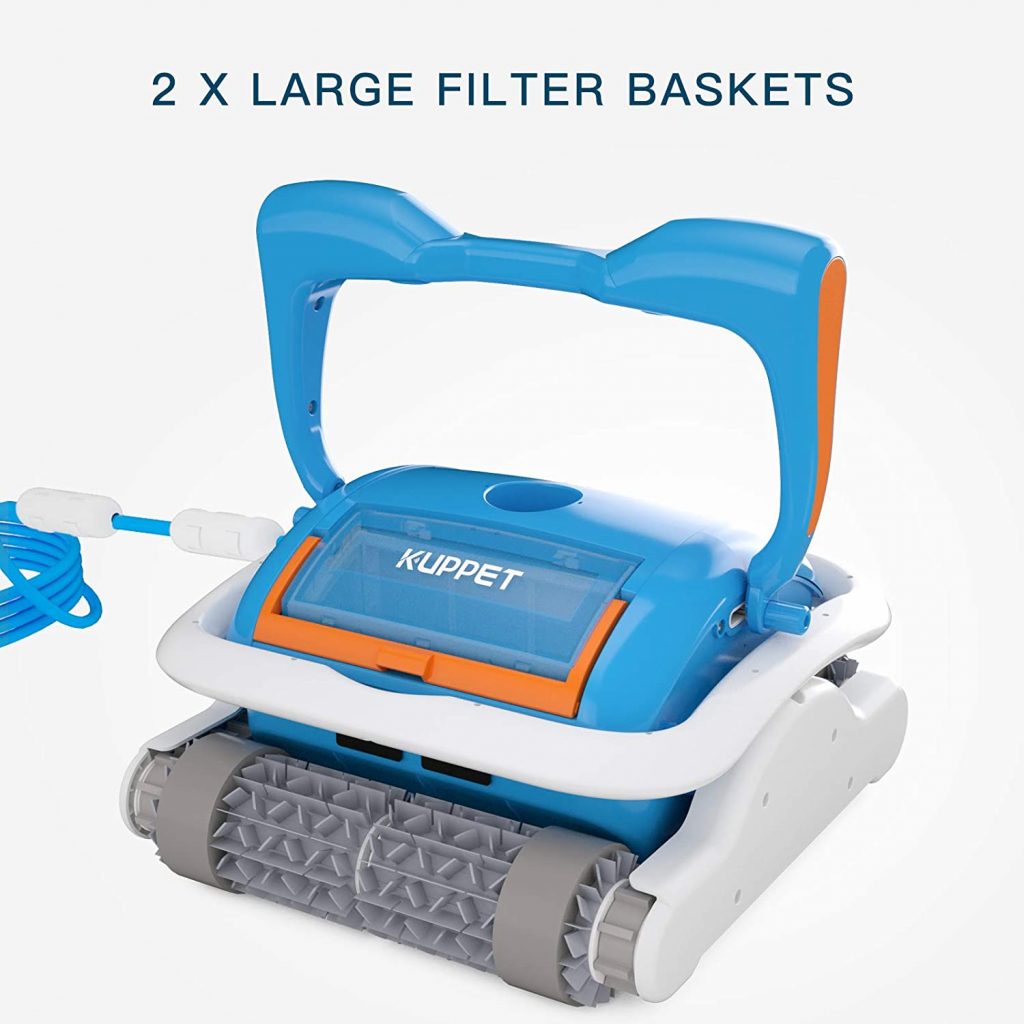 It will leave your pool extremely clean. Besides, you don't need to feel tension about cleaning the filter basket again and again. As it is a large basket, it will carry more dust and debris. Also, it is very simple to clean the basket.
Automatic Setting
You can set a time for cleaning as you need. You can schedule the robotic pool cleaner to automatically clean your pool every 1 hour, 2 hours, and 3 hours.
4 cleaning modes
All: to clean floor, walls, and waterline,
Wall: to clean the pool walls only,
Floor: to clean floor surface only and
All+ Floor: to clean the pool floor three times as well as pool walls once.
Tangle-Free Swivel
For this tangle-free swivel cord, it can move easily and efficiently around your pool, making clean-up a breeze. It can cover up to 18 m of your pool.
As I mentioned above that if you need a satisfying cleaning solution for your swimming pool, then surely the KUPPET automated pool cleaner is one of the best solutions for everyone considered price, quality, and performance. 
See also: Why Should I Buy The Aiper Smart Cordless Robotic Pool Cleaner?