When the weather starts getting warmer, there's nothing quite like taking a refreshing dip in your above ground pool. But in order to keep your pool crystal clear and inviting, you need a reliable filtration system. With so many above ground pool filter systems on the market, it can be difficult to know which one to choose.
That's why we've compiled a list of the 6 best above ground pool filter systems. These systems have been chosen for their reliability, efficiency, and ease of use.
Whether you're a new pool owner or you're looking to upgrade your current filtration system, this list has something for everyone.
So, without further ado, let's dive in and explore the best above ground pool filter systems on the market.
Why Pool Filter Systems is Important for Pool?
Pool filter systems are essential for above ground pools because they help to keep the water clean and clear, which is necessary for maintaining a healthy swimming environment. Without a proper filtration system, debris and contaminants will accumulate in the pool, leading to a variety of problems.
Some of the key reasons why pool filter systems are important for above ground pools include:
Maintaining Water Clarity: Pool filter systems help to remove debris and particles from the water, which can cause the water to become cloudy and hazy. This makes it difficult to see the bottom of the pool and can make swimming uncomfortable.
Preventing Algae Growth: Algae can grow quickly in warm, stagnant water. A filtration system helps to circulate the water and prevent algae growth by removing nutrients and debris that can feed algae.
Reducing Chemical Use: When the water is dirty, it requires more chemicals to maintain a proper balance. A filtration system helps to keep the water clean, reducing the need for additional chemicals.
Extending the Life of the Pool: A filtration system helps to prevent damage to the pool by removing debris and particles that can cause staining and discoloration. This extends the life of the pool and reduces the need for expensive repairs.
Tips to Choose the Best Above Ground Pool Filter System
Choosing the best above ground pool filter system can be a challenging task, as there are many options available in the market. Here are some tips that can help you choose the right pool filter system for your above ground pool:
Know Your Pool Size: The size of your above ground pool will determine the flow rate required for the filter system. It is important to select a filter system that is designed to handle the size of your pool.
Consider Your Budget: Pool filter systems come in a range of prices, and it is important to consider your budget when selecting a filter system. You should also factor in the ongoing maintenance costs of the filter system.
Choose the Right Type of Filter: There are three main types of above ground pool filters – sand, cartridge, and DE (diatomaceous earth). Each has its own benefits and drawbacks, and you should choose the type that best fits your needs. Check out this D.E filter.
Check the Filtration Rate: The filtration rate determines how quickly the filter can process water. A higher filtration rate is ideal for larger pools, while a lower filtration rate is suitable for smaller pools.
Look for User-Friendly Features: Consider features such as ease of installation, maintenance requirements, and user-friendliness. Some filters come with easy-to-use control panels, while others require manual operation.
Read Reviews: Read customer reviews and ratings to get an idea of the performance and reliability of the filter system. This will help you make an informed decision based on the experiences of other pool owners.
6 Best Above Ground Pool Filter Systems
You will find a lot of brand names and off-brand deals in the market to filter out your pool water, but depending on the durability, efficiency, work modes, etc. We have chosen the top 6 above ground pool filter systems. We are certain that you will find the one that's perfect for your pool from here. Let's take a look:
1. Intex Crystal Clear 1500 GPH Sand Filter Pump with GFCI
The Intex filter model is the best for your home, designed for small to mid-sized pools having 2,600 to 8,500-gallon capacity. If you are looking for the best above ground pool filter system then the Intex Crystal clear 1500 GPH will be a fantastic choice for you.
Having a flow rate of 1,600 GPH, there's no chance of finding your backyard pool water dirty with this filter.
It has a strong motor pump that takes only a few minutes to clean your pool before you get in.
Best Features of Intex Crystal Clear Filter System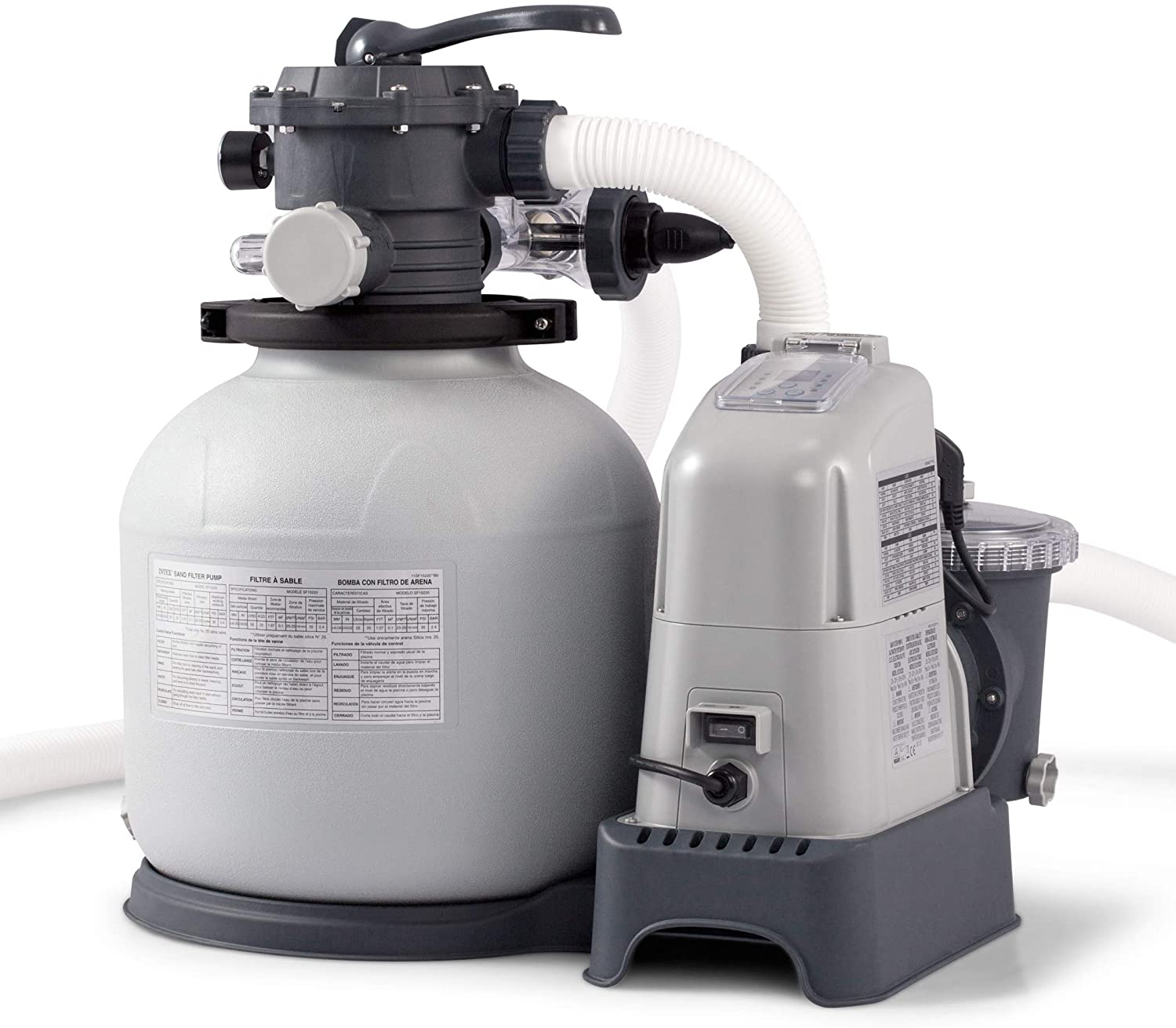 1. Superior Cleaning
It can clean out sand particles, excess salt, and unwanted particulates. Moreover, it also maintains the chlorine output in the pool water and thus the pH balance. Forget about rough hair, faded swimsuits or red eyes, and get to swimming!
2. 6-Function System
It allows thorough cleaning of your pool water with 6 different functions- filter, backwash, rinse, re-circulate, drain, and close system. The filter takes out the dirt from the pool water, and the clean water is then re-circulated into the pool.
3. Auto-timer
It also has a digital timer attached, which automatically turns the device on or off. The system can be set to run for up to 12 hours, so you don't need to operate it all the time manually.
Why should you buy the Intex Crystal Clear Filter?
It provides a wide array of functions that justify its price.
It is user-friendly and has automated operation options.
It takes all the dirt out of your pool and uses modern technology to balance the salt and pH of the pool.
Pros
It has an automatic timer
The pool sand needs to be replaced once in 5 years
The filter has a 2-year warranty
Cons
Need to buy the drain hose separately
2. Blue Wave 12-Inch Sand Filter System with ½ HP Pump
The blue wave filter comes with a ½ HP pump, which ensures the quick circulation of water for fast cleaning. The pump of the filter offers an optimum flow rate of 900 GPH.
This product promises to give you a leak-free pool cleaning experience. This beautifully engineered filter system is easy to operate, reliable, and offers excellent service for years.
Just set up the device, turn it on, and get a hassle-free sparkly clean pool every time!
Best features of Blue Wave Filter System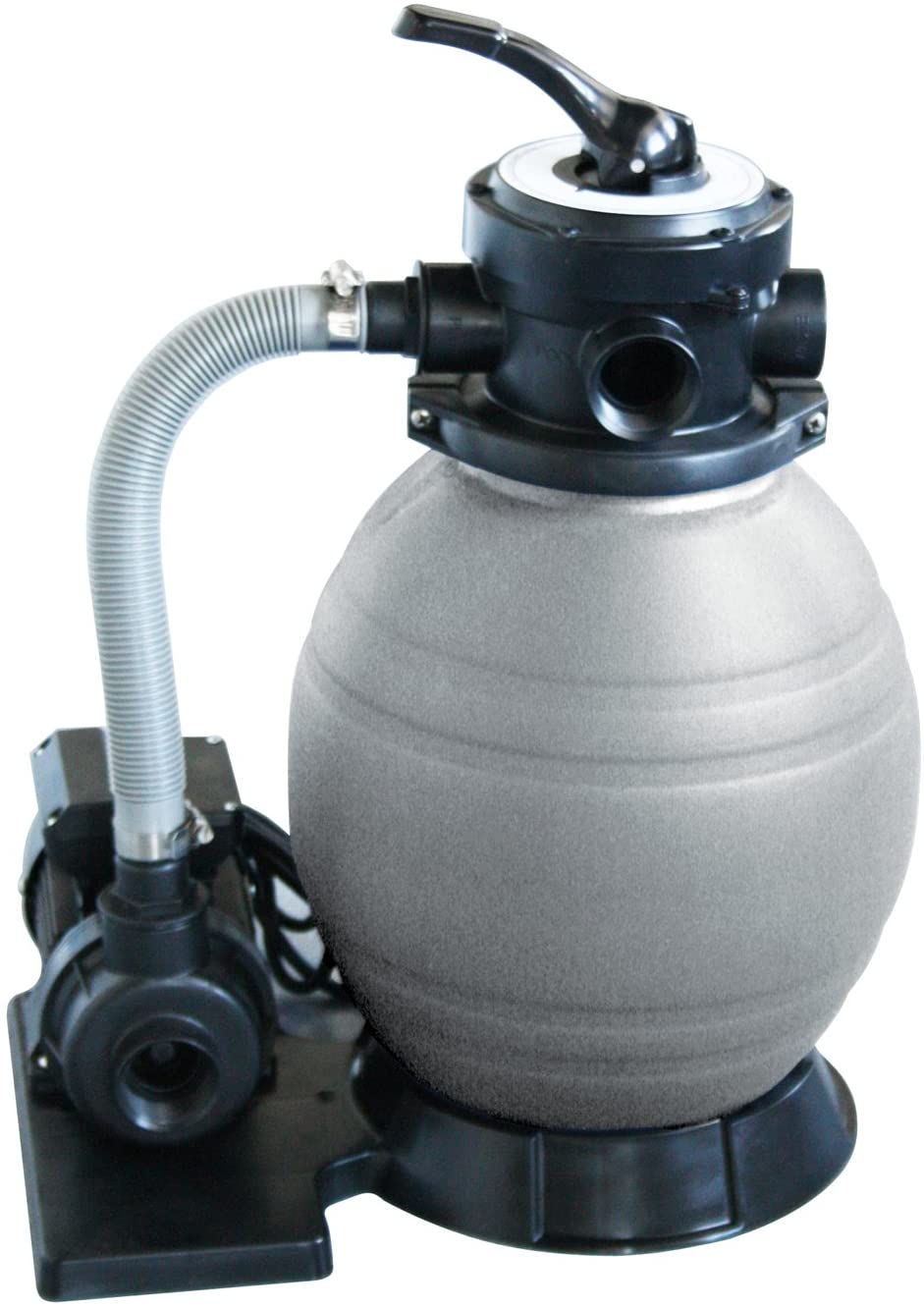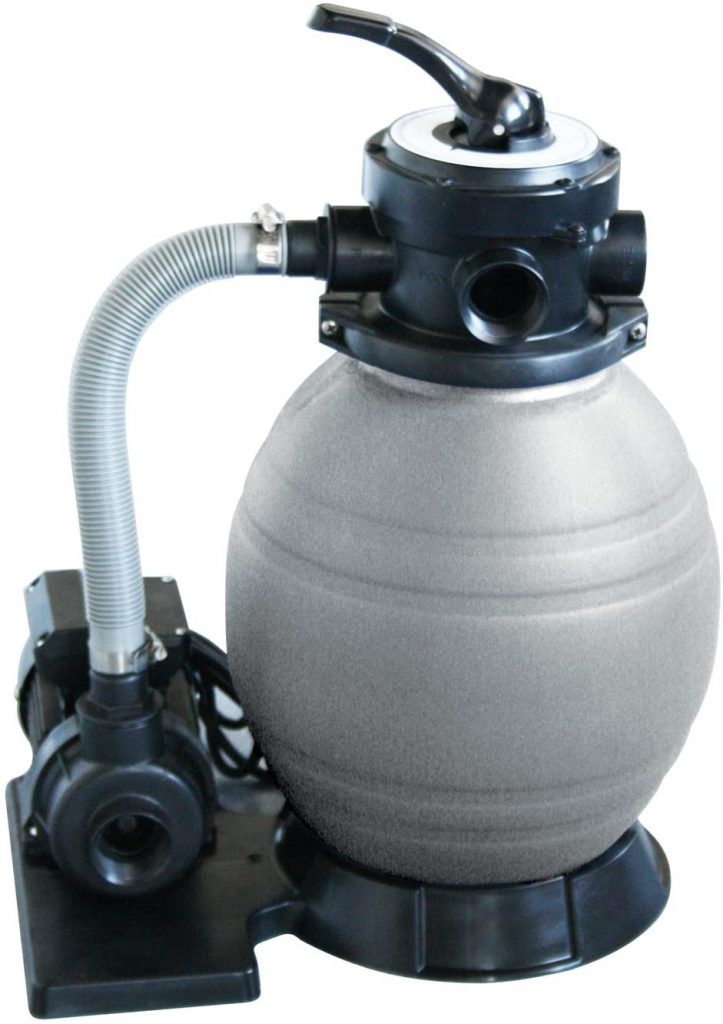 1. Durable Design
The filter tank is made of polyethylene, which makes it durable and corrosion-free. It doesn't get affected by weather changes or the chemicals in the water, so it lasts for an extended period.
2. Easy Maintenance
The multi-port system of the filter makes the backwashing very easy; it also makes the pool cleaning process a cinch. Maintaining the device is never a big deal as it doesn't even have a cartridge to clean.
3. Affordable and Comes with All Necessary Parts
The system includes the following parts: base, pump, clamps, pressure gauge, a multi-port valve, which can be set in 4 different positions, fittings, and filter tanks. It is a user-friendly system that comes at a relatively low price.
Why should you buy the Blue Wave Filter?
It ensures the quick circulation of water and fast cleaning.
The device is easy to maintenance
The filter tank doesn't corrode.
Pros
Easy to set up
Has 6-ft cord for flexible placement
Hassle-free maintenance
Cons
The manual is difficult to understand
The device doesn't have a power button
3. Pentair PNCC0100OO1160 Cartridge Filter
The Pentair filter is the best buddy of big pools of capacity up to 48,000 gallons. Its energy-efficient OptiFlo pump runs on 1.5 Horsepower and has a high flow rate of 100- gallon water per minute. As a result, you will get superfast cleaning performance.
So, even with a large pool, it will take only a few minutes to make the water crystal clear which made it one of the best above ground pool filter system.
Best Features of Pentair Filter Above Ground Pool System
1. Cleans Out Even Small Particulates
This high-performance filter system has a 100 square foot cartridge filter that is capable of removing particulates of size as small as 20 microns.
2. Rust-free Design
The polyester filter cartridge, also the stainless steel clamps ensure that the device remains rust-free. The tank attached to the device is chemical resistant too, so it is corrosion-proof.
3. Comes with All the Parts
The parts included in this system are base, OptiFlo pump, Clean and Clear filter, pressure gauge, 1.5″x 6′ hoses, pump to filter unions, clamps, and fittings.
4. Last a Lifetime
The Pentair filter has been designed to last for a long time with minimal maintenance.
You can take out the filter cartridge to clean it and then place it inside again, so no need to waste water on backwashes.
Why should you buy the Pentair Filter?
You never have to worry about a thing and will enjoy mess-free pool days after installing this unique filter.
No need for backwashes as there is the option of manual cleaning. So water waste can be checked.
Filters out all unwanted particulates and debris, so no fear of skin problems or irritations anymore.
Pros
Chemical resistant tank and corrosion-resistant filter,
Easy installation and cleaning
No need to add sand
Cons
May need to clean the filter frequently
4. GAME SandPRO 50D Series
The Game SandPRO 50D is one of the most popular at the same time best above ground pool filter system in the market because of its supreme quality and top-notch performance.
The GAME SandPRO 50D Series filtration system can work with any pool but is the best for Intex and Bestway pools. The filter system works best with pools with a capacity of up to 10,000 gallons.
Its sound-free pump runs on ½ HP, which is very energy efficient. The vacuum power of the motor is high too.
The pump flow rate is 40 gallons per minute, so it won't take long to make the murky pool water clear.
This super-efficient filter system is truly a game-changer for your clean and task-free pool experience. Get it now!
Best features of GAME SandPRO 50D Series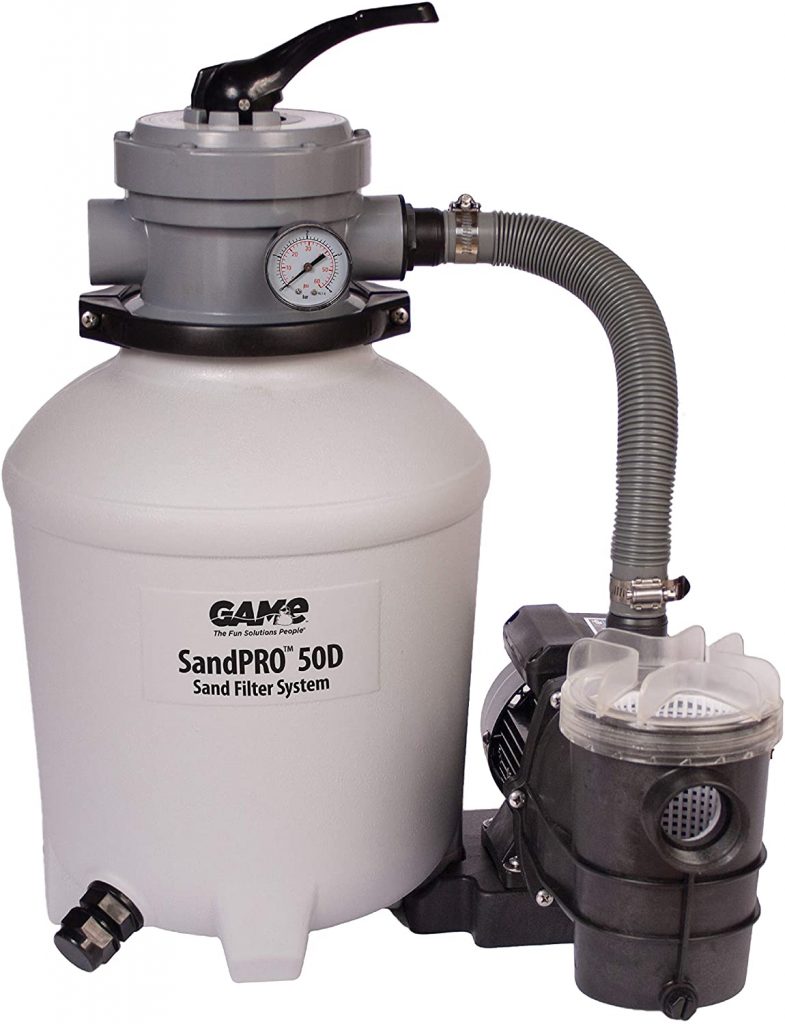 1. Easy Operation
The pressure gauge of the device gives an accurate reading, and they are easy to understand. Moreover, it includes a large strainer basket with a transparent lid for prompt inspection.
2. 4 Methods of Operation
This innovative filtration system offers you 4 methods of cleansing: filter, backwash, rinse, and winterize. There is a rotary valve with 4 positions on the device to switch from one method of cleaning to another.
3. Clog-free System
The strainer basket protects the system from hair and debris build-ups so that the device won't get clogged with dirt.
Why should you buy the GAME SandPRO 50D filter?
It is a user-friendly device that is easy to operate.
Its energy-efficient system has 4 different modes of operation.
Even if a part of the device stops working, you can easily replace it as all of its replacement parts are available in the market.
Pros
All the replacement parts are available
Provides a high vacuum power
Includes a strainer basket with transparent lid
Cons
50 pounds of filtering sand need to buy separately
The filter and pump size may not be fit for your pool;
5. Jacuzzi Laser 19″ Above Ground Sand Filter with 7-way Valve
The Jacuzzi sand filter is designed to work on above ground pools of sizes up to 24′ for round pools and 15'x30′ for oval shaped pools. Its unique design and durability made it one of the best above ground pool filter system in the market today.
It comes with a 19″ tank and a multi-port valve with 6 options, mounted at the top. This filter is a good fit for small to medium circular tubs or pools.
Best features of Jacuzzi Sand Filter Above Ground Pool System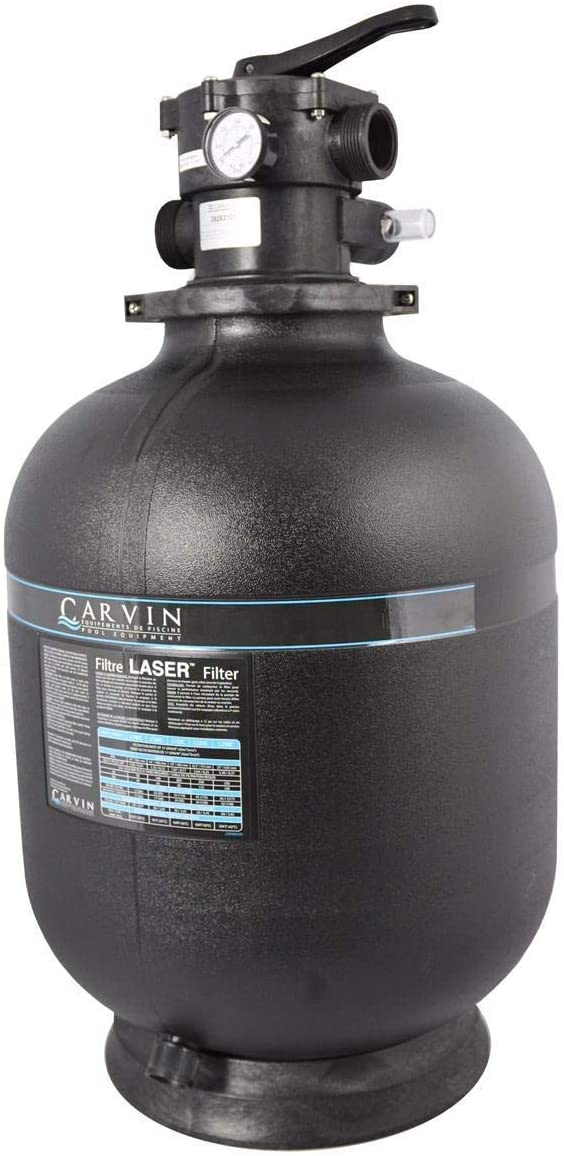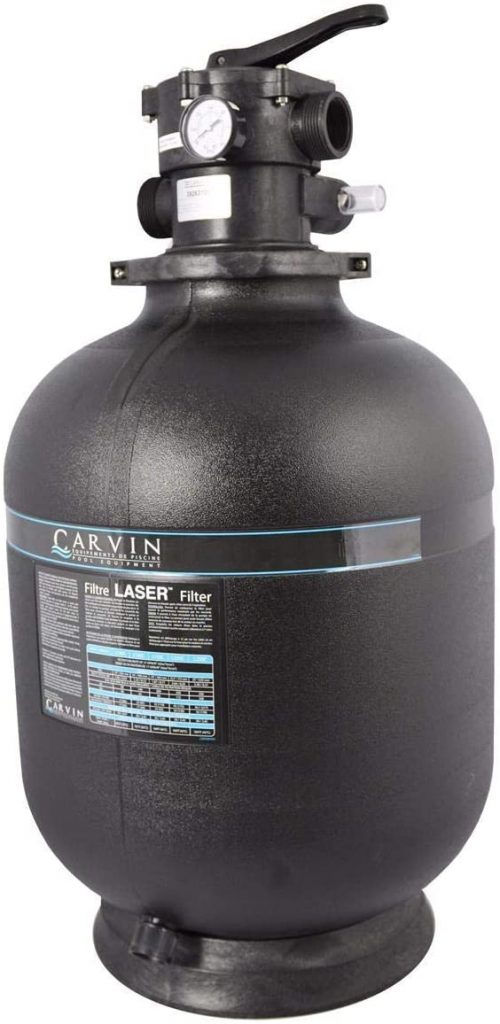 1. High-Performance Filter
The pump of this device is connected to its laser sand filter on a platform base. The high capacity sand bed catches all debris and extends the longevity of the filter.
2. Easy to Install
It is just a breeze to set the device with its snap-fit parts; there's no trouble of finding the right-sized parts to fit your device.
3. Your Best Option
The system can hold up to 200 pounds of pool sand. It also includes a no-freeze underdrain that draws out water uniformly throughout the sand bed. This ensures a high flow rate, better filtration, long-lasting service, and efficient backwashes.
Why Should You Buy the Jacuzzi Sand Filter?
Its uniquely durable structure helps it last a long time. Once installed, you won't have to worry about malfunctions and use it every time you need a clean pool.
It has 6 modes of cleaning. Its laser sand filter catches all dirt and gives you a pristine pool.
The sand bed extends the duration of filter cycles so that you can use it for more extended periods.
Pros
Snap-fit parts
Long-lasting filter cycles
An underdrain is included
Cons
The pool sand is not included in the product
You might need to modify the parts while replacing
6. Rx Clear Radiant Cartridge Pool Filter
The Rx Clear filter can be used for above ground pools of capacity up to 42,000 gallons. The filter tank is constructed of tough polymer that can fight of weather variability and corrosion.
If you are searching for the best above ground pool filter system then surely it will be an ideal choice for you.
The pump ensures an always high flow rate, so your pool cleans very quickly. This product vows to provide you hassle-free user experience.
Best features of Rx Clear Radiant Filter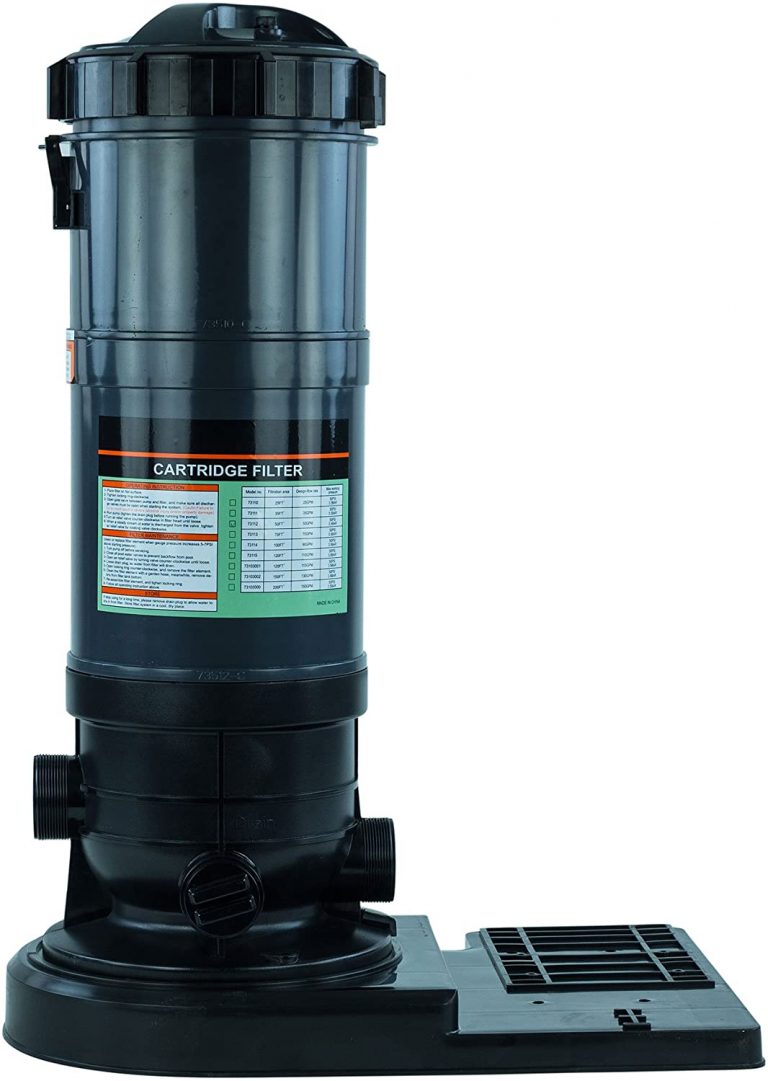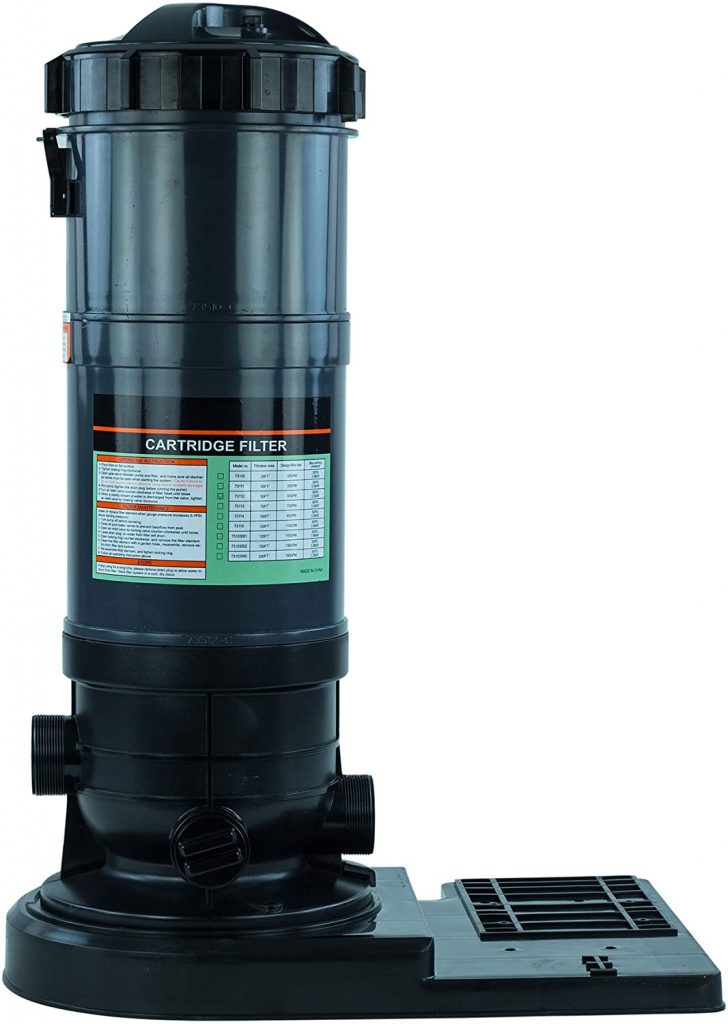 1. Easy Maintenance
The device includes a filter cartridge, which ensures you a clean and well-maintained pool every time you jump in. Maintenance is also easy as you only have to rinse the cartridge from time to time to remove any build-ups.
2. A Complete System
Its energy-efficient design allows you to pump less but get pristine water at all times. The device comes complete with its system base.
3. Best Friend for Your Pool
Its high-quality filter takes any unwanted dirt and debris out of your pool to make it comfortable for you to swim. It also supplies replacement parts and maintenance equipment that are reliable and suitable for your pool.
Why should you buy the Rx Clear Radiant Filter?
This pump can last for a long time and keep your pool in the best shape, but it isn't even that expensive. Thus, it is an excellent choice for your pool.
Works for small, medium, and moderately big pools.
No need to buy pool sand separately as it has a filter cartridge.
Pros
Easy to operate
Maintains a stable and high water flow rate
Price is justifiable with the product quality
Cons
It's hard to find replacement filters for this model
Summary
A pool filter system is essential for maintaining clean and clear water in an above ground pool. We cover the importance of selecting the right size and type of filter for your pool, while also considering budget, maintenance, and user-friendly features.
By following these guidelines, you can find the best filter system to meet your specific needs and ensure crystal-clear water in your above ground pool.
Our list of top-rated filters includes a variety of options, such as sand, cartridge, and DE filters, each with its own benefits and drawbacks. Whether you have a small or large pool, are on a tight budget or can afford a higher-end system, our list includes something for everyone.