An above ground pool can provide countless hours of fun in the sun for you and your family. However, to keep your pool water clean and clear, you need the best above ground pool pump. A pool pump is an essential piece of equipment that circulates the water, filters out debris, and ensures that the water is sanitized.
With so many options available in the market, it can be challenging to choose the best above ground pool pump to buy.
Here's a list of the best above ground pool pumps depending on their features, pros, and cons, durability, etc.
Let's take a look.
How to Choose the Best Above Ground Pool Pump?
When it comes to choosing the best above ground pool pump, there are several factors to consider. Here are some of the most important ones:
Pool Size: The first thing you need to consider is the size of your pool. The larger the pool, the more powerful the pump you'll need.
Pump Capacity: You also need to consider the pump's capacity or flow rate, which is measured in gallons per minute (GPM). A pump with a higher GPM rating will be able to circulate the water in your pool more quickly.
Energy Efficiency: Look for a pump that is energy-efficient, as this will save you money on your electricity bill in the long run. Check for the Energy Star rating, which indicates the pump meets specific energy efficiency guidelines.
Durability: The pump should be made from high-quality materials that are durable and long-lasting. Look for pumps made from corrosion-resistant materials such as stainless steel or thermoplastic.
Noise Level: If you plan to use your pool during the day and night, consider the noise level of the pump. Choose a model that operates quietly so that it won't disturb you or your neighbors.
Brand and Warranty: Choose a well-known brand with a good reputation for quality and customer service. Also, look for a pump with a warranty that covers parts and labor for at least a year.
Price: Finally, consider your budget. While a higher-priced pump may offer better features and durability, there are many affordable options that still offer excellent performance.
7 Best Above Ground Pool Pump to Buy
Choosing the right pool pump is essential for maintaining clean and clear water in your above ground pool. The pump is responsible for circulating the water, filtering out debris and contaminants, and keeping the pool water properly sanitized.
With so many different types and models available, it can be challenging to know which one to choose.
Let's take a look at the best above ground pool pump to buy.
1. GAME SandPRO 50D Series
The GAME SandPRO 50D Series is one of the best above ground pool pumps. Suitable for any kind of pool, but works the best with Intex and Bestway pools. It can clean pools with a capacity of up to 10,000 gallons.
It is noise-free, energy-efficient, and runs on ½ Horse Power. The flow rate of the pump is 40 gallons per minute, and its motor has a high vacuum power. So, it will take only a few minutes to make the murky pool water clear.
This pump is a real game-changer for your backyard pool. It is likely to fall within your budget too. So buy it now!
Best Features of the GAME SandPRO 50D Series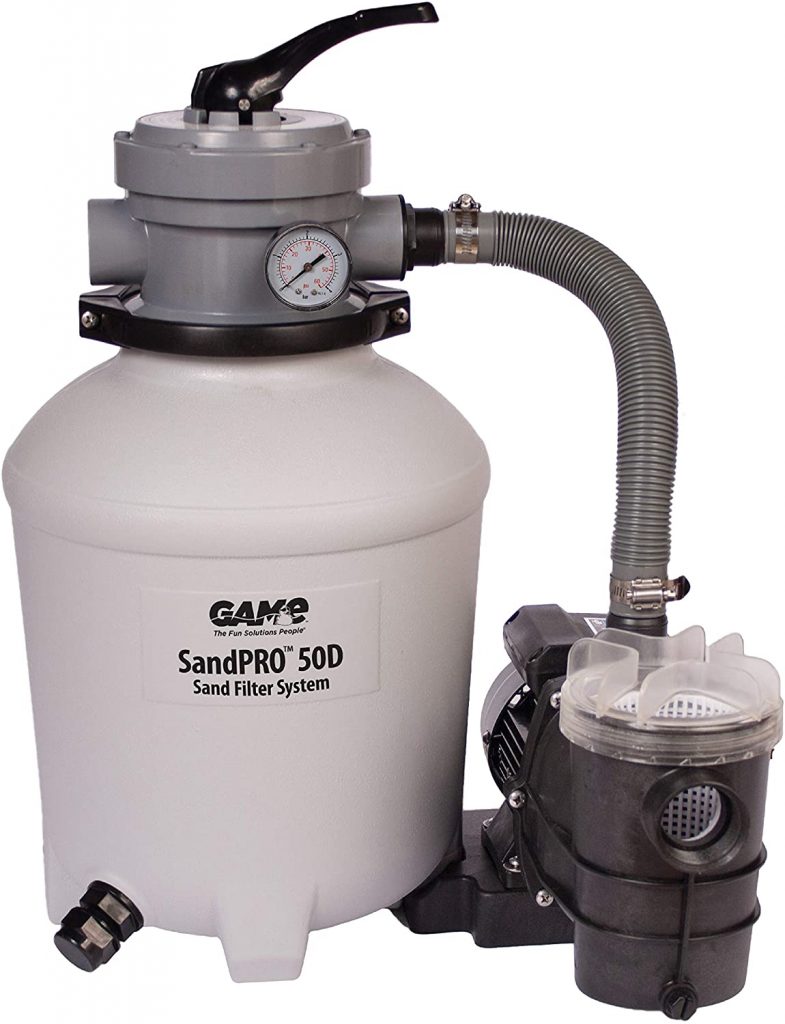 1. Simple Operations
The GAME SandPRO pump has a user-friendly design. It is easy to take accurate readings of the pressure gauge. It also includes a transparent-lid strainer basket, which allows easy inspection.
2. Four-Position Valve
This amazing pump offers you four methods of operation: filter, rinse, backwash, and winterize. A rotary valve with four positions placed at the top of the pump lets you toggle from one method to another.
3. No Clog Pump
The strainer basket of the pump catches hair, debris and keeps these from entering the device. Also, the see-through lid lets you know if your device needs cleaning. So, forget about nasty clogs and get a sparkling pool every time!
Why should you buy the GAME SandPRO 50D Series?
It is designed for easy operation. It is a user-friendly device.
It can work in four cleaning modes, which ensure superior cleaning.
All of its replacement parts can be bought from the company. So, you can easily replace the damaged parts.
Pros
High vacuum power
All replacement parts available
Strainer basket with transparent lid
Cons
Filtering sand not included
2. Pentair Dynamo 340210 Above Ground Pool Pump
The Pentair above ground pump is included in our list of the best above ground pool pump for its durability, improved design, and modern features.
It is a fine example of advanced hydraulic engineering with a stylish look and energy-efficient motor; it can be set up with most of the above-ground pools.
The pump runs on ½ HP, allowing energy-saving cleaning operations. Also, its ports of standard 1.5' size let you install it anywhere you prefer.
It comes with standard 3" long cord for easy placement. Its entire design is aimed to provide a no-hassle, amazing pool experience.
Best Features of the Pentair Dynamo 340210 Pump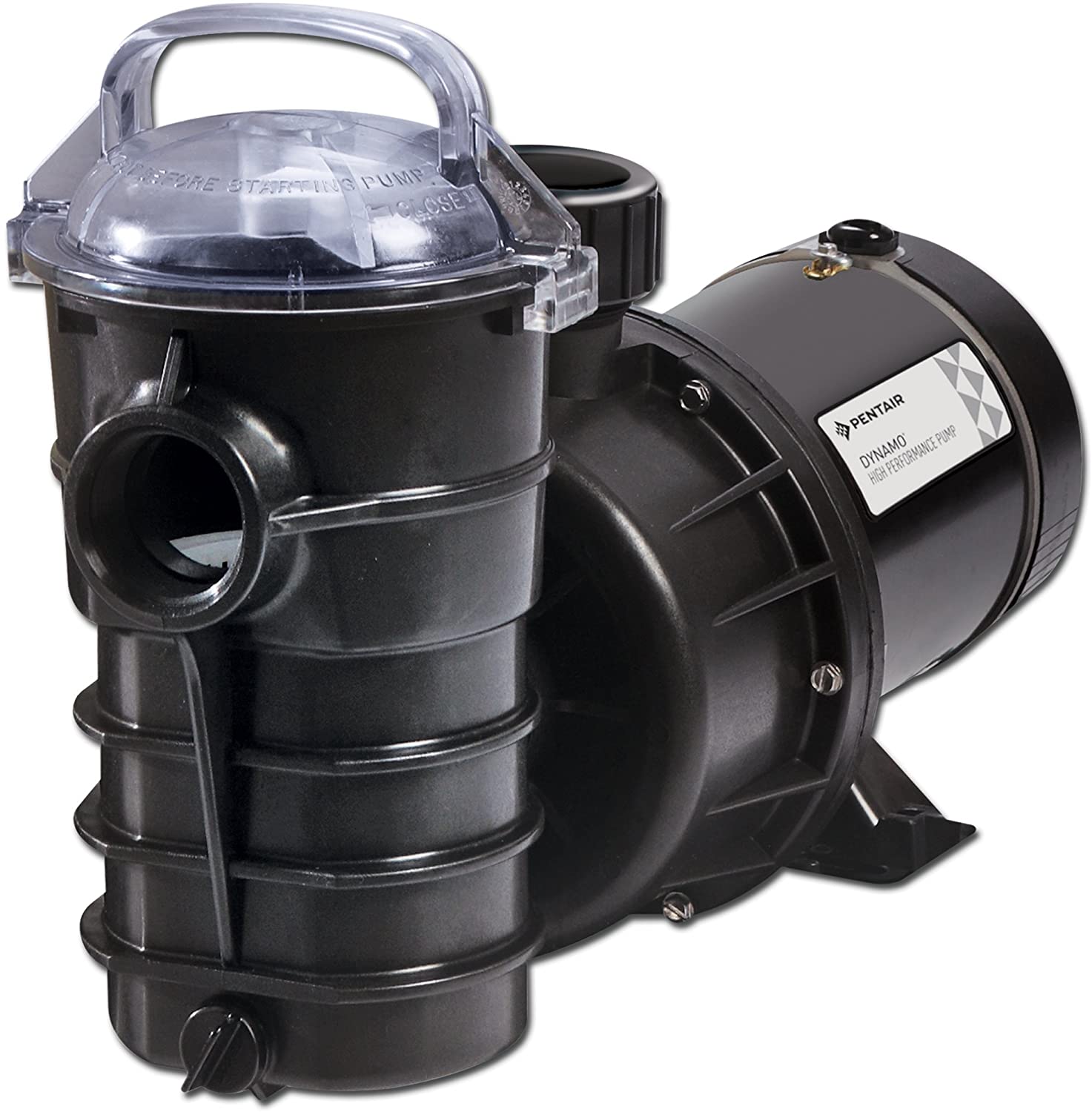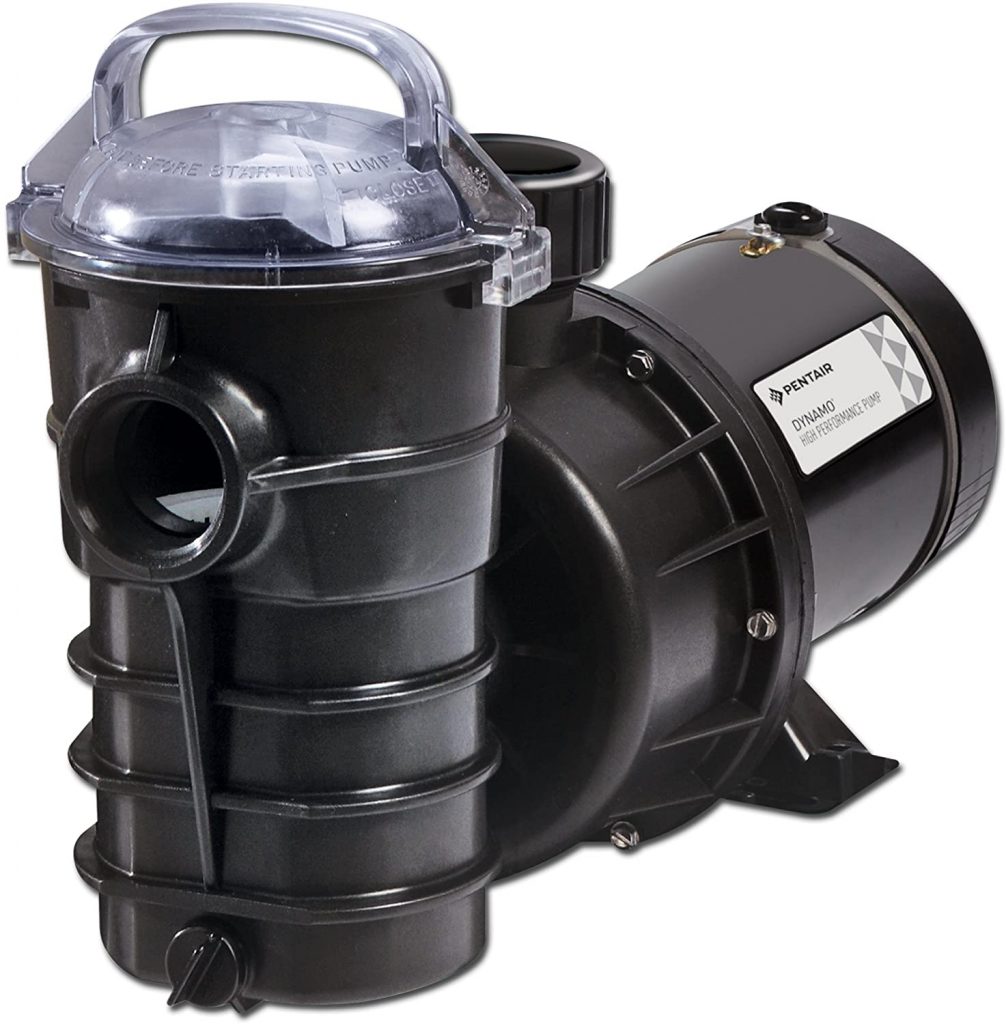 1. Strong and Durable
The Pentair pump has been built with reinforced fiberglass, which makes it a long-lasting device. The component also gives the pump a strong body, resistant to mechanical stress.
2. Constant High Pressure
This pump was constructed to ensure high pressure through all flow rates. So, it'll never take too long to clean your pool.
3. Large Strainer Basket
This beautifully designed pump comes with a see-through strainer basket for effortless inspection. Its big handle moves smoothly. The large size of the strainer basket extends the time between device cleanings.
Why should you buy the Pentair Dynamo 340210 Pump?
The pump is energy-efficient and quiet.
The pump is durable, made with reinforced fiberglass components.
The pump minimizes friction and water turbulence, ensuring high-quality operation.
Pros
Large strainer basket
High-pressure pump
Replacement parts available
Cons
3. Wayne 57729-WYNP WAPC250 Pool Cover Pump
The Wayne Pool Cover pump is unlike any other. Its automatic on-off technology makes it a charming product and one of the best above ground pool to buy. Its flow rate can reach as high as 3000 GPH with a 1-1/4" drain hose.
This super energy-saving pump runs on ¼ HP and has a protection circuit for its motor that protects it from debris buildups or cold weather.
This is an automated pump, so you don't have to check on it after plugging it in. This oil-free pump can gift you a clean and fun pool to jump in each time.
Best Features of the Wayne Pool Cover Pump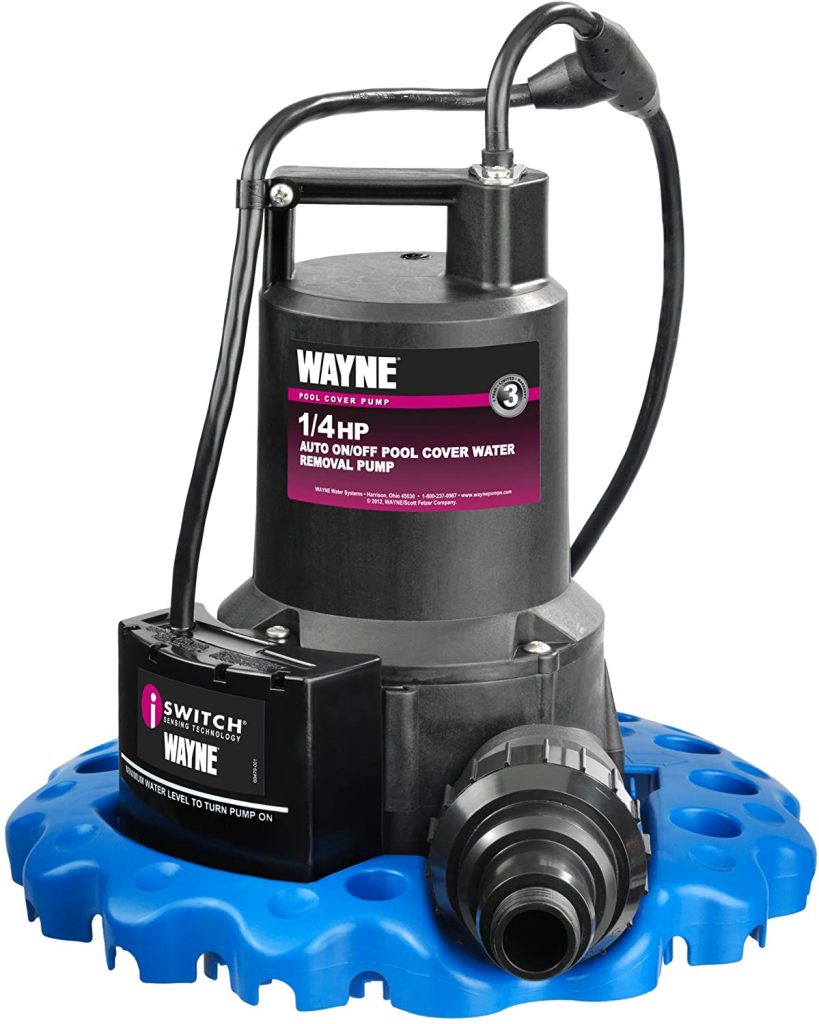 1. Automated On-off Switch
This device, once installed, can continue running on its own. Its advanced iSwitch technology senses the presence of water and turns the motor on or off as needed.
This technology also protects the motor from freezing or over-hearing during unfavorable situations, making it longer lasting.
2. Comes with All the Parts
You don't have to worry about buying separate parts to install this pump, as it comes with them all. The package includes a 25' power cord, check-valve with 3/4" adapter, and a 25' rope for convenient placement of the pump.
Why should you buy the Wayne Above Ground Pool Pump ?
It has a strainer base that prevents clogging and keeps the pump balanced.
Its iSwitch technology protects the pump from any damage.
The pump needs no supervision due to its automated on-off switch.
Pros
Automated system
Energy-saving
Prevent damage
Cons
The automated on-off switch might malfunction
4. Waterway Plastics PH1150-6 1.5 HP Pump
You can never leave out the Waterway Plastics pump from the list of the best above ground pool pumps. It is an amazing device with a strong vertical discharge and faster filtering cycles that takes less time to clean your pool.
This pump can work as both in a replacement pump or a new system. Its wonderful performance ensures high pressure and volume output.
It is an efficient machine that needs only 1.5 HP to work. If you want a pool with pristine water, this is the pump you should buy.
Best Features of the Waterway Plastics Pump (PH 1150-6)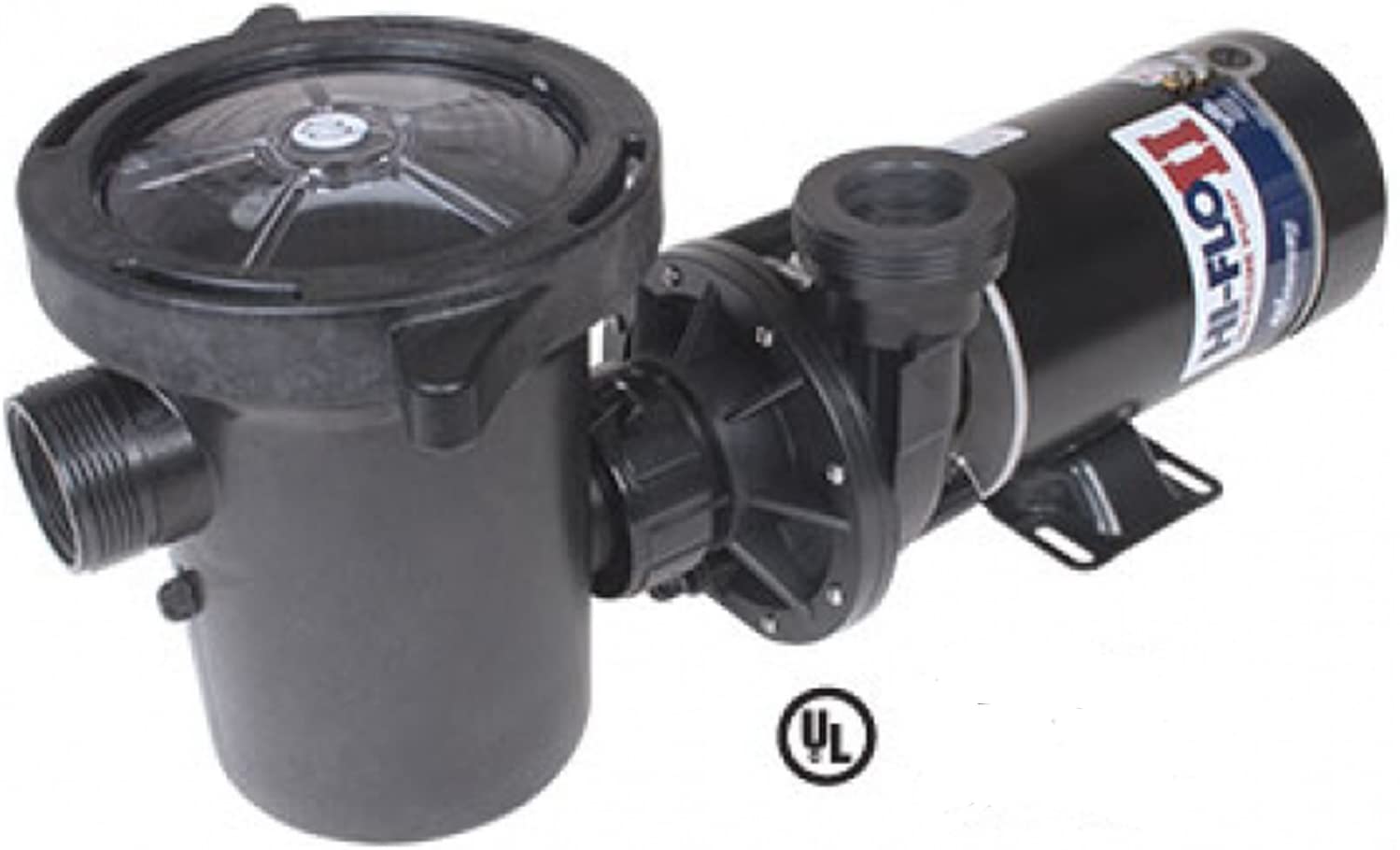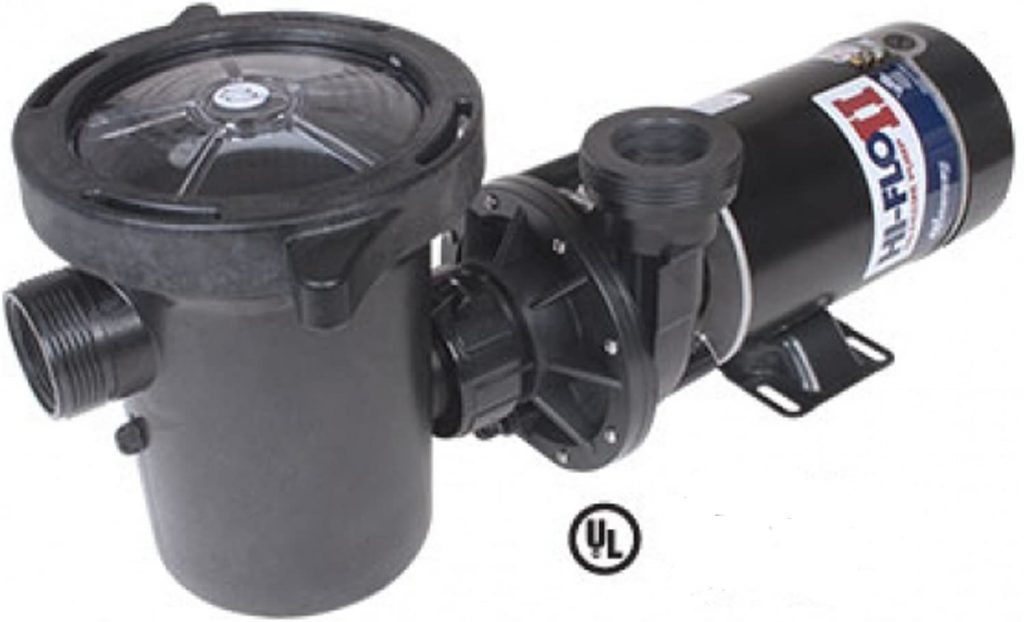 1. Strainer with Clear Lid
This pump comes with an extra-large strainer basket and a clear lid at the top. The basket extends the time between cleanings, and the lid helps you inspect the condition of the device. The strainer protects the pump from debris and dirt buildups.
2. Easy to Install
The wet end of the device can rotate to facilitate installation. Moreover, it is a double-threaded device, inside for fittings and outside for unions. Its body is joined with split-nuts for easy servicing.
3. Includes all Necessary Parts
This amazing pump comes with is complementary parts in its package. The parts are a 6" pump trap, 1-1/2" union, self-aligning union discharge, 3' cord, and a wet end.
Why Should You Buy the Waterway Plastics Pump?
Its impeller design ensures high water pressure and volume output and optimum flow.
The high-performance motor rarely needs any maintenance.
The body of the pump is made of fiberglass filled resin which makes it strong and corrosion-proof.
Pros
No corrosion
Least maintenance
Easy installation
Cons
5. Waterway Plastics PH1100 Hi-Flo 1 HP Pool Pump
If you have decided to buy a Waterway Plastics pump but can't decide which model is good for your pool, try comparing the PH1100 model with the previous one.
Both the models have been included in our list of the best above ground pool pumps for their unique features and brilliant performance. The PH1100 model runs on only 1 HP and is suitable for above ground pools of any size.
This model works fine as a replacement pump, has a powerful side discharge, and an on-off switch at the bottom of the device for manual operations.
It is a single-speed pump with automatic overload protection. This pump can last for a long period and also comes at a reasonable price.
Best Features of the Waterway Plastics Pump (PH 1100)
1. Two-way Discharge
This pump has a two-direction discharge system, center discharge, and Hi-Flo side discharge. Thus, a continuous and heavy flow rate is ensured.
2. A Great Replacement Pump
If you want to replace your old pool pump, this might be the right choice for you. You don't need to buy new parts to go with this pump as it comes with all the necessary parts as a package.
This includes a 6" debris basket, 3' cord, and standard 3-prong plug. You can start the pump by simply connecting the hoses of your old pump to it and plugging it in.
3. Easy Installation
The pump is ready to serve you as soon as you receive it. The device has a simple design, which makes it easy to assemble and maintain. The debris basket of the pump is re-attachable, so it's easy to clean.
Why should you buy the Waterway Plastics Above Ground Pool Pump ?
It has automatic overload protection so that the motor won't burn.
It can be used in any type of above ground pool and can replace any old pump.
It has a double-threaded design that can be attached to both fittings and unions.
Pros
Two-way discharge
Re-attachable strainer basket
Adjustable with any pool type
Cons
6. Hayward SP1593 PowerFlo Matrix 1.5 HP Pool Pump
Hayward is a perfect choice for your pool, as it is one of the best above ground pool pumps with its different speeds and modes of discharge. Its heavy-duty motor ensures a high flow rate and has an internal automated thermal overload protection.
This pump comes with superior quality Noryl impeller, which has wide openings. This prevents pump clogs by leaves and debris.
It also has an integral drain plug that allows easy winterization. It is the pump to go for if you don't want the weather to hamper your fun pool days.
Best Features of the Hayward SP1593 Pump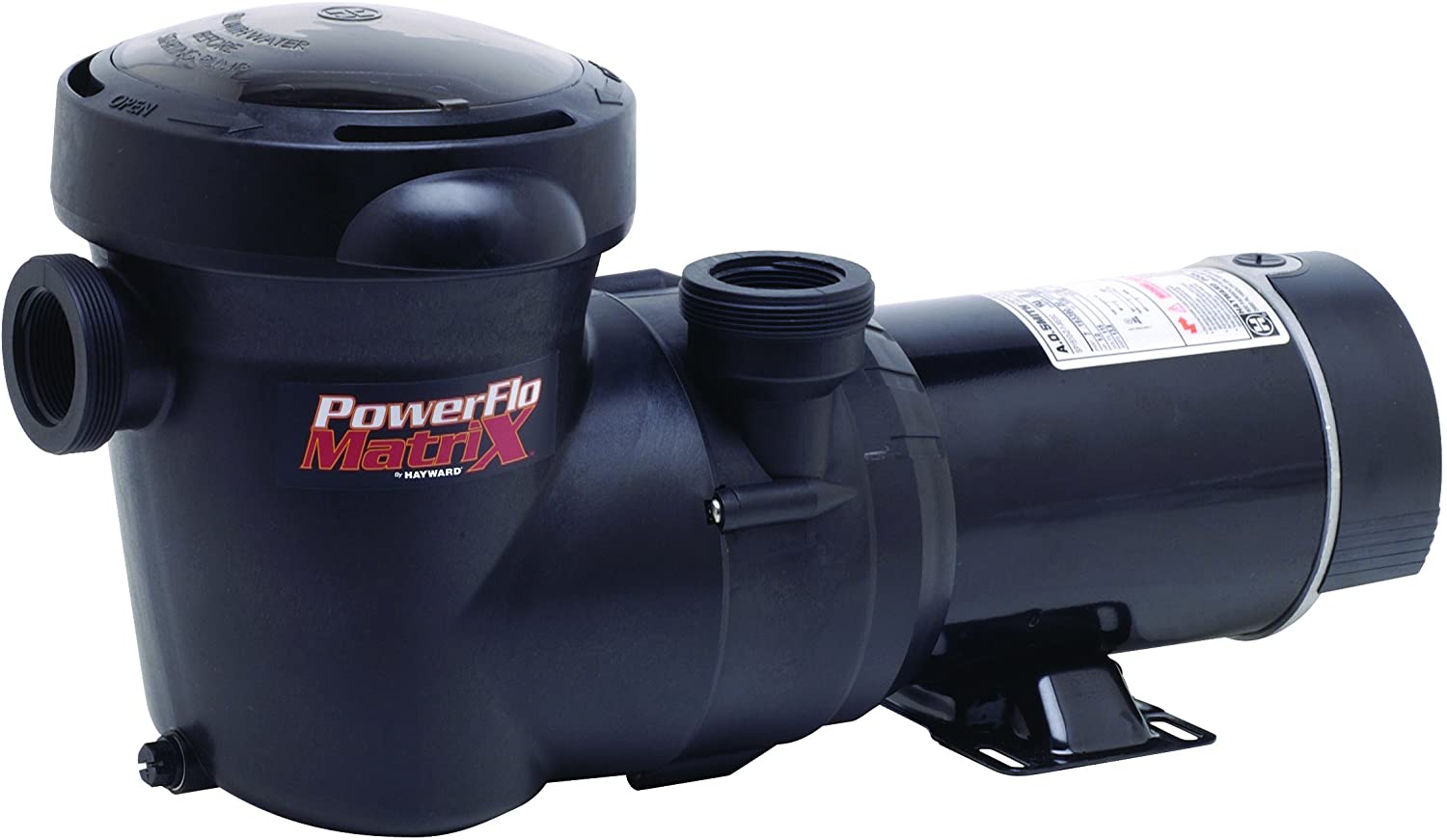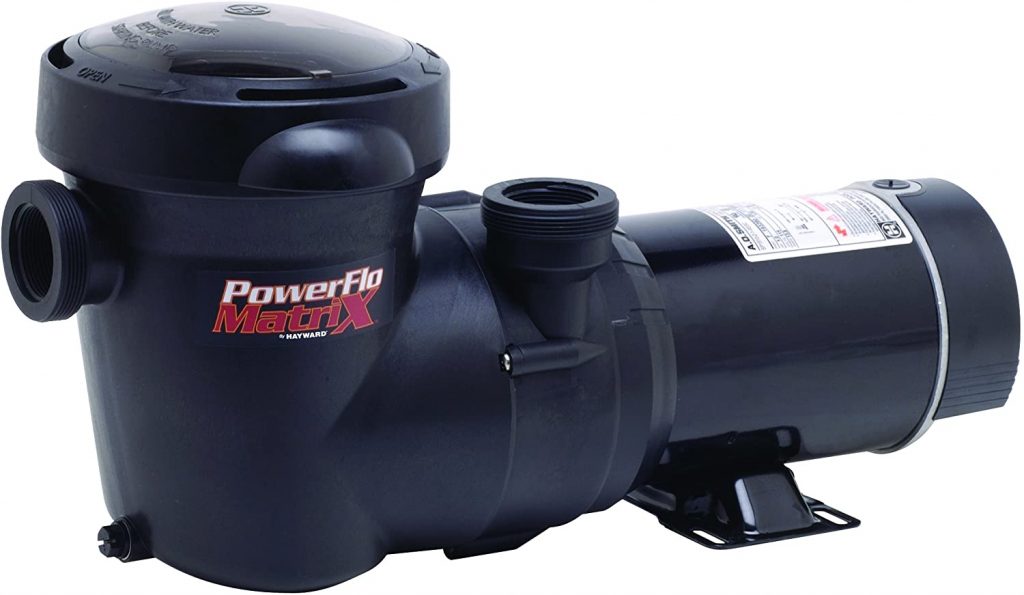 1. Two modes of discharge
The pump offers two modes of discharge, vertical and horizontal. You can switch from one mode to the other just by pressing a button. You can set the discharge mode to suit your needs.
2. Speedy Operation
This pump provides a rapid connect-disconnect discharge and intake for maintaining a high flow rate. Also, you can remove the strainer within a moment by removing its C-Clip Connector.
3. Durable Design
The body of the pump has been built with corrosion-free, durable materials. Its internal drain plug enables easy winterization. Moreover, is automatic overload protection saves the pump from any damage.
Why Should You Buy the Hayward Sp1593 Pump?
It is a long-lasting pump that can be stored and used for many years.
The high-efficiency motor is automatically protected.
Operates in two speeds and two modes of discharge.
Pros
Huge strainer basket
Weather change resistant
Limited one year warranty
Cons
Difficult installation instructions
7. Hayward SP1780 PowerFlo II 1 HP Pool Pump
This is a different model of the Hayward pool pump. Both models can be considered best above ground pool pump; so buy the model you need. The Hayward SP1780 model is a self-priming pump with a durable build.
This power-efficient pump runs on only 1 HP, but at the same time, gives excellent performance. It is a must-have for your pool for a hassle-free experience.
Best Features of the Hayward SP1780 Pump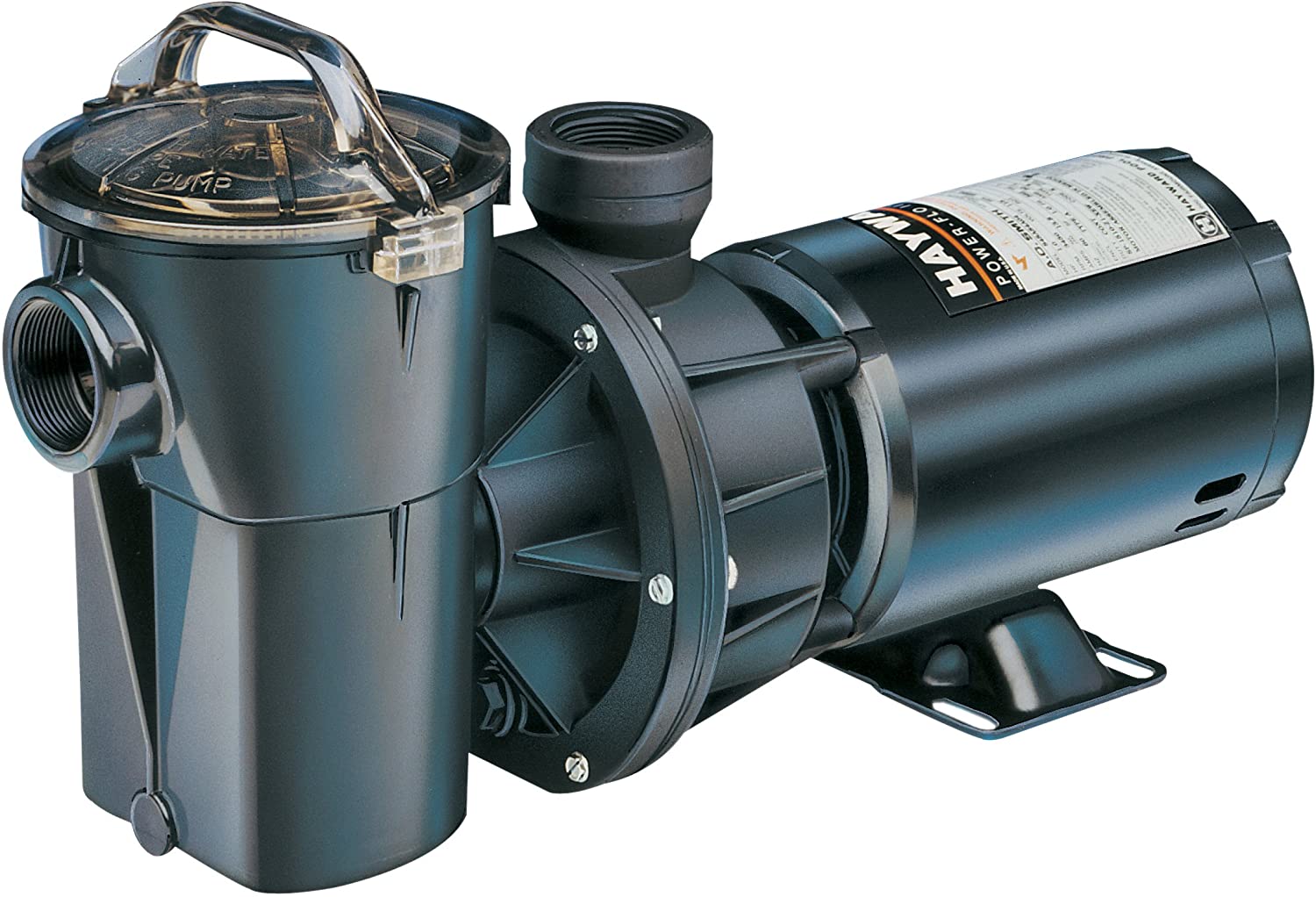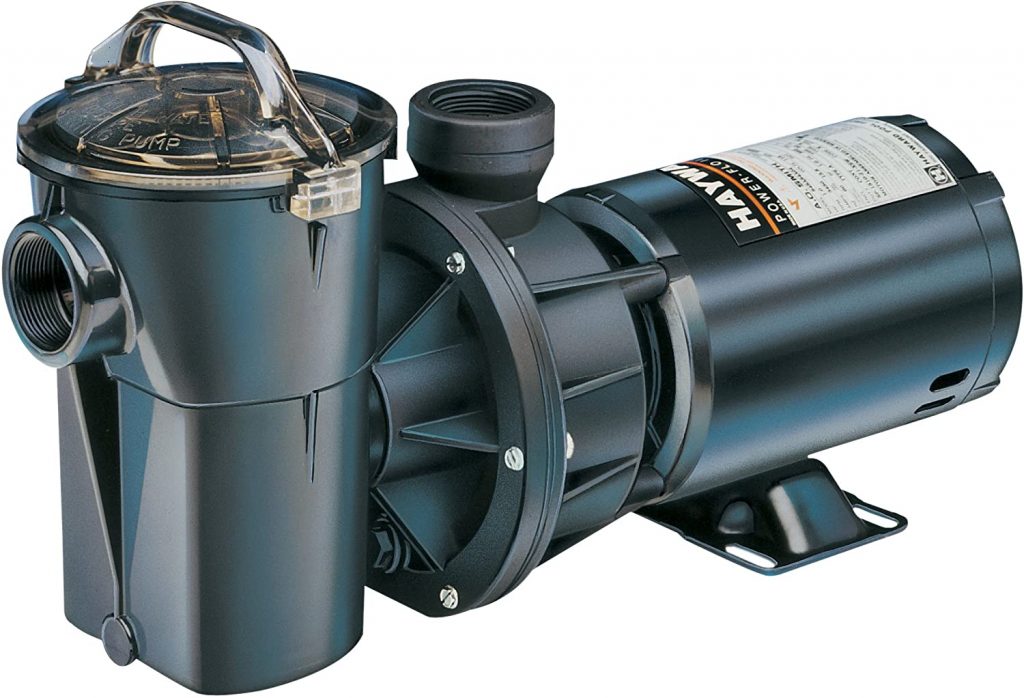 1. Premium-quality Motor
This pump has a heavy-duty motor that doesn't need frequent maintenance. The motor contains a stainless steel shaft and a thermal protector. The motor is secured with a heat-resistant double-sized seal.
2. Superior Operation
The pump offers quiet runtime with resistance to all weather extremes. It is a breakthrough innovation that keeps your pool clean at all times.
3. Long-lasting
The Hayward SP1780 pump has a corrosion-resistant housing, an overload protector and a drip-proof seal. All of these ensure the durability of the pump with the least maintenance.
Why Hayward SP1780 Is The Best Above Ground pool Pump?
It includes a drain plug that allows easy maintenance of the device.
It's a self and rapid priming device.
Only minimal maintenance is required for it.
Pros
Easy maintenance
Weather-adaptable
No corrosion
Cons
So, this is the list of the seven best above ground pool pumps. We hope that this article was helpful to you.