Well, are you seeking a trusted and reliable PAXCESS Wall-Climbing Automatic Pool Cleaner review? In this article, I am going to provide you a diagnostic report of PAXCESS Wall Climbing Automatic Pool Cleaner which is one of the result-driven and efficient automated units in the market.
Why are you getting frustrated and feeling bored cleaning your pool? It's time to take the stress out of pool cleaning with the excellent Paxcess Wall-climbing robotic pool cleaner. This fascinating and fast-moveable robot delivers an outstanding clean with intense scrubbing brushes and filtering.
This fabulous robotic pool cleaner cleans your pool without any sort of obstacles and will give a fine touch to your lower and upper parts of your pool. If you are thinking of buying a unit of Paxcess, then you have made a fantastic decision. It can clean both the inner side and outer side properly.
Which functions add the actual value of this robotic pool cleaner unit?
Well, this unit has some fantastic attributes. For instance, it equips with a wall-climbing function, a Dual 180-micrometer large filter basket, a Tangle-free cord covering up to 50 feet, And intelligent cleaning for walls, waterline, and in-ground swimming pool.
This not at all; it has many more features. We will describe all these things step by step. If you want to clean your pool within a short period, you should buy this robotic pool cleaner.
Why you should buy Paxcess Robotic Pool cleaner?
Well, it has exceptional ability to clean your pool deeply and very tidy. Getting sparkling clean water is not a dream today anymore. If you have this unit in your hand, then you can easily enjoy a fresh and tidy pool always. It cleans not only the in-ground but also the whole space of your pool. Now, take a look at what the specialties it has been.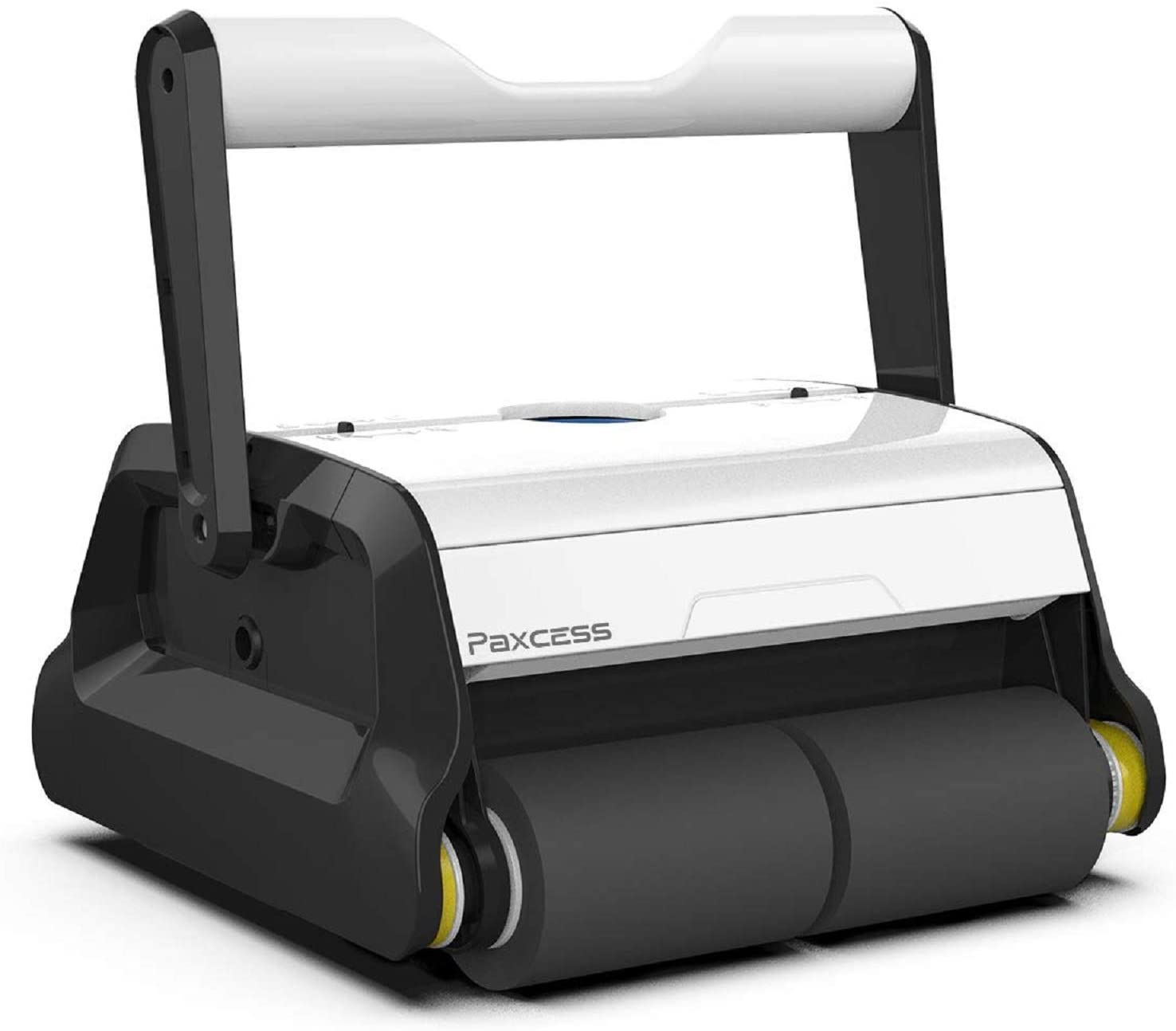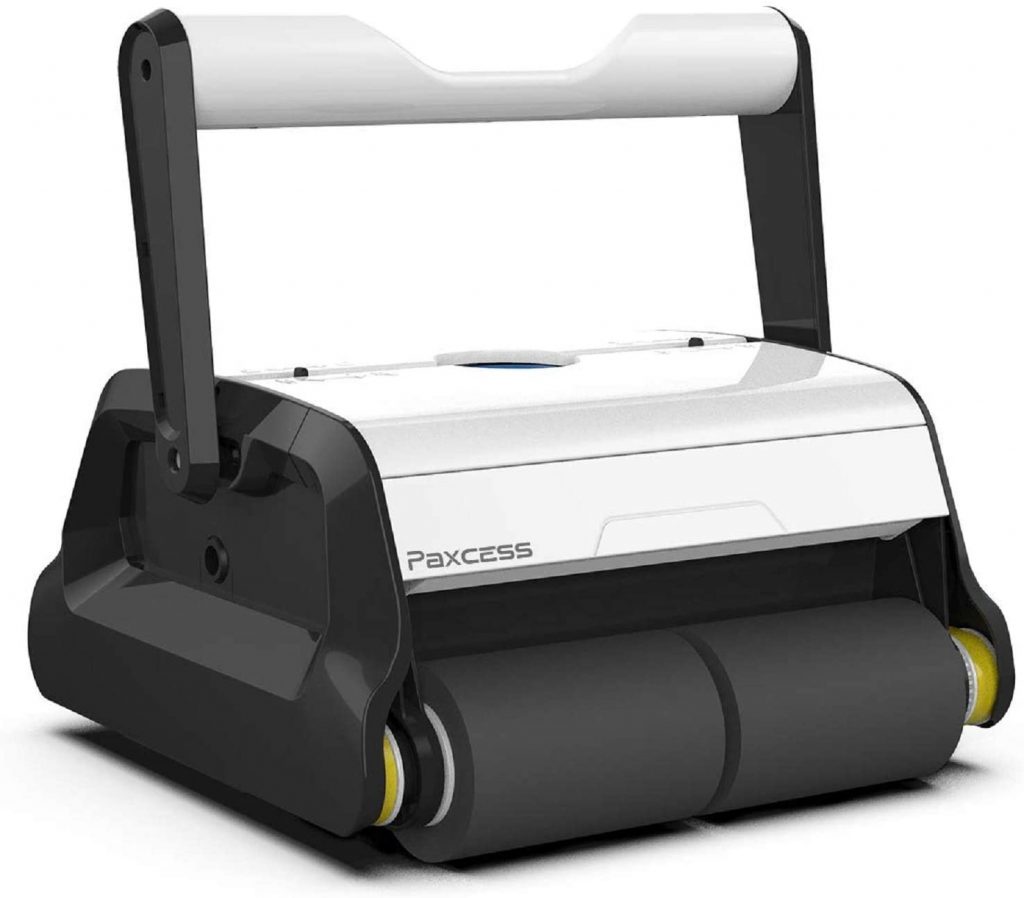 It can clean walls after cleaning the floor and waterline. Interestingly, it removes all dirt and dust with its sharp sponge roller brushes, and it never stops before completing its duty.
It has a special touch, and it is, comparing to another pool cleaner in the same category, Paxcess robotic pool cleaner comes with 4pcs sponge roller brushes. These brush helps to provide faster cleaning than another cleaner.
This unit's significant particularity is to have a swivel cord. A swivel cord can help protect tangles, and robots move quickly and proficiently around your swimming pool, making brush-up a breeze.
It's easy to clean and easy to use. You don't need to take extra time to set up it and clean it. Additionally, it has a large filter basket that helps to carry more garbage at one time. For that, you don't need to worry about cleaning its filter one after another when it is in a cleaning mood.
It makes up your pool as like you created this pool a few moments ago after cleaning. Its 4pcs sponge roller makes it easy.
Exceptional Features of the PAXCESS Automatic pool cleaner
Reduce your hardship to clean your pool by using this robotic pool cleaner. It has numerous features that every pool owner would find helpful.
It is still another automatic robotic pool cleaner to have made a reputable impression on users. In this PAXCESS Wall-Climbing Automatic Pool Cleaner review, we will detect what exactly makes this cleaner as an excellent cleaning material to invest in.
So, without wasting precious time, let's go to the main discussion about these outstanding attributes and find out what this automatic pool cleaner from Paxcess is all about.
Floor and Wall Deep Cleaning
Paxcess robotic pool cleaner offers 4 pcs PVA (polyvinyl alcohol) sponge roller brushes to provide strong adsorption and excellent wall climbing without any hurdle and worry. There is nothing to worry about falling when this cleaner climbing walls and waterline.
The advantage of a sponge roller brush is that it has strong adsorption power to absorb any kind of debris. Also, it has the ability to climb walls more than other cleaners. Its vacuum cleaner can easily climb the walls and do a great job cleaning the fine dust or tough dirt.
Auto Clean Setting
In this PAXCESS Wall-Climbing Automatic Pool Cleaner review, it's time to mention its advanced innovative technology. You can set it easily and just let it go by using this innovative technology. You don't have to need to wait and see when the cleaning session is going on. If you once give it the responsibility to clean your pool, then you can relax.
You just need to set the schedule as your need. You can schedule your Paxcess pool cleaner to automatically clean using 3 settings- 1 hour, 2 hours, and 3 hours. Also, it is easy to on and off. You just tap the on/off switch and let your cleaner start and stop.
Do Intelligent Cleaning
With the advanced intelligent computer program which we mentioned before that, it will intelligently move the unit to navigate the pool and find out the exact location of any debris. The automatic pool cleaner pre-installed the most powerful pump motor; it moves quickly here and there and cleans the pool gently for this unique function.
Deep Cleaning function
As it has 4 pcs PVA sponge roller brushes and with 2 pcs powerful motors to provide faster cleaning power, it cleans up your pool more superbly than any other pool cleaner. It never leaves any dust and dirt in your pool. With powerful adsorb-ability, this unit cleanses the pool more efficiently and with fun. If you want hassle-free cleaning, then this is the best cleaning option to buy.
Smartly Handle the Larger Debris
It has sizeable full access cartridge filters. It captures tiny to large leaves, nano-particle, rough and tough dirt and dust, and fine debris. After identifying various kinds of trash, it is leaving your pool very clean.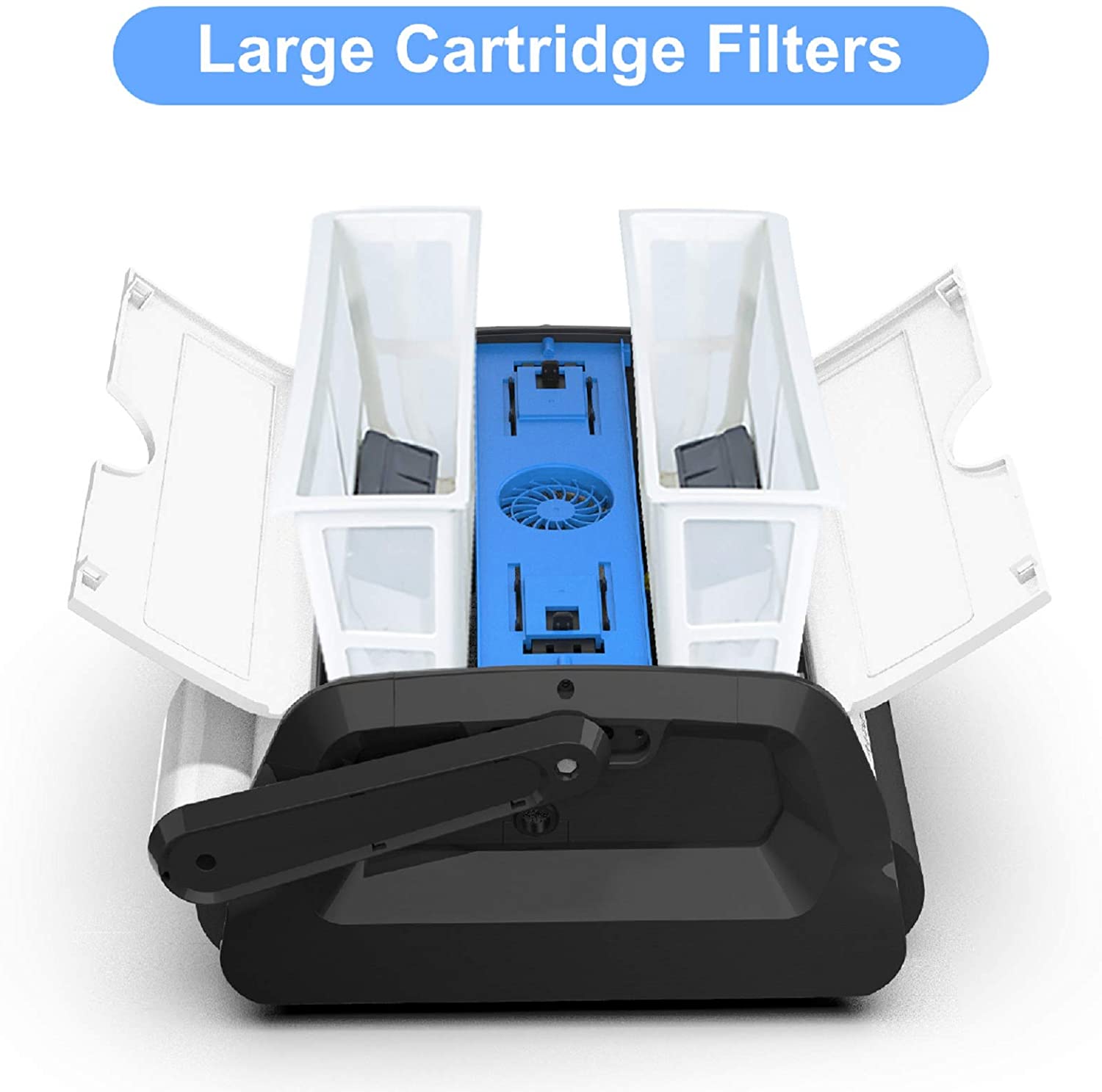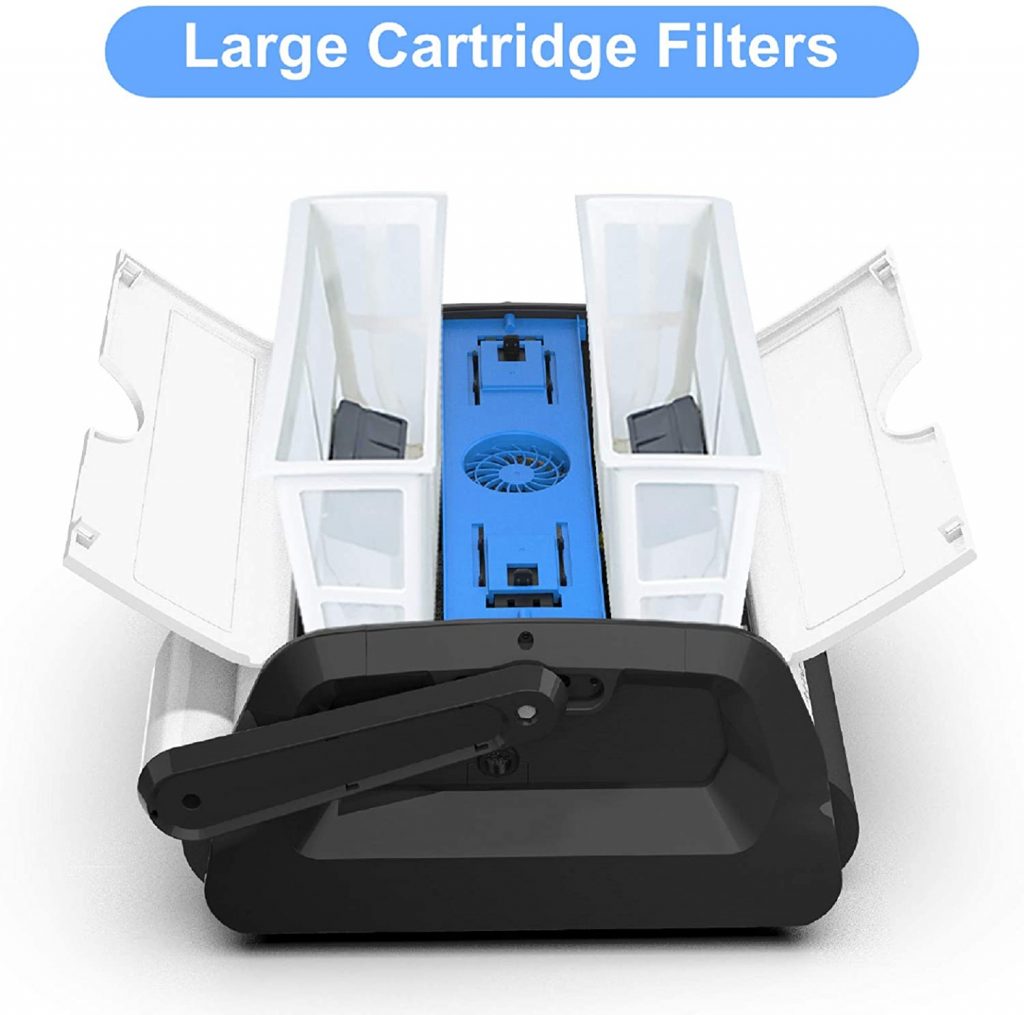 It also has twin extra-large top access filter baskets that help carry the garbage and keep cleaning. For these large filter baskets, you don't need to pick them up from the pool and remove dust and debris again and again. It will give you a signal when it needs to clean the filter.
Swivel Cable
It has a long tangle-free cord, which covers up to 50 feet. Allows the robot to move throughout the pool if the pool size is 50 feet.
See also: An Honest Dolphin C6 Plus robotic pool cleaner review you Should look at!