Are you looking for Dolphin C5 robotic pool cleaner review? Yes, you've got the right article.
What is more important for a pool owner than an efficient pool cleaner to clean the pool water properly? The biggest struggle is getting the crystal clear pool water is not a piece of cake. Anyway, how you'll feel if you have a magical pool cleaning solution that will take all of your cleaning responsibilities and you'll just enjoy it.
Well, I am going to share a commercial robotic pool cleaner that works like a charm. You do not have to struggle to get them sparkling clean pool water. I guess you are excited to get the name, isn't it? Anyway, you do not have to wait long.
The name of the cleaner is Dolphin C5 robotic pool cleaner. This unit is designed to provide efficient cleaning performance up to 88ft. But most importantly, this unit has several versions that allow you to choose one as per your pool size and needs.
However, the unit is a little bit costly, unlike any robotic pool cleaner in the market. I do believe that pool owners don't compromise the quality. And, naturally, a high-quality product comes at a high price.
Image
Product
Details
Price
DOLPHIN C4
Pool Size: Up to 121 ft.
Coverage: Floor, Walls and Waterline
Filtration: Fine(70m) & Ultra-Fine(50m)
Cycle: Quick – 4 hours Standard – 6 hours Enhanced – 8 hour
Check Price
DOLPHIN C5
Pool Size: Up to 88 ft.
Coverage: Floor, Walls and Waterline
Filtration: Fine(70m) & Ultra-Fine(50m)
Cycle: Quick – 4 hours Standard – 6 hours Enhanced – 8 hour
Check Price
Dolphin C6
Pool Size: Up to 68 ft.
Coverage: Floor, Walls and Waterline
Filtration: Fine(70m) & Ultra-Fine(50m)
Cycle: Quick – 1 hour Standard – 2.5 hours Enhanced – 3.5 hours
Quick – 4 hours Standard – 6
Check Price
DOLPHIN Nautilus CC Supreme 
Ideal Pool Length: Up to 50 ft.
Cleaning Coverage: Floor, walls, and waterline
Cleaning Cycle Time: Quick – 1.5 hours, Standard – 2.5 hours, Enhanced – 3.5 hours
Check Price
DOLPHIN Oasis Z5i
Filter Type :Twin Cartridges – Extra Large
Cleaning Time: Standard – 2.5 hours Q
Scrubbing Brushes: Dynamic Dual Scrubbing
Cleaning Frequency: Weekly Scheduler
Smart Phone Connected: Yes – Bluetooth
Check Price
Suppose you think the price doesn't matter and you need the supreme quality and efficient robotic pool cleaner for your in-ground swimming pool. In that case, I must say you won't get a better solution and performance than the Dolphin C5 robotic pool cleaner.
The unit comes with many stunning and user-friendly features that made this pool cleaner unbeatable in the market. The unit comes from a renowned brand, namely Maytronics, one of the best and well-reputed robotic pool cleaner manufacturers globally. If you consider then brand reputation to buy this commercial unit, you must have to prioritize this robotic pool cleaner.
Why the Dolphin C5 robotic pool cleaner is an ideal solution?
In this Dolphin C5 robotic pool cleaner review I would like to mention that the Maytronics pool cleaner is a trusted and reliable brand in the world. And the Dolphin industrial robotic pool cleaners are the choice of thousands of commercial swimming pool area operators in lodges, country clubs, spas, educational institutions, and community and individual swimming centers around the world.
Combining nearly 30 years of expert knowledge in pool cleaning, Dolphin's commercial robotic pool cleaners are constructed for heavy-duty, cost-effective pool cleaning up and created to use minimum treatment.
Dolphin's commercial robots make maintaining your swimming pool a breeze. Just connect in, turn on the power button and go. When finished, just open, remove and rinse off the filters and clean. Isn't it simple to use?
See also: Why Should I Buy The Maytronics Dolphin C4 Robotic Pool Cleaner
What are the top features of this commercial robotic pool cleaner?
When it comes to robotic pool cleaners, everyone focuses on the features. The C5 commercial robotic pool cleaner is not different in these cases. It comes with a bunch of the latest and effective features that will take your pool cleaning experience to the next level. In this Dolphin C5 robotic pool cleaner review, let's see the top features of the unit.
CleverClean technology
This commercial robotic pool cleaner offers ultra-modern technology. It comes with built-in CleverClean Modern technology; this cleaner's innovative navigation and scanning system software incredibly cleans your pool with the most beneficial option and avoidance of obstructions. A wireless remote is provided. What else do you need to experience superior cleaning?
Boost water quality
Getting superior quality pool water automatically is not a dream now. The C5 pool cleaner incredibly attacks and removes persistent contaminants on the surface, wall surfaces, and waterline with two robots' power, an additional-broad cleaning course, and two scrubbing bushes.
Besides, fine and ultra-fine, great-capability filtration handbags circulate 1000 gallons of water each hour, capturing dirt, airborne dirt and dust, and all other kinds of particles, making the swimming pool water shiny, maximizing normal water high quality and guests satisfaction. Improve your water's good quality all year long!
Automatic Washing Characteristics
Easy to use, connect and play commercial robotic swimming pool cleaner perfect for a motel, hotel, and apartment complex pools approximately 88 feet having a two-year warranty. It also comes with a caddy to carry the unit comfortably.
So you do not have to spend extra to buy a caddy separately. Look after your heavy-duty commercial pool cleaner with all the incorporated caddy carts. This cleaner's robust dependability and precision cleaning functions are made to last for a long time.
Why should you buy the Dolphin C5 robotic pool cleaner?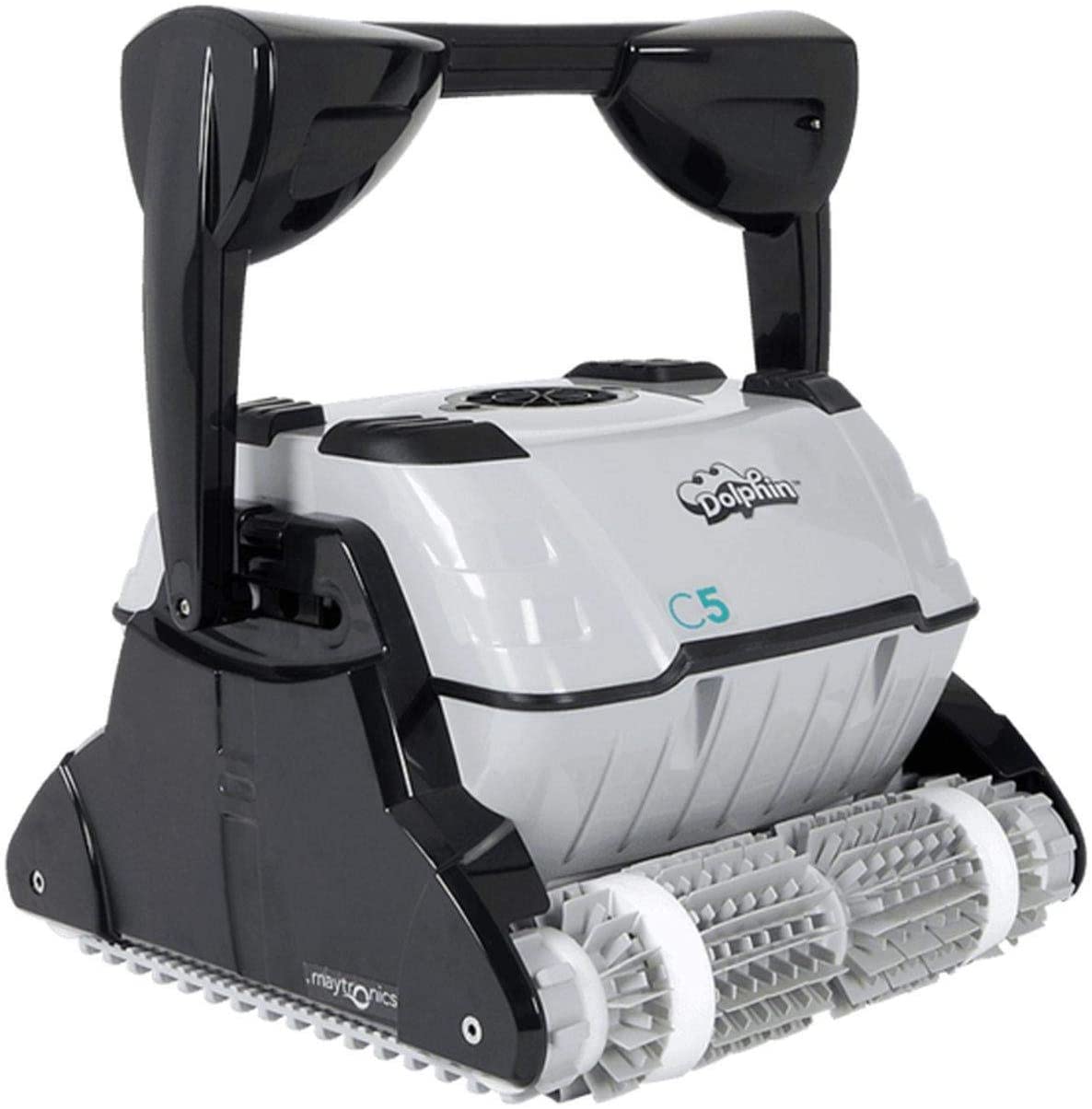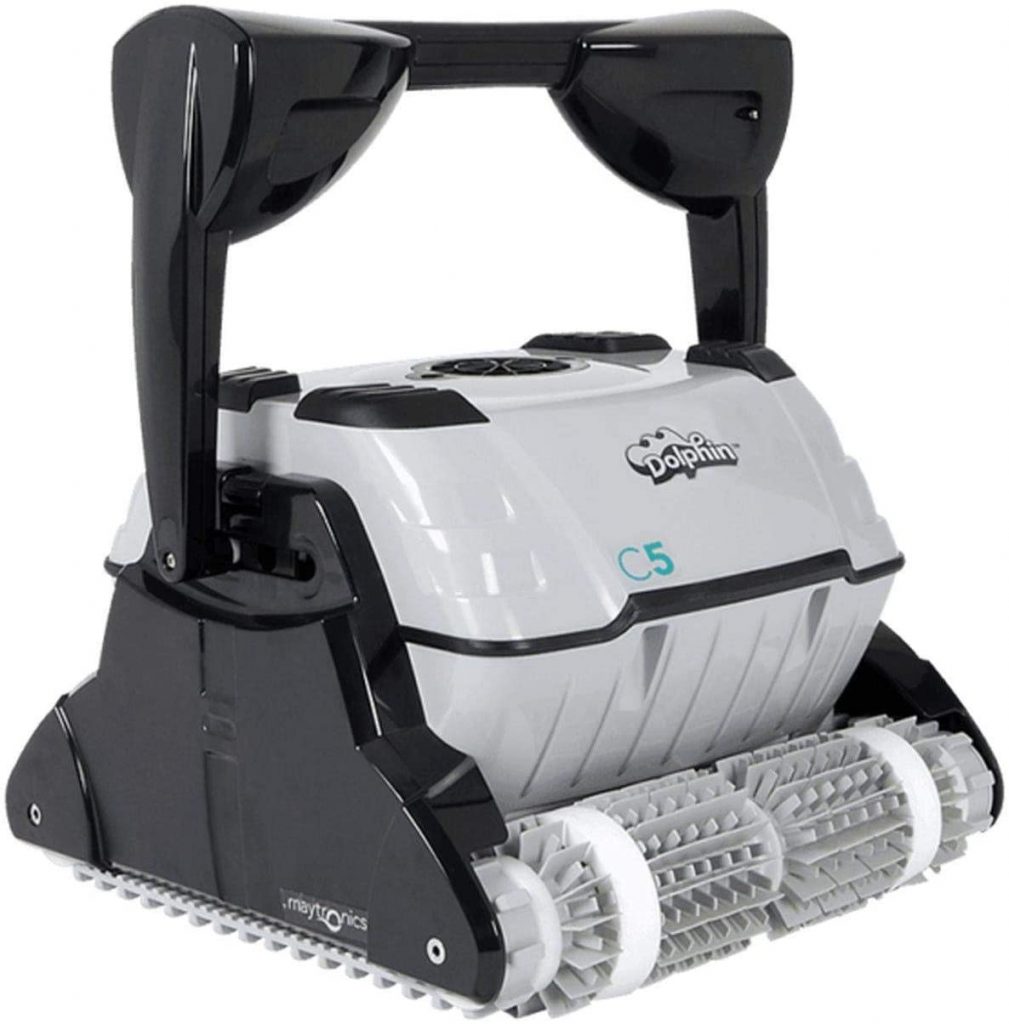 The unit is a commercial Class Robotic Swimming Pool Cleaner.
It provides accurate Navigation Driven by CleverCleanTechnology.
Dynamic Dual Drive (360º) – Optimum Maneuverability and Coverage.
It comes with a powerful twin drive-electric motor for an exact 360° swimming pool maneuverability and coverage, irrespective of shape, slope, and obstacles.
The C5 Dual-Levels Filtering for your Cleanest Pool area feasible the double-layer filtering system separates and filters rough, fine, and extra-fine dirt for a highly effective, block-free filtering system. Snaps apart for quite simple washing.
It equips with a Multi-Functionality Power Supply that Helps save power while using an integrated easy-to-use power supply.
Remote Control – Use the incorporated remote control to manually nice and clean tough-to-get areas of your pool area which need additional attention.
No Tangling – Patended swivel cord modern technology eliminates tangling and ensures comprehensive swimming pool area coverage.
Durable tracks and dual scrubbing brushes create to make the friction required to remove foliage, dirt, and debris onto the floor – leaving your swimming pool area glimmering clean.
See also: 5 Best Commercial Robotic Pool Cleaner For Optimum Performance