Looking for the ultimate way to unwind after a long day at work or a challenging workout? Look no further than the Bestway SaluSpa Miami – a top-of-the-line inflatable hot tub that promises to transport you to a world of relaxation and rejuvenation.
In this review, we'll take an in-depth look at SaluSpa Miami and explore all of its features, benefits, and drawbacks. Whether you're a seasoned hot tub enthusiast or a first-time buyer, we'll help you decide whether the SaluSpa Miami is the right choice for you. 
So sit back, relax, and get ready to dive into the Bestway SaluSpa Miami review!
Key Features of Bestway SaluSpa Miami Inflatable Hot Tub
The Bestway SaluSpa Miami Inflatable Hot Tub is highly regarded for its affordability, usability, and sturdy construction, but as we explain in our review, due to its smaller size, it may not be appropriate for all families or homes.
This inflatable spa has a 52-inch diameter and easily accommodates four people at once. It has I-beam construction, 120 bubble jets, and a digital control panel that can program the temperature for up to three days in preparation. It includes a lid and a pump.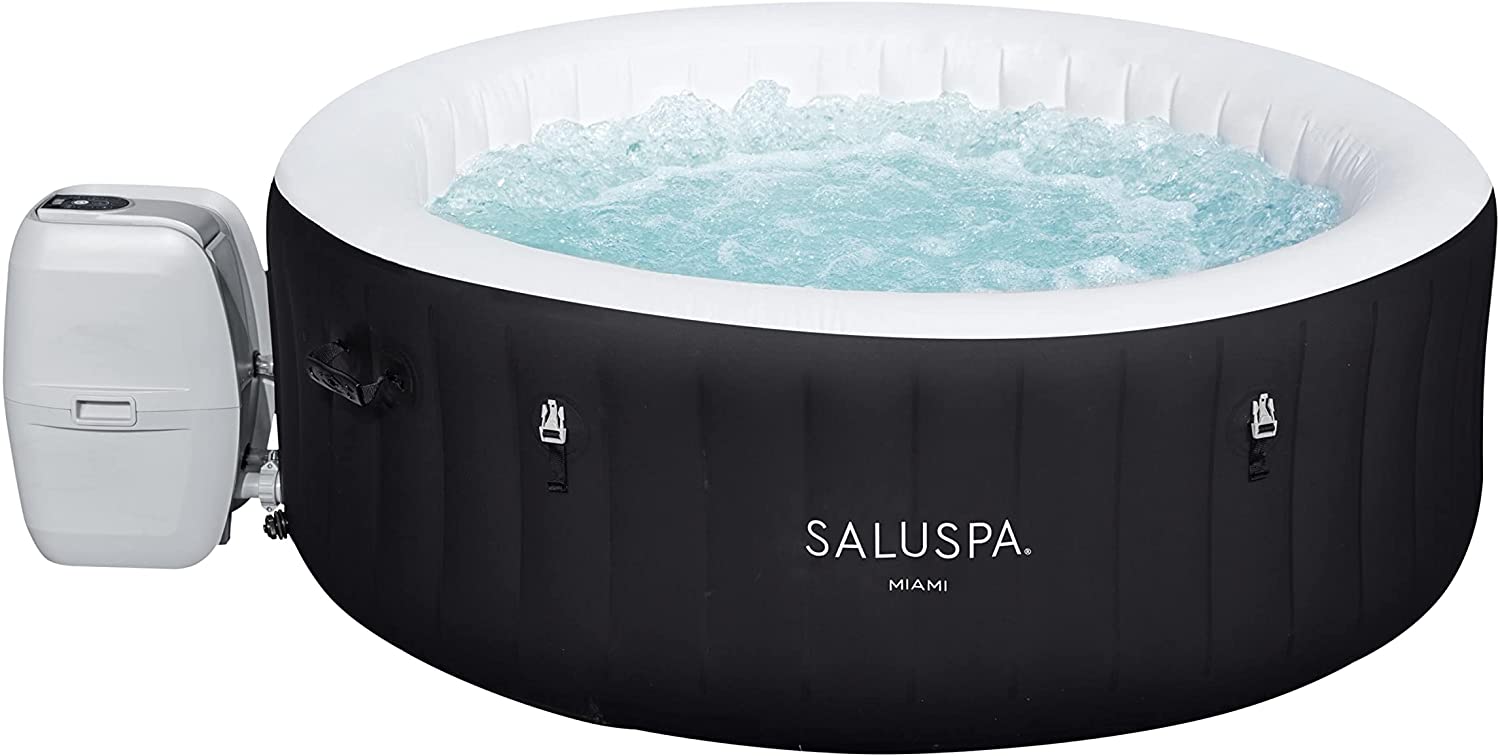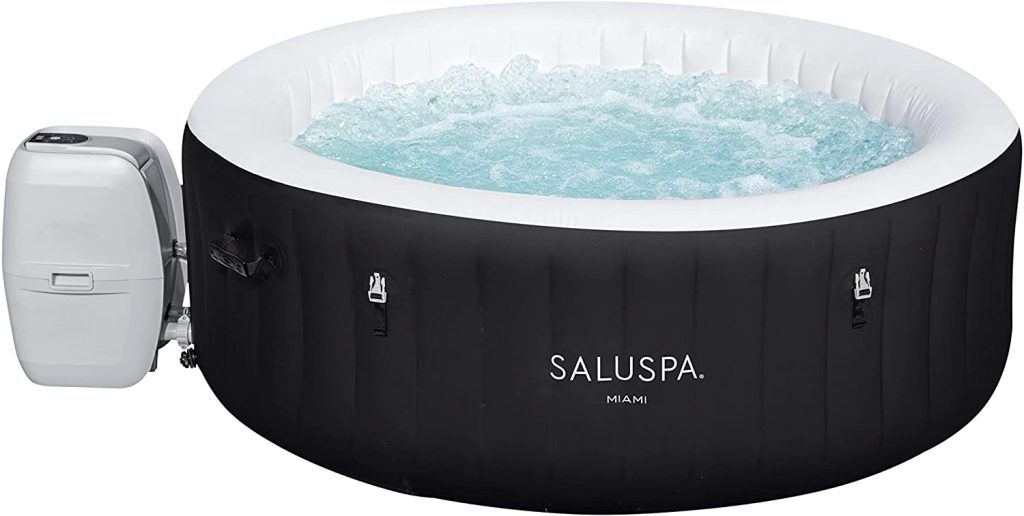 Let's explore the more considerable features in the Bestway SaluSpa Miami review.
1. Puncture-Resistant
The Bestway SaluSpa Miami is made to withstand weight from the outside thanks to an internal framework made of beams, which should help to stop any annoying spills.
Tritech, a puncture-resistant substance, is twice reinforced with 3-ply PVC to increase its tensile strength. This will keep the Miami soft to the touch and assist in shielding it from leaks and rips.
2. UV-Protective Layer
You can keep the Bestway SaluSpa Miami wherever you want because the material is UV-resistant and shouldn't wrinkle or crumple even after extended use outside in hot weather.
Even if you plan on frequently deflating and inflating the Miami and moving it to a different location in your backyard, the idea is that it will maintain its firm, rounded shape.
3. Suitable for 4 People
This inflatable spa can fit up to four people and has a built-in massage system that uses the air from the bubbles and heat from the spa to produce a relaxing water-based massage. It has a capacity of 177 gallons of water at a time.
Additionally, since the water can be protected using the included cover, you won't have to stress too much about keeping it clear of debris in between uses.
4. Easy Controlling Facility
With the help of the attached digital display control panel, users can adjust the water temperature up to 104 degrees Fahrenheit while they are in the tub, so leaving all this hot, bubbly water will be the last thing on your thoughts.
To activate the 60 bubble jets and add a layer of leisure, simply press a button on the control panel whenever you desire a soothing full-body massage.
5. Filtration System
You want to be confident that your epidermis is being taken care of when it comes to water quality. Fortunately, the multi-purpose pump does more than just assist you in inflating the Bestway SaluSpa Miami; it also controls the filtering system to guarantee that your water remains clean.
This works in conjunction with the ChemConnect feeder, which distributes chlorine to keep any undesirables in check.
6. Power Saving Timer
The easiest feature to use is the power-saving schedule, which you can set in the morning to have bubbling hot water when you get home by evening.
The Bestway SaluSpa Miami allows you to book appointments up to 72 hours in advance, making it ideal for a romantic night.
Pros
Easy temperature control.
Rigid construction with a high-tech drop-stitch fabric.
Strength is great.
Cost-saving and perfect for indoor and outdoor.
Comes with extra cushioning.
Cons
Sitting isn't so well-manageable.
These heat up very slowly.
Key Reasons to Choose Bestway Saluspa Miami Hot Tub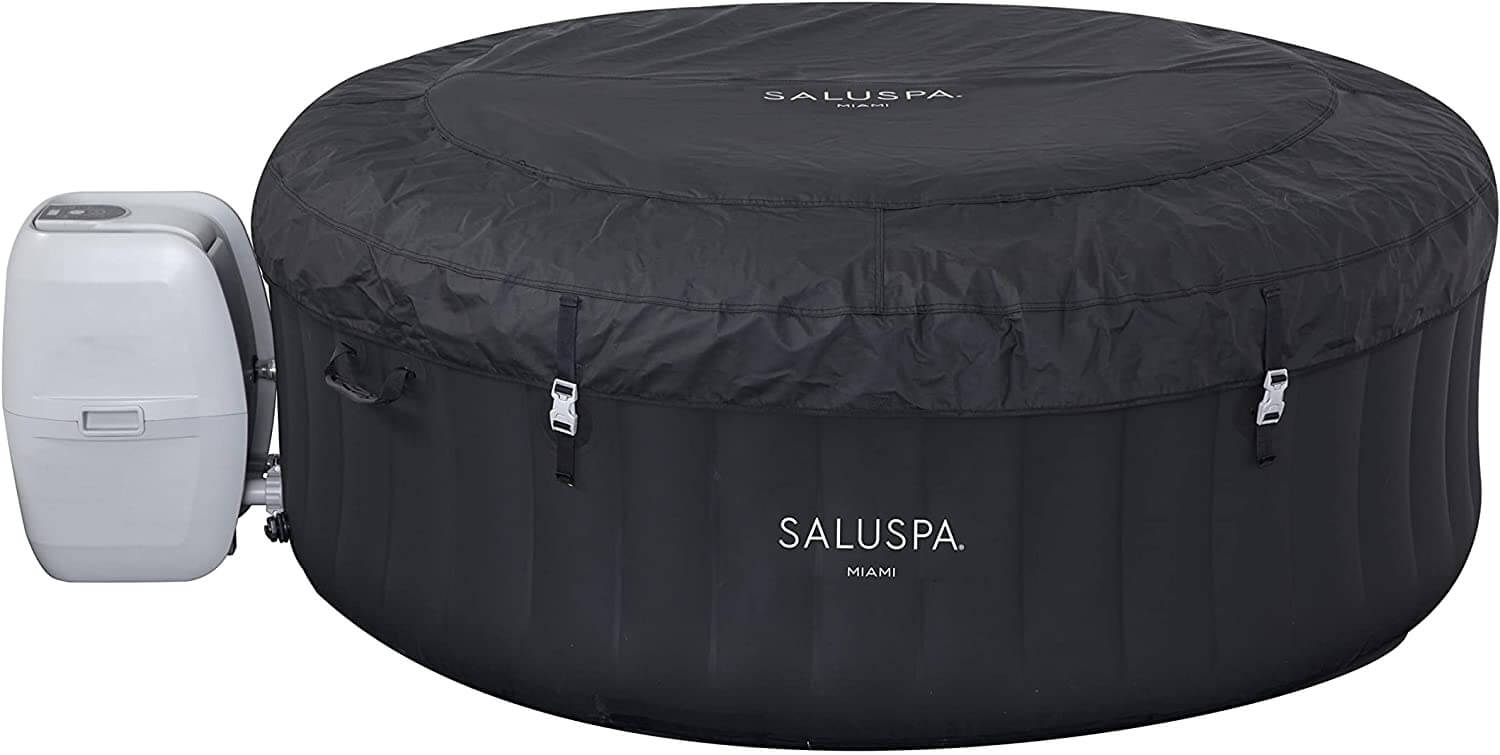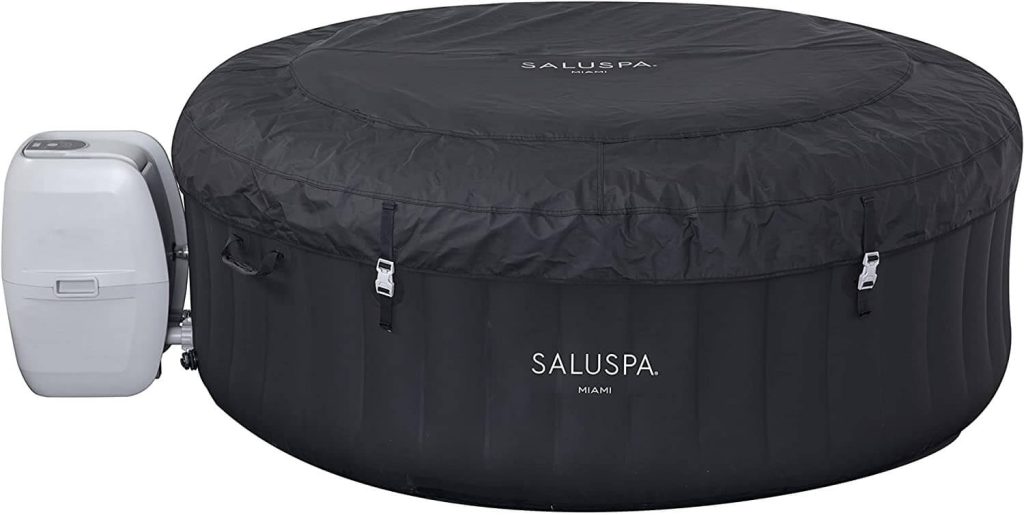 Portability: The Bestway SaluSpa Miami is an inflatable hot tub, which means that it's easy to move around and store when not in use. This makes it a great choice for those who want a hot tub but don't have a lot of space.
Easy to Set Up: The SaluSpa Miami comes with a detailed instruction manual, and most users find it easy to set up. You won't need any special tools or skills to get it up and running, so you can start enjoying your hot tub right away.
Affordable: Compared to other hot tubs on the market, the SaluSpa Miami is relatively affordable. This makes it a great choice for those who want to enjoy the benefits of a hot tub without breaking the bank.
Comfortable: The SaluSpa Miami features a cushioned floor and walls, as well as a digital control panel that allows you to adjust the temperature to your liking. It also has 120 bubble jets that provide a relaxing massage experience.
Durable: Made from puncture-resistant material, the SaluSpa Miami is built to last. It also comes with a cover to protect it from the elements when not in use, which helps to extend its lifespan.
Final Words
The Bestway SaluSpa Miami is an excellent choice for anyone who wants to enjoy the luxury and relaxation of a hot tub without the expense and hassle of a permanent installation.
Its portability, affordability, comfort, and durability make it a great option for both first-time buyers and seasoned hot tub enthusiasts.
With its easy set-up and customizable features, the SaluSpa Miami is sure to provide you with the ultimate spa experience in the comfort of your own home.
So, whether you're looking to unwind after a long day or entertain friends and family, the SaluSpa Miami is definitely worth considering. Invest in one today and start enjoying all the benefits of a hot tub without the high price tag.
I hope that Bestway SaluSpa Miami review answered all of your queries and you're able to make an informed decision at the moment.