Looking for a relaxing and rejuvenating way to unwind after a long day at work or a hectic week? Look no further than the Bestway SaluSpa Helsinki Inflatable Hot Tub Spa!
This portable and durable hot tub is perfect for those who want to experience the luxury and comfort of a hot tub without the hassle and expense of a permanent installation.
In this review, we will take a closer look at the features and benefits of the Bestway SaluSpa Helsinki, so you can decide if this is the right hot tub for you.
From its spacious interior and comfortable seating arrangement to its temperature control and accessories, the Bestway SaluSpa Helsinki has everything you need to relax and unwind in style. So, let's dive into the Bestway SaluSpa Helsinki review and explore what it has to be offered!
Key Features Bestway SaluSpa Helsinki Inflatable Hot Tub Spa
There is no doubt that features are one of the key factors to choose a hot tub. If you're looking for a convenient spa with all great features then the Bestway SaluSpa Helsinki is ideal for you. It comes with all the required and advanced features that you really need to enjoy and relax in a spa.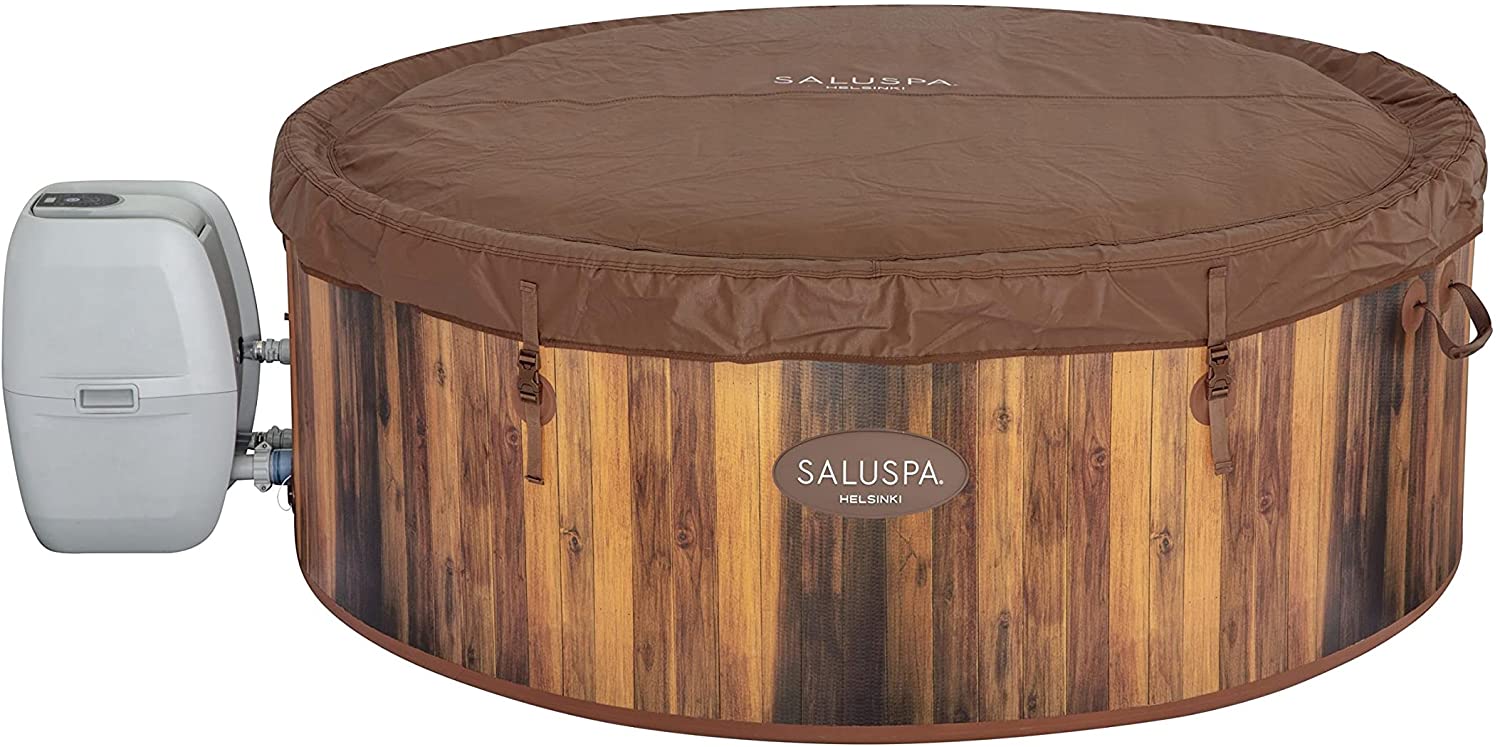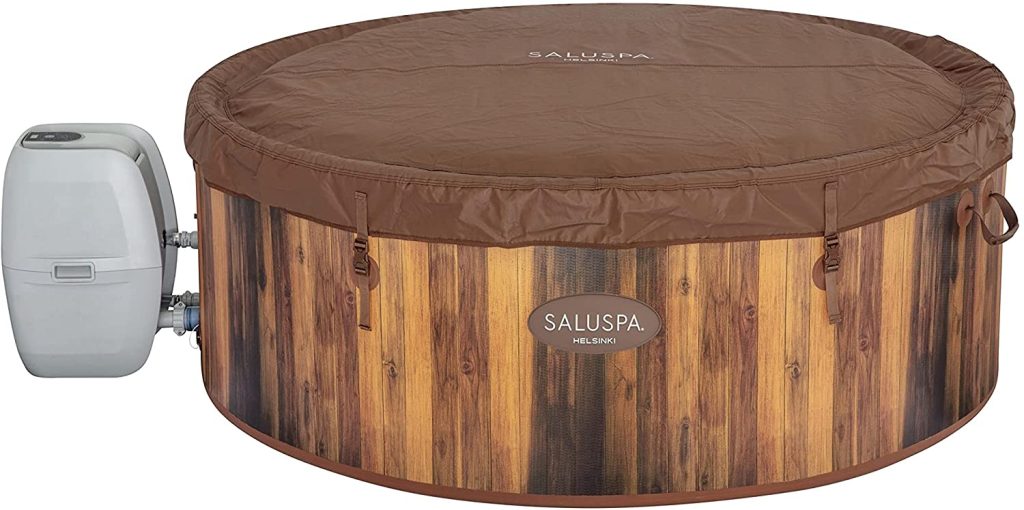 Let's explore the key features in the Bestway SaluSpa Helsinki review.
1. Hassle-free Installation
The Bestway 54190E SaluSpa is incredibly simple to build in your backyard without the need for any additional tools, and it uses the included pump for both inflation and deflation.
It should also inflate quickly, which is excellent for people who might prefer to store their tub away or bring it along on trips. According to customer reviews, the cushioned ground and floor mats provide built-in ease and make for a generally satisfying seating experience.
2. Great Control Features
You can digitally operate the multipurpose pump with a soft-touch control panel to raise the temperature of your pool to 104 degrees.
From the control panel inside, you can adjust the temperature of the tub and the number of bubbles it produces. You can also set a timer for up to 72 hours in preparation. For those who don't want to wait around for it to cook up, that is a huge perk.
While the internal cushioning material gives you a pop-up spa experience, the dual heating and bubbling system is designed to imitate that of a real tub.
3. Mesmerizing Construction
The Bestway 54190E SaluSpa Helsinki AirJet tub has an aluminum foil-coated lid to keep the water comfortably warm, increasing longevity and reducing the amount of effort the pump will need to exert to heat things back up.
The final stage in attempting to stop heat from escaping is a built-in air chamber. Additionally, it has safety lock clips to prevent any minors from reaching it when not in use and a handy drain valve for simple emptying.
Thus, the Bestway 54190E SaluSpa Helsinki AirJet is equipped with a pool liner, cover, pump, chlorine dispenser, and filtration cartridges. For times when you might need to fix something, there is also a helpful repair tool.
4. Rigid and Durable
Instead of being bulbous and bubbly like other inflatable spas, the hot tub wall, which has a circular form, is about two inches thick. A drop-stitch material, which contributes to the appealing aesthetic, keeps the hot tub's rigidity and form.
This hot pool is substantial in size, measuring nearly 6 feet in diameter. Bestway claims that it can accommodate seven people, and although you could fit seven petite people in this hot tub, I believe that five people will be the most comfortable number and prevent water from overflowing the sides.
5. Easy Control
On the control panel of the Bestway SaluSpa Helsinki Airjet Inflatable Hot Tub Spa, there is an on/off switch as well as an LED light indicator that shows the water's temperature.
Both Celsius and Fahrenheit are switchable. The temperature that you want the spa to be at flashes when you press the arrow keys.
The heat switch has the appearance of a flame. If you press this button, the water filter will switch on automatically; however, there is also a separate water filter button if you require it.
Pros
Setting up is trouble-free.
The space is large.
Enables power saving mode.
Great for all seasons' use.
Long-lasting and pure filtration.
Cons
Not so thick.
Not great in use for hazardous weather.
Key Reasons to Choose Bestway Saluspa Helsinki Inflatable Hot Tub Spa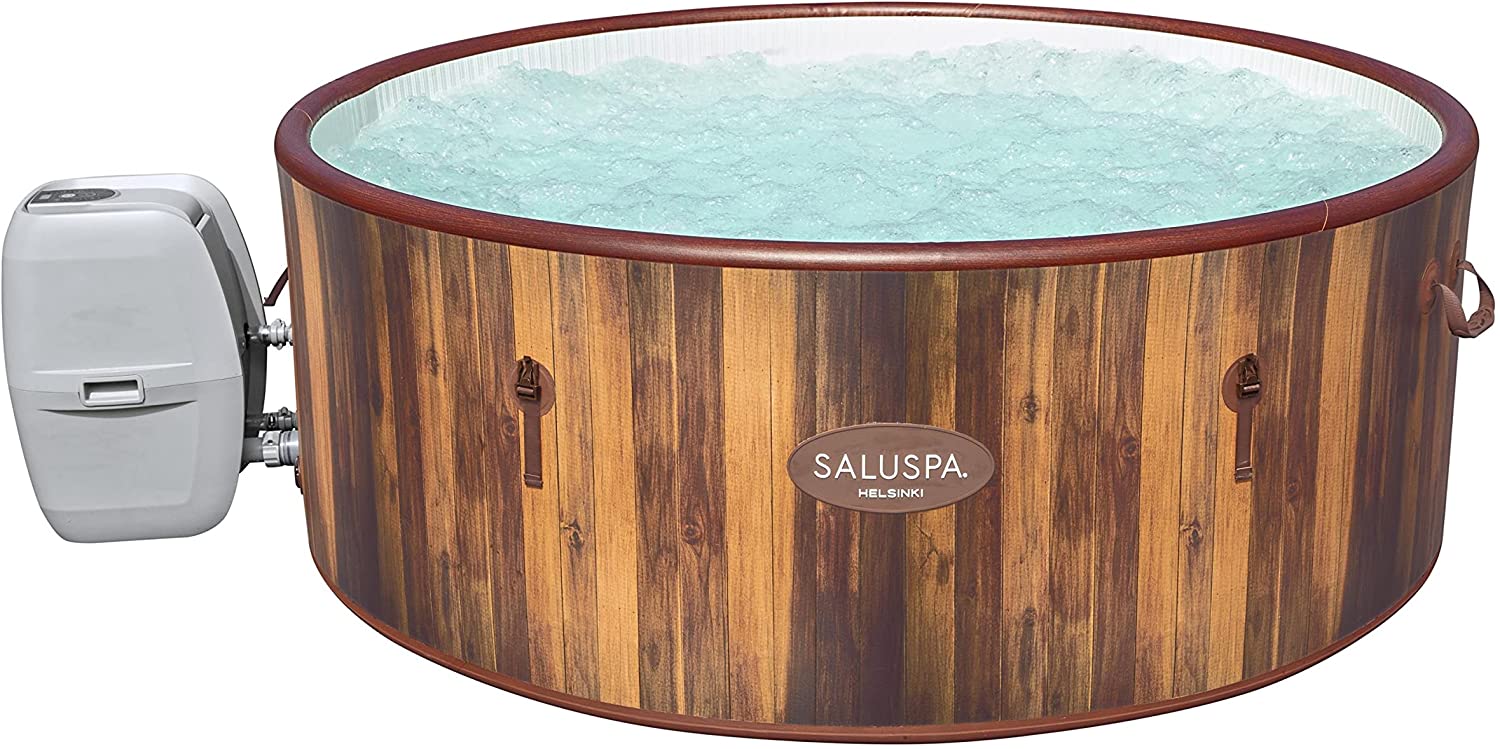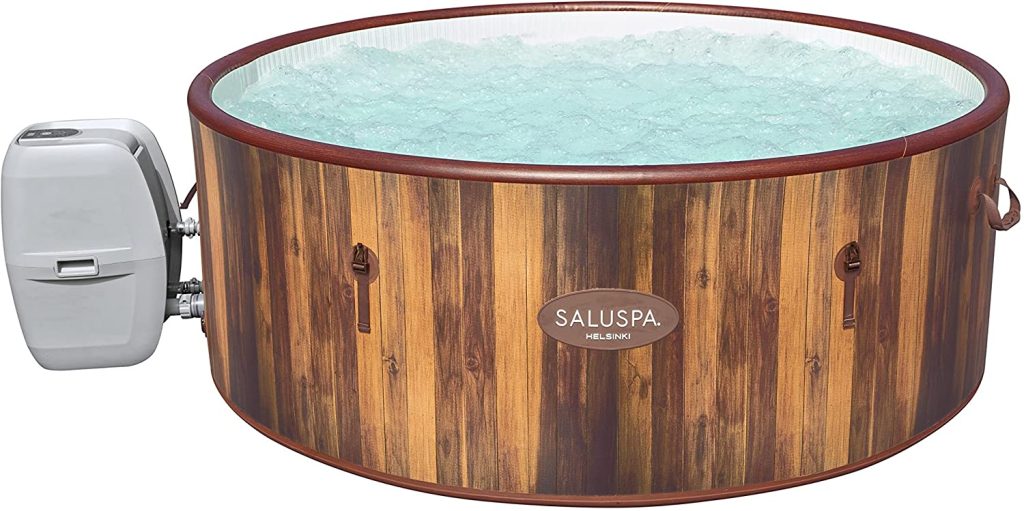 It is safe to state that the Bestway SaluSpa Helsinki Inflatable Hot Tub Spa is not only beautiful to look at but also simple to set up and use. Because of the opulent built-in features, like the chlorine dispenser and the touch settings, you can focus entirely on unwinding rather than the details.
The network of jets and cushioning in this particular model should create a sanctuary of relaxation for you to unwind whenever you need.
There are several reasons why you might choose the Bestway Saluspa Helsinki Inflatable Hot Tub Spa:
Portability: The Bestway Saluspa Helsinki is an inflatable hot tub, meaning it can be easily set up and taken down. This makes it a great option for those who want a hot tub but don't have the space or budget for a permanent installation.
Size: With a 6-person capacity, the Bestway Saluspa Helsinki is a great size for families or groups of friends to enjoy together. It also has a spacious interior and a comfortable seating arrangement, so you can relax and unwind in comfort.
Durability: It is made with a puncture-resistant TriTech material that ensures the spa is durable and long-lasting. The material is also UV-resistant, preventing it from fading or deteriorating from exposure to sunlight.
Temperature Control: It comes with a digital control panel that allows you to easily adjust the temperature of the water. This ensures that you can find the perfect temperature for your relaxation needs.
Accessories: The spa comes with a range of accessories, including a cover, pump, and filter, which makes it easy to set up and maintain. It also includes a chemical floater, making it simple to keep the water clean and healthy.
Final Words
Though the Bestway SaluSpa Helsinki Airjet Inflatable Hot Tub Spa is a little more expensive than some inflatable hot tubs, the quality of the components makes the extra cost well worth it.
The Bestway SaluSpa Helsinki Airjet Inflatable Hot Tub Spa is unique among inflatable hot tubs in terms of design and setting. It is portable and maintains a constant temperature of 104 degrees. It is also simple to use.
Although it is incredibly roomy and will accommodate at least five people, I'm not convinced it could comfortably accommodate seven average or above-average people at once. This spa is wonderful to use twice a day and is ideal for just me.
I hope you have found the Bestway SaluSpa Helsinki review useful and it answered all of your questions to make a wise decision.