Imagine, a soothing oasis of bubbling warmth right in your own backyard, where relaxation knows no bounds. If you've ever dreamt of escaping the daily grind and immersing yourself in pure bliss, then the Coleman SaluSpa Inflatable Hot Tub Spa might just be your ticket to paradise.
In this article, we'll dive into a world of luxurious relaxation, unparalleled convenience, and endless enjoyment. So, sit back, unwind, and prepare to discover the ultimate in-home spa experience that's just a breath away.
Let's explore the Coleman SaluSpa Inflatable Hot Tub Spa review.
Key Features to Choose This Hot Tub Spa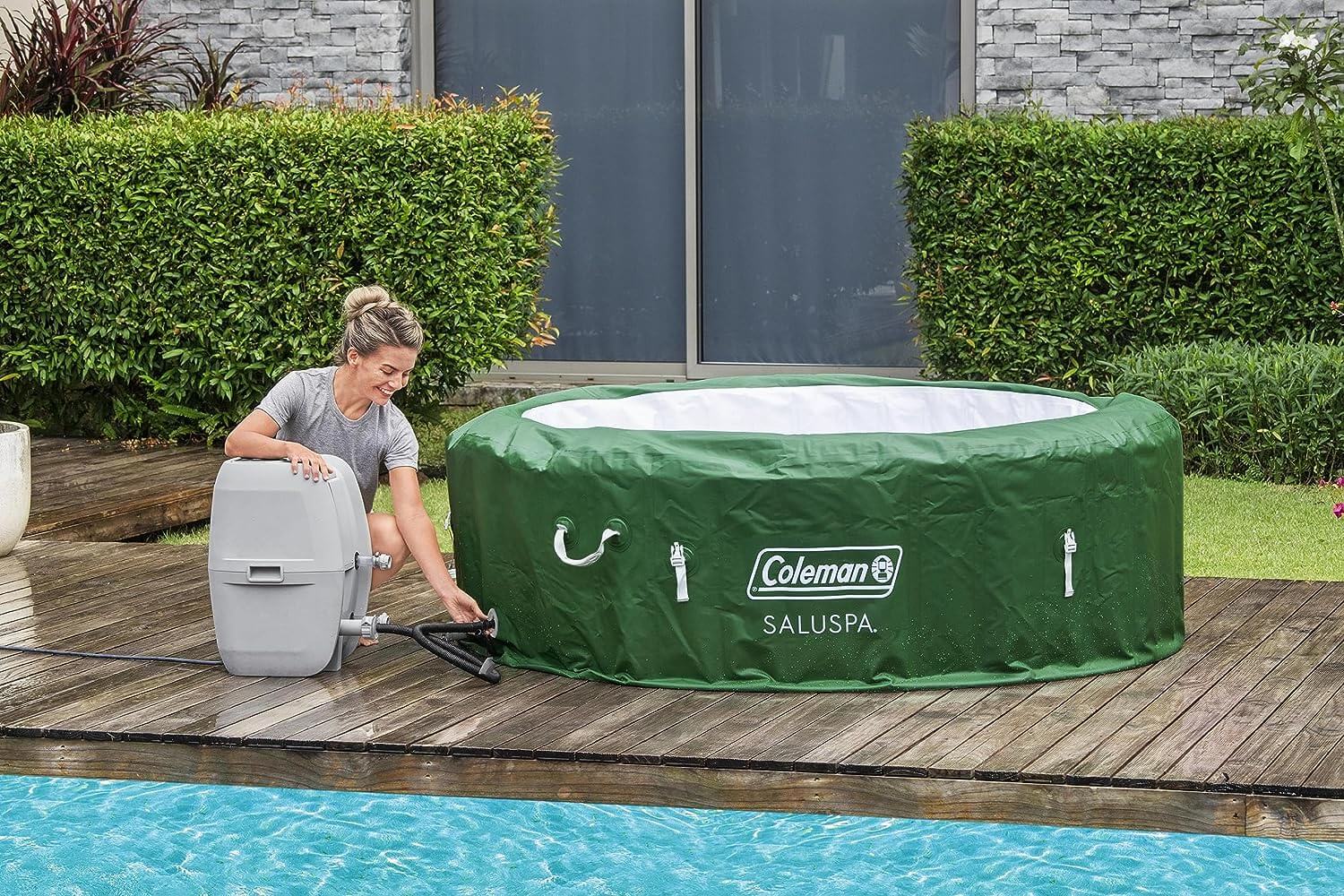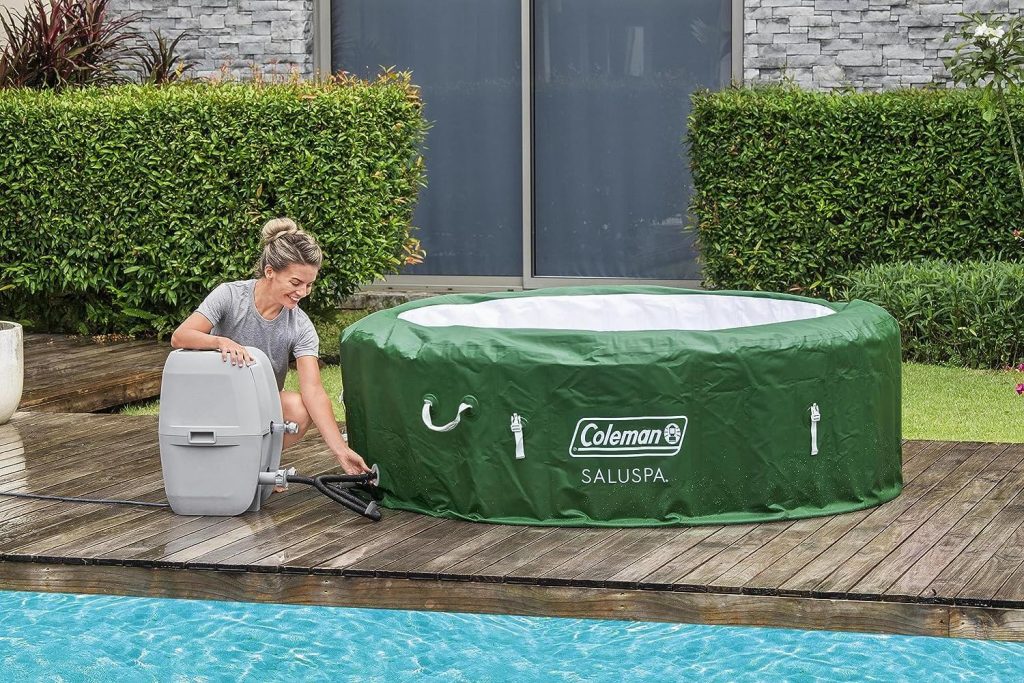 With the convenience of a comfortable seat, this Coleman SaluSpa Inflatable Hot Tub Spa has everything you enjoy about hot tubs. This hot tub inflates in a matter of minutes, and its rapid heating mechanism heats the water to 104 degrees in no time. For soothing sore limbs or unwinding after a long day, the hot temperature coupled with the AirJet massage system is ideal.
You can change the temperature to find your ideal fit using the digital control panel. For maximum comfort and durability, the inflatable walls are constructed of three-ply material. A chemical floater and an inflatable cover are also included in this bundle to maintain the cleanliness and temperature of your spa.
Now, let's explore the key features of Coleman SaluSpa Inflatable Hot Tub Spa.
1. Great Space
The Coleman SaluSpa has room for up to 6 persons and has 140 air jets for a revitalizing soak for your tired muscles. Utilizing the digital control panel simply sets the water's temperature and jet strength before letting the jets do their thing. This hot pool can accommodate both a leisurely evening soak and a brutal beating.
2. Supreme Quality
This hot tub is another example of how well-known and reliable Coleman's outdoor goods are. Your hot tub guests will feel secure and comfortable as the relaxing massage system begins to work thanks to the reinforced PVC and vertical beam construction.
3. Durable Construction
The 28-inch deep Coleman SaluSpa Inflatable Hot Tub Spa measuring 6 feet 4 inches across, has a maximum water capacity of 242 gallons. The tub's construction consists of two layers of PVC strengthened with a layer of polyester mesh.
If you lean against the inflatable tub wall, the hot tub will easily support you thanks to its vertical beam construction, which provides additional support with vertical vinyl panels inside the tub wall. The exterior of the tank is Coleman green-colored synthetic PVC.
4. Temperature Control
Digital controls are used to heat the water to 104 degrees with the pump and burner combo. It will take the water overnight to heat up to its utmost temperature at a heating rate of 2 degrees Fahrenheit per hour. Accordingly, the hot tub needs to be put up and the water heated the day before you intend to use it.
5. Comes with Air Blower
A pressure gauge on the air blower will help you prevent overinflating the tub while you're setting up the tub and can also be used to inflate the tub while doing so. It should be simple to fill the tank with air thanks to its built-in valves, which also keep the air from escaping when you cut the hose.
You can adjust the valve setting to make it tighter to stop leaks from escalating over time using the specialized tightening wrench that is provided in the box.
Pros
Easy to set up.
It heats up quickly.
Comfortable to sit in.
Ensures quick cleaning.
Includes all features to maintain hygiene.
Cons
Sometimes bubbles and heaters can't work at a time.
Key Reasons to Choose this Coleman SaluSpa Inflatable Hot Tub Spa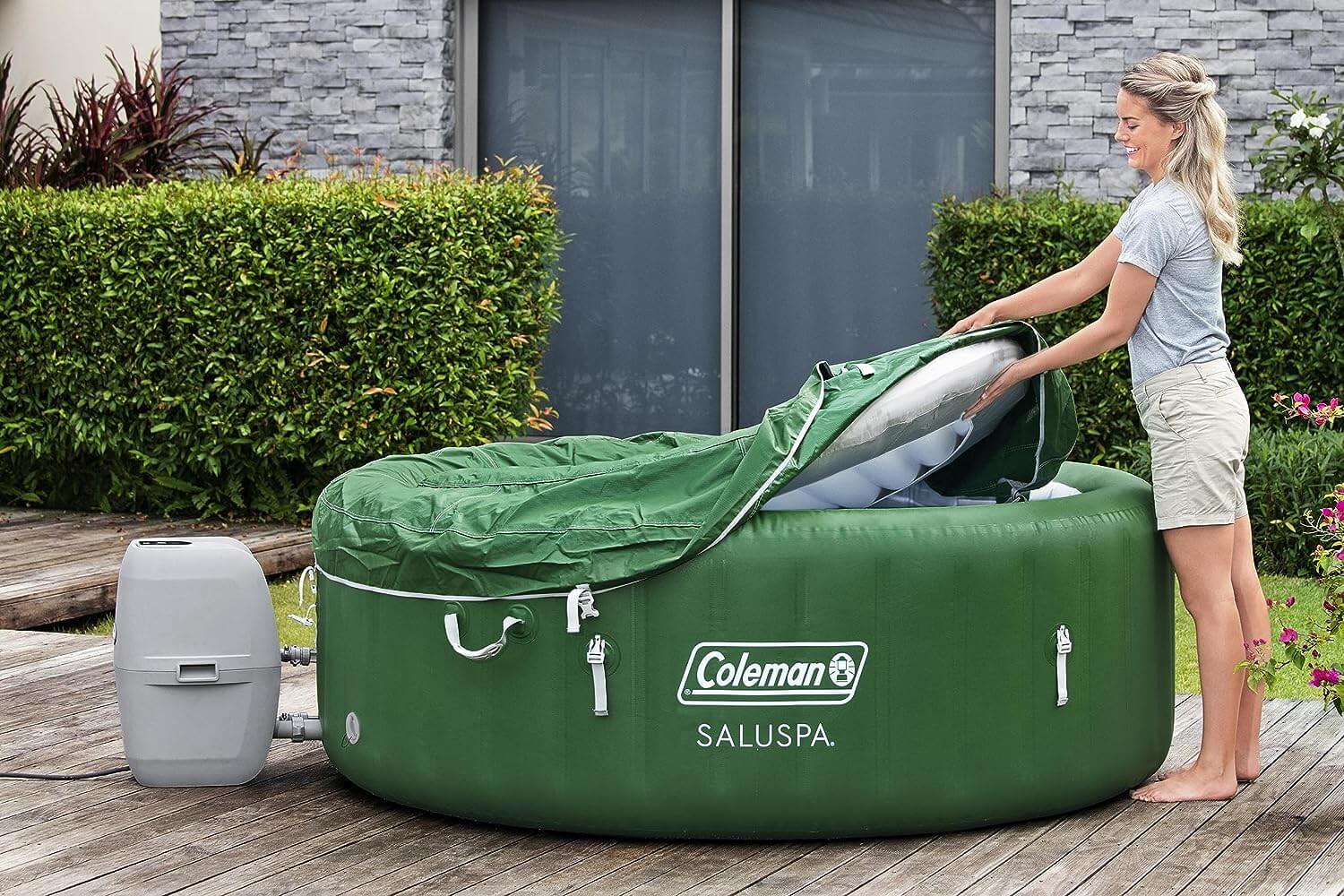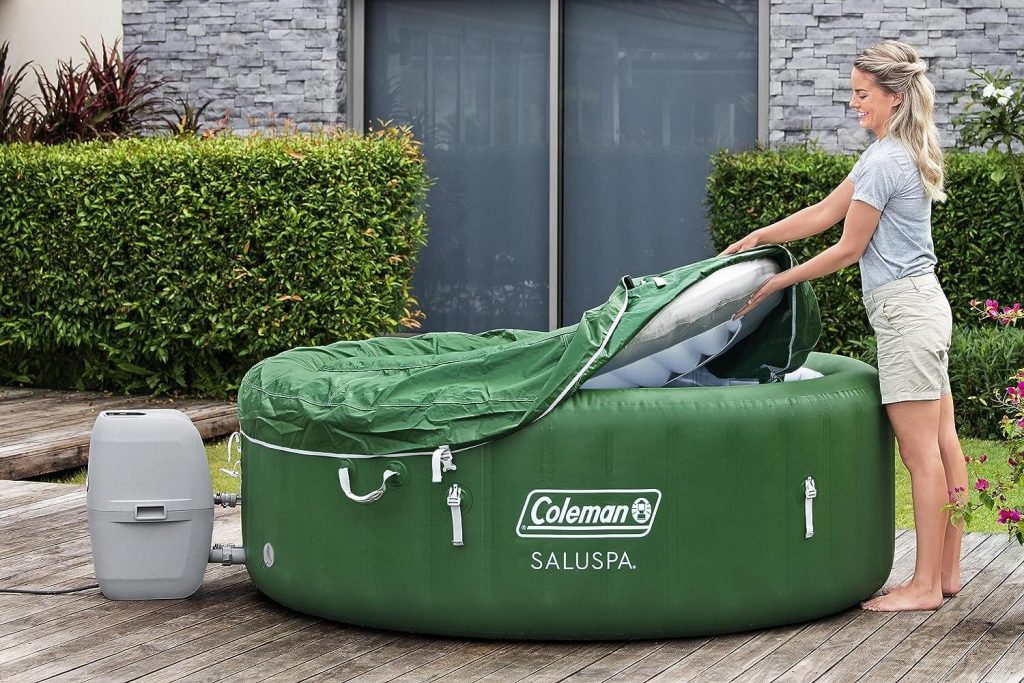 This compact oasis offers a world of benefits that make it an exceptional choice. From its easy setup and portability to its soothing hydrotherapy and durability, we've gathered the key reasons why the Coleman SaluSpa should be at the top of your list. Let's top factors that make this hot tub spa a must-have for your leisure and well-being.
1. Easy Operation
With the included pump, the Coleman SaluSpa is simple to set up and use. Lift handles make moving it around your porch or yard a breeze. It is lighter than many inflatable hot pools at 88 lbs. In addition, it can be folded and put aside when not in use.
2. Hygiene Control
Hygiene concerns are also unimportant. Additionally, the Coleman SaluSpa includes a chemical pump that is fixed inside the hot tub and releases a constant amount of chloride to keep bacteria at bay and the water clean and hygienic.
3. Hassle-free Flow
The Coleman SaluSpa Inflatable Hot Tub Spa inflates quickly and has walls that are UV and puncture-resistant. It has an interior beam structure for better structural stability. Enjoy some peace because the AirJet system offers soothing streams. You won't have to wait long to enjoy this bubbling outdoor oasis thanks to the quick heating system.
4. Easy Installation
Since the boxes are typically light enough for you to handle on your own, these inflatable hot tubs don't require expert installation. The most you might need help with is unpacking and handling the various components. There is no need for technological knowledge.
The majority of inflatable hot tubs require only a quick inflation process; however, you will need a water hose and an accessible electricity source. An inflatable hot tub is a portable hot tub due to its simple installation procedure.
The Coleman SaluSpa comes with a ground mat, a valve wrench, a pressure monitor, one filter cartridge, a chemical floater, a patch kit, and a ton of setup and maintenance-related instructions.
Summary
The Coleman SaluSpa Inflatable Hot Tub Spa is unsurprising one of the most well-liked inflatable hot pools available. This hot pool is cost-effective but long-lasting, and it offers a spa-like experience that is difficult to match at this price.
People who are on a tight budget are pleased with the Coleman SaluSpa's efficacy at such a low price point, and user reviews compliment it for how simple it is to set up and use. The Coleman SaluSpa can accommodate up to 6 people, but once everyone is inside, it might feel crowded.
However, if you're looking for a hot tub that can accommodate four adults, has an impressive number of jets, and is simple to inflate, deflate, and stow away when you need it, this is the hot tub for you.